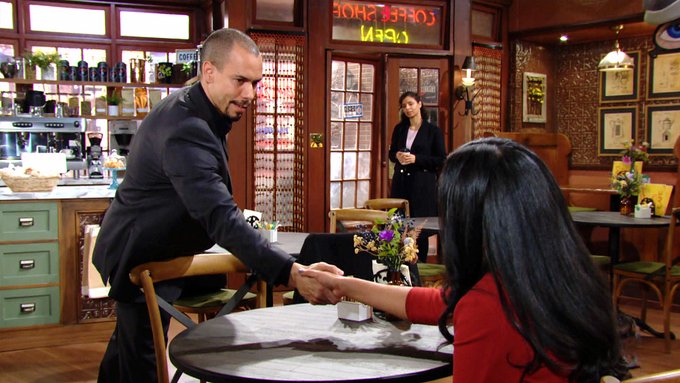 Young and the Restless fans are not surprised by Adam. We just aren't. We don't care what anyone says or what they are doing or how they are acting about this. We are not shocked or surprised in the least that he showed his true colors. They are just that. They are his true colors. They are who he is. He is a person who does for himself, who only worries about his own personal gain, and who does not care in the least about anyone other than him. The fact that he has been making promises left and right that he is a changed man is nothing to us. His words mean nothing to us because his actions continuously prove to us that he never changes and that he is not that person. But, we also know that there is nothing else that might work out.
Nick and Billy also got into it. Nick just needs this man to take a step back from all things. He needs him to stay away from his sister. He needs him to stay away from his business, and his family, and the things that Nick finds are important in his own life. He is not interested in what Billy has to say or do. Jill will handle him, but Nick just needs him to get lost and leave all things alone. Perhaps he will listen? We doubt it, but we know that Victoria needs him to just stay away and not come back into her life right now. She's got her own issues, she's got her own things to worry about, and she's got to figure this out in some capacity that has nothing to do with him and his life. Did Nick just handle this for her?
What's Happening on Young and the Restless
CBS Talent Celebrating Women's History all month long! #WomensHistoryMonth #throwback pic.twitter.com/h01Y8niLYp

— CBS Entertainment Diversity & Inclusion (@CBSEntDiversity) March 24, 2020
It's easy to forget there are other things going on in the world right now, isn't it?
What's Next on Young and the Restless
https://twitter.com/YandR_CBS/status/1241726325259468801?ref_src=twsrc%5Etfw
It's a lot, but we know that Nick has to get some answers. His father is the one who can give them to him, too, but will he? Will Victor share with him what he needs to know? He wasn't exactly forthcoming with his other son this week when Adam approached him with some questions about his life and what happened, but Nick is not the one who is always out to get himself to move up the food chain, either. Nick is usually looking for a way to help the rest of the family. So, maybe Victor is more likely to share with him what is going on so that they can fix this, save the family and the business, and move on from Adam and his shady ways. Of course, maybe not is a more prominent answer, too.
Then there is Victoria. Just when her days start to look a little better, she has to take a step back. It's not that her life is not working out for her. It's that her life is taking a turn she cannot control. She cannot make things right in her own world, and she's letting that affect her a lot. She's not sure how to focus on the good anymore, and it's hurting her. Jack is not about to leave this week a happy man. In fact, we are going to see him lose his temper, which is not entirely his lifestyle. He's not always someone who does this or who makes this clear, but he's doing it now. He's making it loud and clear.
Stay tuned for more Young and the Restless and be sure to check out TVOvermind daily for the latest Young and the Restless spoilers, news, and updates.
Tell us what's wrong with this post? How could we improve it? :)
Let us improve this post!