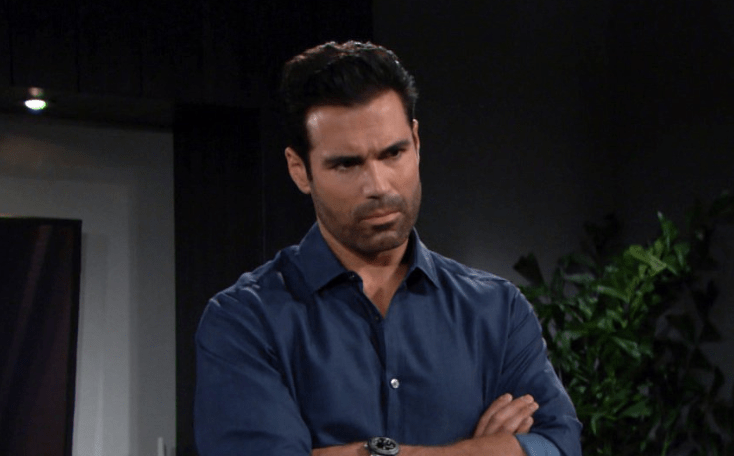 Young and the Restless fans did not have to wait very long to see things go right back to normal. Adam has been back all of what, two weeks now, and he's back to himself. He's back to being the kind of man who does what he wants, who makes it miserable for everyone else, and who does not make it easy on anyone. He is a man who doesn't have much to offer, and he is in the middle of focusing on things that aren't his doing. He's a man who wants what he wants, and he's not afraid to take it, even if that means hurting his own family. He is back, right? He is back, better than ever, and he's ready to take on what he feels is rightfully his to take on. Right now, what he feels is his to take on is his own son. He wants to have Christian back, and he's doing anything he can to make that happen. Even if that means hurting Nick.
He's given Nick an ultimatum. He can have Dark Horse, or he can have his son. He cannot, however, have both. He must choose one or the other, and that's all there is to it. For now, though, we just want to see them moving on in a direction that takes them somewhere better, but it won't happen. Victor, as well, is in the middle of his own set of lies. It's all something he does so well to make sure everyone else is just as miserable and as unhappy as he is, and we get it. We get that he has to focus on making the rest of the world unhappy, and it makes him feel good to do so. But, Nikki will catch on to this one.
What's Happening on the Young and the Restless
Throwing it back because these brothers are about to reunite! @gregrikaart returns to #YR tomorrow. 👏 Get ready to see why Kevin is coming back to Genoa City! #TBT pic.twitter.com/fL7OWwlqZR

— Young and Restless (@YandR_CBS) June 6, 2019
We love a reunion!
What's Next on the Young and the Restless
It's a week of betrayal, lies, and blackmail on #YR! Don't miss it. pic.twitter.com/fqJqeQiaUy

— Young and Restless (@YandR_CBS) June 9, 2019
It turns out that Nick is going to make a decision. He is looking to keep both his son and the club. He's going to fight for both, but we are going to see him spend some real time fighting to keep the Dark Horse in his name this week. It might not end well, but there is very little we can do to make sure that does not happen. He is going to upset his brother in the meantime, but that's a situation for another day. He cannot sit back and allow his brother to come back from the dead and ruin his life. He's been gone for years, and Nick has been taking care of all of these things on his own. He's not backing down just yet. But, at what cost to him, his family, and the boy he loves as his own all of these years? Nick didn't leave Christian on his own when he found out the truth about his father, and that's saying something big.
There's a lot happening here, but we are also going to see Adam make a confession. Are we sure it's a nice one? No, not particularly, but he's making one nonetheless, and that is something we cannot wait to see. Is he going to admit that he wants neither his own son or the club, but that he wants to be the man who gets the things the feels should be his? We don't know, but we do know that he is going to continue to rub all of his friends and family wrong.
Stay tuned for more Young and the Restless and be sure to check out TVOvermind daily for the latest Young and the Restless spoilers, news, and updates.