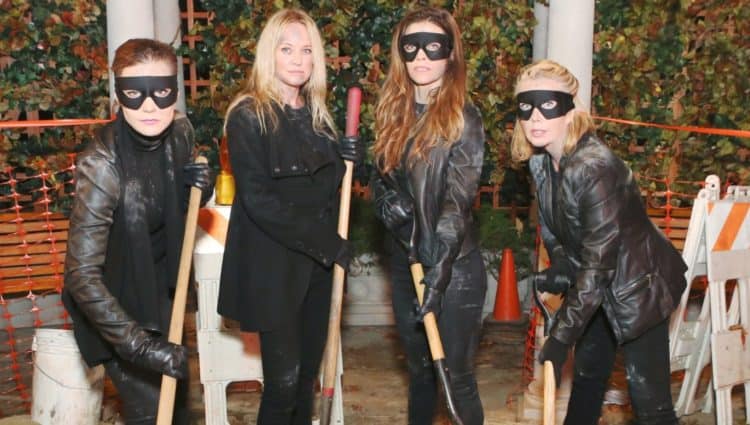 Young and the Restless fans are not sure that there's a lot of making up for Billy and Victoria to do. She was a single woman when he found out she was sneaking around and making out with Cane, and her only guilt is that Cane is a married man. She was not with Billy and there is nothing for her to apologize to him for, but yet she always feels the need to make things right with him because he's upset. They are too immature for our taste, and they deserve one another. And then there is Mia, who is doing all she can to hide her jealously that Arturo proposed to Abby and they are getting married. She wants to be with him, and it doesn't matter at all to her that this is her brother-in-law. But, Abby is not going to do anything that she will regret.
She's being very nice and very kind to Mia, and she's embracing her and welcoming her into her new family. However, she's not doing it without first making sure that Mia is aware that Abby knows she is jealous and upset about her life, and she will not tolerate that. To everyone else, however, she seems just as nice and welcoming as a new fiancé should be, and she's looking a lot like the good person around here. She's a woman who is not going to let this woman ruin her own life, and we get that. We get that she is not the kind of person who is going to lie down and let this woman upset her, so we are excited to see this newly powerful side of Abby. We like this a lot, and it does make us feel as if there is a lot more going on than we imagined.
What's Happening on Young and the Restless
https://twitter.com/YandR_CBS/status/1091456355305611266?ref_src=twsrc%5Etfw
It will probably come out in some kind of version of what happened around here.
What's Next on Young and the Restless
https://twitter.com/YandR_CBS/status/1091712849276297217?ref_src=twsrc%5Etfw
Summer is back, and she's as awful as ever. Which, of course, we love about her. She's a total mess, and we appreciate that she brings that to the table. She's the kind of woman who wants what she wants, and she's not afraid to get it no matter how much it hurts someone else or how much it makes them feel bad. She's making her way with Kyle, and she's making him mad. He will find himself impatient and infuriated by her this week, and he will wish she did not bother coming back to town this week. She's been a total pain for him since he met Lola, and she's not helping his situation this week.
Nick is defending his family — again — after all that's going on this week. He's been in this situation more than once, and he's finding himself tired of it. How much longer will he defend his family and the actions they are always taking to make thing work for them? Will he ever realize that he is free to live his own life and not deal with this in the meantime? He's not someone who will find things are easy and good for him without much help, but he's got the power to walk away from this and make his own life without his family. Why doesn't he do that and change the course of his own life? We aren't sure, but we will find out.
Stay tuned for more Young and the Restless and be sure to check out TVOvermind daily for the latest Young and the Restless spoilers, news, and updates.