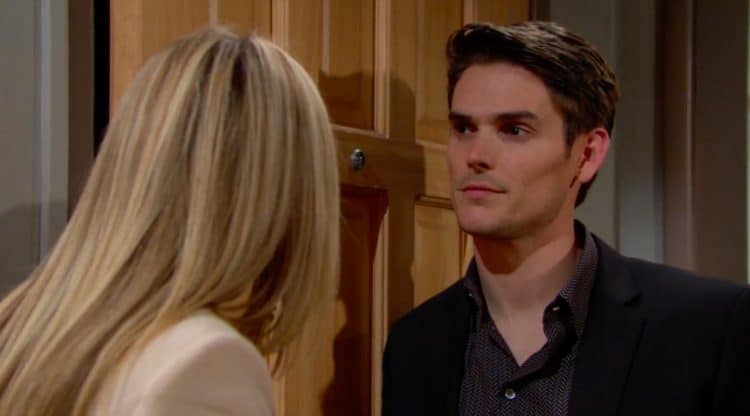 Young and the Restless fans know that Nick has changed so much. He is not the same man he was in the past. He is not the man who was willing to do things for his family that made them happy more than he was willing to do what he needed to do for himself. He was a man who did anything for them, and he never worried about himself. He's changed, though, and so has his way of living. Now he is going to come clean to Chelsea, and we aren't sure it will all play out nowt hat he has spoken the truth to her. What will she do now that she has this information to share? Will she share it, or will she keep it to herself? Will she use it to get ahead? We worry a little bit that she might do just that. For now, though, she's playing it cool.
Phyllis is going to get a gift from Adam, and she's going to use it to do what she feels she can do to make things right. But, we are mostly interested in what happened when Kyle and Summer were together last week. She finally seems to be moving on with her life and her situation, and there he goes falling for her. All the work and the years she put into trying to get him to fall for her, and now he makes the decision to make that happen? It's more than a little bit ironic, if you ask us. But, we don't know how this will play out. We don't know if she will go for this. If she will make this happen. We don't know if she can or if she will even bother. But, we do know that there is nothing we can wait for more.
What's Happening on Young and the Restless
The perfect end to a perfect birthday ❤️ #YR pic.twitter.com/iuhp8NfVkJ

— Young and Restless (@YandR_CBS) September 26, 2019
We love birthdays!
What's Next on Young and the Restless
https://twitter.com/YandR_CBS/status/1175771731870400514?ref_src=twsrc%5Etfw
This is going to be a week filled with things that don't make much sense to those around us, and that's all right. We will see things unfold in a manner of speaking that will bring us to our knees, including the fact that we will see Adam meet his equal. But, who will that be? Will it be the new Amanda? And can we see that happening in a situation that works? And what about her? Can we talk about her for a moment? Can we talk about the fact that this is what is going on? That she is the twin Devon's late wife. Of course, that's because the same actress is here to portray her, and we cannot figure out how this is going to work for Devon and how it will affect everyone in town. But, we are here for it. Mischael Morgan is amazing, and we are always here to see her come back with some excitement and some happiness.
Of course, Nick is going to share some news that will shock a few people, but what news is it? We are definitely not looking to miss this week to miss this announcement, and we cannot wait for it. But, we may have to be patient because there is nothing going on that will make this happen right away. It might be later in the week when he does this, which means we don't get to see it for a few more days. Any guesses about what it might be?
Stay tuned for more Young and the Restless and be sure to check out TVOvermind daily for the latest Young and the Restless spoilers, news, and updates.