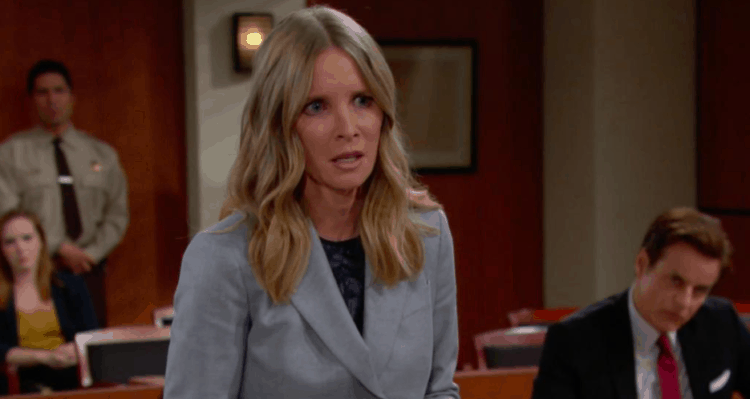 Young and the Restless fans are not surprised that things came out about Sharon and Rey despite the fact that they are trying to keep things to themselves. She's kind of in the middle of being accused of being an accessory to the murder of JT, and he's a cop who is investigating the situation. It's not great news for them that this is coming out, but what can you do at this point? Mia is not thrilled that this is coming out now that she's faking a pregnancy, but she's a mess and we don't care for her in the least. She's got to go, like now She's to got move on with her life instead of being such a pest. She's so extra mad right now about this, and we know she's going to do something beyond stupid and ridiculous. On that note, everyone is going to learn about Summer and Kyle, too, and that means Phyllis.
Will she be happy about that or not? We can't imagine she would not be considering who his family is, but that is not a marriage of love. This is a marriage of convenience, and they all know it. But Summer does think that she can get him to fall for her for real, and that's all that matters. He's asking her to let him be the one to tell Lola about it, but we think that he might not have the chance. Then there is Kerry, who will surprise Jack even though she's clearly a mess who is working against him at work. It's all crazy, and we aren't sure why he is so invested in any of this or why it's so important to them in this moment. It's a situation, but we can handle it a day at a time.
What's Happening on Young and the Restless
Could you see Summer as Mrs. Kyle Abbott? Tell us what you think about this wedding proposal! #YR pic.twitter.com/NbEj5G97k3

— Young and Restless (@YandR_CBS) March 6, 2019
We have to say we've seen a few other proposals we thought were a touch more romantic.
What's Next on the Young and the Restless
💥 A chilling confession and a shocking defense 💥 Don't miss what's coming up this week on #YR! pic.twitter.com/uPUmYXdZXu

— Young and Restless (@YandR_CBS) March 3, 2019
Nick and Billy do not always get along well, but they can make it work when they have something in common. This is one of those times that they have something in common, and we think that they can make this work for themselves. They have to figure out what they are going to do to save this family and all these women from what is about to happen to them, and we think that they can do it if they put their minds to it. We aren't entirely sure that they can make peace with the way things are going in their lives otherwise, but we do think there is a good chance tha they can get it together enough to figure something out.
Victoria is spending her day on the stand, and we don't know how it will go for her. She's a mess, and she's not good at lying, and she's not good at most things that have to do with covering up murder and mayhem, so this might be a bad day for her. We think the attorney will give it to her hard, too, and it will be very emotional. She is, if you ask us, the one who is most likely to end up tripped up and revealing more than she should, and that's what we fear her family is worried about, too. But maybe we will be surprised and JT will show up not dead and everyone will be fine and this will all be all right. Who knows?
Stay tuned for more Young and the Restless and be sure to check out TVOvermind daily for the latest Young and the Restless spoilers, news, and updates.