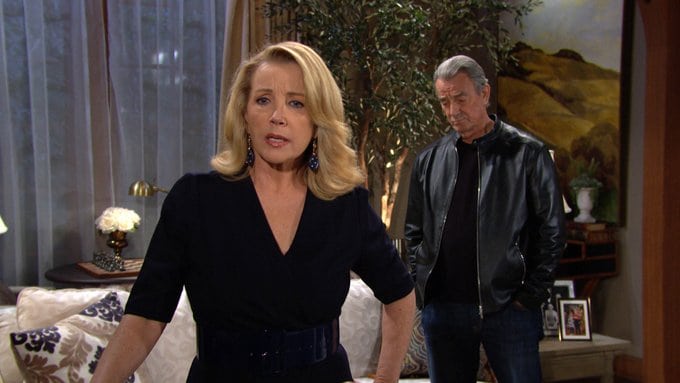 Young and the Restless fans wonder when Sharon is going to get a break. She's been through so much, her news is never good anymore, and she's struggling. Her loved ones are pulling through for her this week as they offer her more support than she ever thought possible, but there is a good chance that some things will never be the same. There is always stuff going on in their own lives, and people can only drop that for so long before they are incapable of doing what they can do for one another. They have to focus on things like making the most of every situation and making things seem right when they are not, but how long can they continue to do this for her when she's clearly struggling and they have their own lives to worry about? It's a mess, and we want her to get some good news for once.
Meanwhile, Victoria refuses to do what her mother asks her to do. She is not going to listen to her, and she's not changing her mind. She is not interested in making any sort of peace with her father, and she's not about to change her mind as a result of any of that. She's done with this nonsense, and she's not dealing with it again. She's got her own life to worry about, but even her brother is worried she will make some rash decisions that will leave her in a place she cannot come back from. We worry, and that's a situation we cannot handle. It's almost too much for all of us, but it's not going to be a thing for her if she doesn't listen to him and do what he recommends she do in the moment. It's not going to end well, but we will see.
What's Happening on Young and the Restless
You're officially invited to the #YR masquerade ball! ✨ Don't miss this classic episode of The Young and the Restless, airing tomorrow on @CBS. pic.twitter.com/D6HZEoFTe4

— Young and Restless (@YandR_CBS) April 16, 2020
Did you get to see this?
What's Next on Young and the Restless
Rey sets up a romantic date for Sharon today on #YR. pic.twitter.com/g200ENYgGM

— Young and Restless (@YandR_CBS) April 16, 2020
Victor is working hard to create some sort of damage control in his life, but things are not working out so well for him. He's not having the best time, but it's not his own fault. His son, not the good one, has taken over things like the way his own business is run, and he has to figure out a way to make sure that Adam doesn't ruin it all and make it a mess. He's going to, of course. Adam has never been able to successfully do anything that might help his family or put them in a situation that is helpful or good, and we cannot handle that as we should. It's all a bit too much for us, and we cannot help but wonder what's up with that. On the other side of things, we also know that Sharon asked Nick for some help, and we imagine Phyllis doesn't love it.
Chloe and Kevin are having a baby, and that is one of those very sweet things that we don't know if we can remember when other dramatic things are going on in their lives. But, we are going to see a baby shower happen for them, and all we can do is hope that it is simple, sweet, and that it's not a dramatic moment in which everyone is just upset by all that is happening. We don't know, of course, how this will work, but it might just turn into a situation that ends up being a bad one. Will there be drama at a baby shower? We should hope not.
Stay tuned for more Young and the Restless and be sure to check out TVOvermind daily for the latest Young and the Restless spoilers, news, and updates.