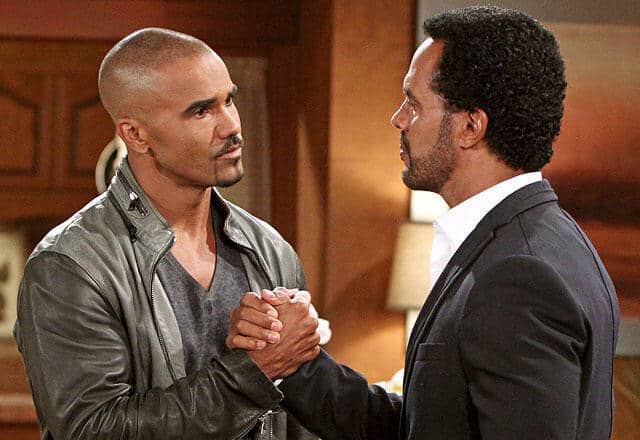 Young and the Restless fans are getting a double dose of awesome today. It's not just wedding week around Genoa City. It's wedding week with the wedding of Malcolm and Olivia. Who doesn't want to see a bit more of Malcolm? Shemar Moore is one of our favorite television actors, and we cannot get enough of him on any show he's in. Criminal Minds. S.W.A.T. All of it. We love him, so to get to see him for another moment in time is such a fun way to spend a day when things are still not back to normal in the grand scheme of life. However, today is the day that goes all the way back to 1997. He's getting married, women across the country are just heartbroken for the loss of this single, fictional character, and we all have to face the fact that there is little we can do about any of this. So, here we go. Let's talk about Malcolm Winters and all he has to offer.
His Second Wife
We have to take a moment to point out this wedding is to his second wife. This is not a woman who got to call him her husband first. He was first married to Keesha Monroe, only the year before. They met, fell in love, got married, and then they didn't work out so well when she died of AIDS soon after their wedding, but he met Olivia and was done for. This wedding happened in 1997, only a year after he was married to and lost his first wife. Their marriage might not have lasted long, but they did have a longer one this time than he did the first time. This time, they were married a grand total of three years. They ended this marriage in 2000.
Olivia's Sister is Dru
One of those things that doesn't work out well for him in this marriage is the fact that Olivia is Dru's sister. See, Dru is the mother of Lily. Lily is Malcolm's niece, except she was not his niece. She was his daughter. He was feeling something fierce for his brother's wife, Dru, and he wanted to be with her. He made a horrible mistake and chose to do something wrong, awful, bad, horrible, and just plain wrong. You see, he was alone with Dru when she wasn't feeling well. She took a large dose of her medication, and she wasn't herself. She was not with it, and she thought that Malcolm was Neil, his brother and her husband. They are caught up in a moment and they sleep together, but she calls him by her husband's name in the process and he suddenly realizes that she has no idea that she's sleeping with him. Yet, he continues to sleep with her and allowing her to think otherwise.
The Baby
When he wakes up the following morning, he feels horrible and awful and terrible, and he confides in Olivia about what he did to her sister. When Lily is born, Dru convinces herself that she belongs to her husband, and she decides to forgive Malcolm. That's when Olivia fixes him up with his first wife, one of her colleagues. That's when he begins spending a lot of time with Olivia. They both lost their spouses, and they were both widowed as a result. They bonded over that, spent a lot of time together, and they ultimately decided that they'd get married and be together. Even though he was the father of her sister's baby after raping her, and she forgave him for that and moved one. They were married for a while, happily, until his ex showed up in town and he began to spend a lot of time with her. This, clearly, did not make Olivia happy, and they ultimately decided that their marriage would not work. He ended up making things work out with the ex for a while. They got engaged and were planning a wedding, but that did not work out, either. She took off, too, and he was left with no one but a secret that he was the father of his niece. It was ugly times.
Tell us what's wrong with this post? How could we improve it? :)
Let us improve this post!