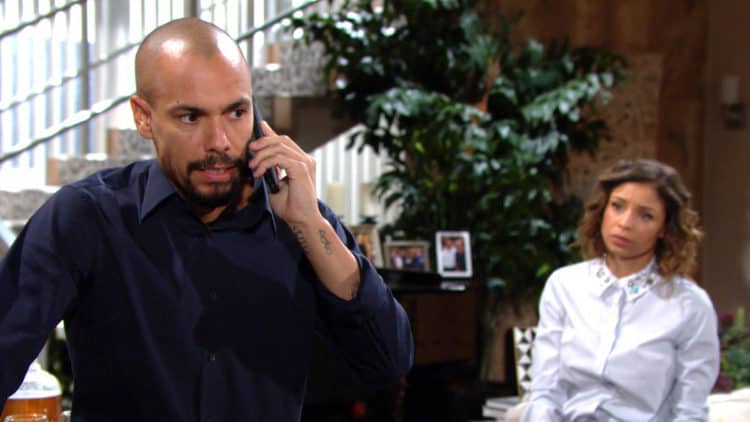 Young and the Restless fans are sure that things will never get good for Nick again. He and Phyllis are sitting down and talking about the past. They had a good one together and not when they were together. They make a great team, but we don't want to see them try this out again. He's upset that Chelsea has made the decision to live with Adam again, and Phyllis is just doing all that she can do to get her life back on track. She's ready to take down people, make a mess of things, and get her own way as often as she can. She's not all that interested in seeing things go any other way, and we know that. She's a woman who does things her way or the highway, and we do get that. She's sitting here thinking she might want to make Nick her friend again, and we can see it happening.
Meanwhile, Devon is a mess. He's not happy with Amanda, but he also cannot stop spending time with her. The simple fact that she is so much like Hilary is so amazing to him that he cannot get over it. He cannot see things changing, either. He is so drawn to her, and even Elena has noticed his problems. He is not someone who can change the way it's all going, but she's making it clear to him that she is not about to sit down and allow this mess to continue. She's got her own life, her own needs, and she's got to figure things out on her own. Will she be able to convince him to leave this woman alone, or will the fact that even Nate is backing her up make it that much worse for Elena? We can't figure it out, to be quite honest.
What's Happening on Young and the Restless
Holiday season is here! ✨ To celebrate, some of the #YR stars played a game of freeze dance. 💃🕺 Who gets your vote for best dance moves? pic.twitter.com/3qdd9pbOV4

— Young and Restless (@YandR_CBS) December 2, 2019
We are laughing out loud.
What's Next on Young and the Restless
Chelsea would do anything for her son, but Nick isn't so sure about Adam's intentions. See what happens this week on #YR! pic.twitter.com/Caf0YKxfKp

— Young and Restless (@YandR_CBS) December 1, 2019
Things are taking a turn for Summer. She's back in town, and she's making some decisions about the way things are going in her life. She's had a chance to spend her time with Theo, and she's kind of happy with him. We think she still loves Kyle and that she will always love him, and that is something that will make everyone feel happier if they could find that feeling at the same time. There is nothing more beautiful than this, but we don't know that there is anything that will make it happen for them. She's currently deciding if she can see a future with Theo, but we just don't see it. We cannot get on board with that, and it's not because we don't like him. It's just because he's not our favorite and we don't know how to focus on them together.
Then there is Elena and Devon. They are clearly unhappy with one another now that Amanda is here. She just let him have it, and there is nothing that they can do otherwise. There is nothing that will make things better, but they are about to face a big test. Can they make it through it, or will this be the test they fail and decide to end things before they get any further along? Additionally, we are going to see that there is nothing Billy will share with anyone. He is keeping a secret that will make things seem worse than they are, but he doesn't see how he can share this with anyone.
Stay tuned for more Young and the Restless and be sure to check out TVOvermind daily for the latest Young and the Restless spoilers, news, and updates.