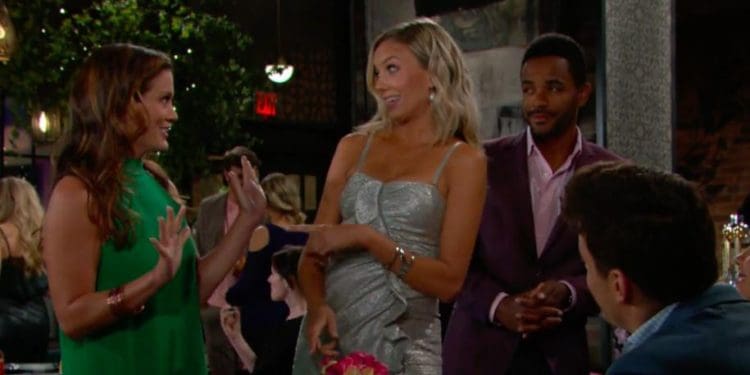 Young and the Restless fans saw the grand opening of Phoenix go awry when several things happened. For one, we knew that Phyllis showing up was going to lead to more problems than most people were willing to deal with. They were not going to see anything here happen the way that it was meant to happen, and we get that. But, we also got to see things from another perspective. That is not going to go well for anyone else, either. We saw things unfold with Zoe when she decided to spike the drinks at the opening. She knew that would ruin everything, and she clearly doesn't care about that at all. We also saw things unfold when we watched Adam have some regrets. Of course, it's only natural he might feel this way. He did, after all, cause some serious issues that will ruin his life after a time. He's not a good person.
We also saw that Victor's condition is not what he thought. Things are taking a turn for him, and it's unclear in the moment how he might plan on handling that situation as it gets more interesting. We know that he is not in a good place, of course, but we didn't know just how bad things were until recently. He is nothing short of a disaster, and we fear there is little to nothing he can do about it. Adam is not happy with things, either, and he's decided to take a few risks. We think this might be part of the reason he is regretting his life in a way that makes it all seem worse, but wat do we know. He's a mess all the way around. He can't get it together if he can't get his life to work with his family's.
What's Happening on Young and the Restless
https://twitter.com/YandR_CBS/status/1170749989523353600?ref_src=twsrc%5Etfw
Could these two be any more adorable than they already are?
What's Next on Young and the Restless
It's the party of the year with a wicked twist. ✨ Things get out of control this week on #YR! pic.twitter.com/RTASMRsqm5

— Young and Restless (@YandR_CBS) September 8, 2019
We don't know what is going on with Kyle and Summer now that they are friends again, but we like it. They are having some moments that bring us a great deal of joy and happiness, and we cannot handle what is happening for them. They are going to bring to us a very charged moment in the near future, and it's not going to be something either of them or any of us forget in the near future. What might happen for them is very exciting for us, but we cannot pinpoint precisely what it might be right now. There is a chance it might be so great, and there is a chance it might be a total mess. We will figure that out in the meantime.
But, what happens when we hear that Devon's world is rocked? Can we afford to see that happen for him again? He's been rocked enough in the last year with the loss of his unborn baby, his wife, his father, and the imprisonment of his sister, the demise of her marriage, and so much more. Can he handle another world rocking situation in his life? We really do not know if he can, but we do hope that he has a chance to see things happen for himself that are positive and good — and we just don't know that this is it. Is it? What do you think as you are watching this all unfold in the meantime? It's too much for us to bear in some ways.
Stay tuned for more Young and the Restless and be sure to check out TVOvermind daily for the latest Young and the Restless spoilers, news, and updates.