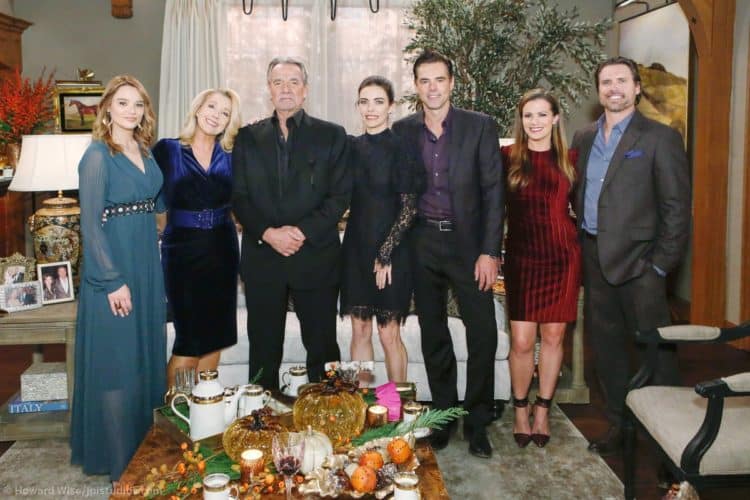 Young and the Restless fans are not that surprised that Chelsea is off making some more poor decisions in her life. She's never been one big on making good ones, so hearing her tell Nick that she is moving in with Adam didn't shock us in the least. She is nothing if not a total mess, and we all know this. She's someone who makes choices we know won't go over well with other people, and she's also someone who does things her own way every single time. Now he has to handle the consequences of his actions, and he's not going to bother with anything other than trying to figure out what she's doing and why she's all about this all of a sudden. Elena, on the other hand, is not a happy woman. She's been involved with Devon on a slow basis for some time now, and seeing him show back up for Amanda is not something she's thrilled about.
She is allowing him to get a piece of her mind, too. She's done with all of that and with all that is happening in her life. She is done with the problems. She is done with this woman. She is just done with so many things, and we are down for that. But, there is a bit more to it, too. We know that Nate is going to come to Amanda's defense, and we know that there was yet another robbery at Phoenix despite all the precautions Abby has been taking. It's all a bit much for us to start the week, but this is just how things are going. It's not much we can do, but we can hope that things improve for Abby as the week goes on. She's ready for something happy and good.
What's Happening on Young and the Restless
RT if this is your post-Thanksgiving Mood 🎄To see all of the amazing photos from Peter Bergman's photo shoot with @CBSWatch, click here: https://t.co/XrHX81vitx pic.twitter.com/ZStTkqdoTI

— Young and Restless (@YandR_CBS) November 29, 2019
What a fun decoration on set.
What's Next on Young and the Restless
Chelsea would do anything for her son, but Nick isn't so sure about Adam's intentions. See what happens this week on #YR! pic.twitter.com/Caf0YKxfKp

— Young and Restless (@YandR_CBS) December 1, 2019
Things are not going well for Nick right now. He's in the middle of learning more than he wanted to see happen, and he's not thrilled. It seems that things are not working out for him in the moment, and he's not entirely certain how to fix this. He's not sure how to handle what is going on, and he's not sure how to fix what all went down at this point in time. There is a lot we cannot handle there, and we didn't know this was the thing we were so worried about. However, we can see that there are a few things that don't really work out for anyone. He's going to end up sitting down with Phyllis and reminiscing over all the things that didn't go well for them, and that didn't end well for their lives. We don't know how to focus on things like that.
We don't know what happened, either, when it came to Billy. He's decided to do himself the grand favor of flirting with danger he knows better than to flirt with. He is a man who has a lot more going on in his life, and he is not making wise decisions in this moment. We cannot figure this out for him, but we don't know what else to do to help him overcome what is going on. There's so much happening that might make sense, but we cannot see it in the moment. Victoria, on the other hand, is about to receive an apology from someone.
Stay tuned for more Young and the Restless and be sure to check out TVOvermind daily for the latest Young and the Restless spoilers, news, and updates.