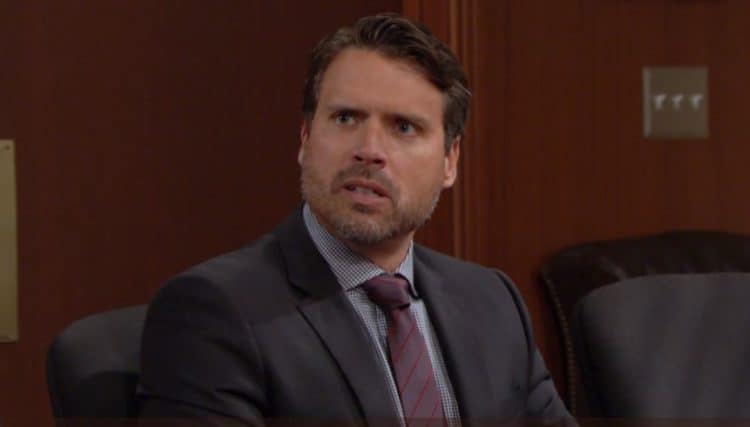 Young and the Restless fans know that Katherine was a woman who very much liked to do things her way or the highway. She was not big on doing what others expected her to do, what was right, or what she felt was a good thing. She was a woman who almost found some exceptional pleasure in making others feel bad about themselves, in making them feel as if they could not do anything better, and making them feel as if they were not going to be able to get their situation in order. We don't know if there is much we can do to stop this form happening around here, but we do know that there is a lot we don't know, and her will is one of those things we didn't see coming, even knowing her and how she likes to throw everyone for a loop. Devon is the one most shocked by this, and we just don't know how he will handle it.
Meanwhile, Abby has a deal to complete. She did it, and she's not feeling too bad about it. Things are going well with Nate, though she's told him time and time again that she is in a casual state of mind with him. She's not looking for anything serious or really long term, but we can see that this might change for her in the near future. She might not be looking for that now, but that does not mean she won't look for it in the future. She's working hard to get things to work in her favor, so this might be precisely what she needs to do to get her life in order. Maybe this will help her figure things out a bit, and maybe she will end up on top of her own life for once.
What's Happening on Young and the Restless
Mark your calendars! #YR's 47th season begins on September 3rd. 👏 See all of the @CBSDaytime premiere dates here: https://t.co/vF1hO5AiF3 pic.twitter.com/RjjjjZ3nZE

— Young and Restless (@YandR_CBS) August 27, 2019
That is a LOT of years.
What's Next on Young and the Restless
The war is on, the future is at risk, and old wounds run deep. Tune in and see it all this week on #YR! pic.twitter.com/9DOO97lFja

— Young and Restless (@YandR_CBS) August 25, 2019
It turns out that Billy is still receiving messages from beyond, and he believes every one of them. He is not thinking straight. He is not making much sense, and he is not being someone who can help anyone else with their issues. There isn't much that they cannot figure out on their own, and there is not much else that they can do. There is so much that he is going to try and do on his own, and his family cannot help him. They are certainly all trying to see if they can get him to focus on getting better and not believing that there is some unknown force in his life who is trying to share things with him and make him believe that there is more to this than meets the eye. He's got to try and figure this out, but we aren't sure how much of his own life he can accomplish right now.
He's going to go after Adam when he gets a message that says he should. He is going to take him down if he can, and that will be the life he tries to lead. Can he do it? We don't know for certain, but we suspect he will do nothing but try his best to make this happen. And then there is Lola, who is doing all she can to make sure her brother does all he can to forgive. She doesn't feel that he can move on with his own life in a healthy manner if he is unwilling to forgive this woman for what she did to him.
Stay tuned for more Young and the Restless and be sure to check out TVOvermind daily for the latest Young and the Restless spoilers, news, and updates.