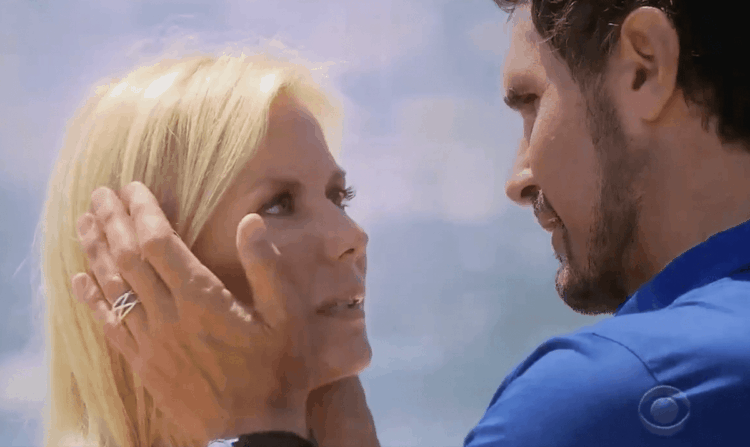 Young and the Restless fans like to see couples make it work, but that never happens around here. It simply does not work. There is no shortage of amazing couples who do make an effort, but we think that there is always going to be more problems than there are good, happy situations. You see, Genoa City seems like such a small town in which everyone knows everyone who knows everyone and everything is going to get back to everyone, and there's always some big drama. If that weren't the case, we think that some couples would really have a chance to make it work. You see, they could move on, get out, and they could focus on what is important. Here is what we think would work if these couples left town and cut off all communication with those around them. Do you agree?
Sharon and Nick
These two are so sweet together, but only when their families are not around. Also, they need to get rid of Phyllis from their lives. They have so much history and so much love for one another, and we think they could be happy for a very long time if they really wanted to be. But, at the same time, we aren't sure that they could really ever be happy here where they have so much history with so many other people. If his family drama was not a part of their lives, they could really be good together.
Kyle and Lola
We don't even like them together, but they could have worked if they were anywhere else. If they'd gotten married, moved out of town, and focused on their own lives, they could have made this work. Being 'home' provides them with too many distractions that they couldn't handle. Theo, for one, and then Summer. If they got rid of all the people who are looking to make them miserable, we think that they could have done this and been okay with all of it.
Phyllis and Jack
They are good together. They are both powerful and ambitious. If they weren't fighting with one another and with everyone else around here, they could have made things work. They could start their own company and work together. They are a dynamic duo when they are on the same team, but they always forget to be on the same team because of all the people around here who are doing all they can to make sure they don't work things out with one another. We aren't sure that they can make things work adequately, but we do think that they could have made this work if they didn't live here.
Nikki and Victor
They are a mess, but we think that they'd be a lot happier if they only had one another to worry about. The fact tha they are always so worried about others is their actual downfall. They don't have what it takes to work out if they are always fighting with their kids and the family enemies. We can see them living in a big city somewhere totally unrelated to Genoa City doing all that they can do with what they have to work with, and we can see them making big changes. We can see them picking up new hobbies they enjoy together, such a wine tasting or cooking. They would be so sweet if they only had one another to worry about and they let their kids worry about their own lives, too. They could work, and they could be a power couple if they did.
Victoria and Billy
They remind us so much of children who cannot take care of themselves because their families never allowed it. They never let them grow up enough to handle their own problems, and that's just what it is. They aren't the kind of people who are doing things their own way, and that makes it hard on them. If they got together, cut their families off, and left town, we think that they'd have a chance of making it work. We actually think they could do it. They could learn and grow together, and we think that they would thrive.