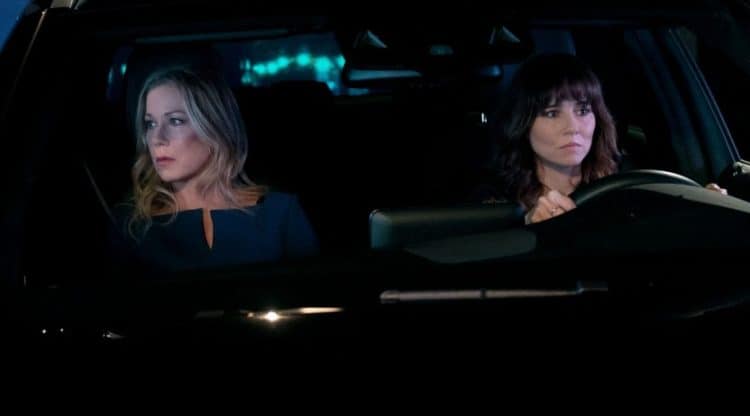 Grief and loss aren't easy topics to deal with, but if it could be turned into a show, Netflix would know exactly how to execute it perfectly. Netflix might have discovered the formula for producing a hit show because it's done exactly that with several shows in the last couple of years. It might have had a hiccup or two (Fuller Hosue, Hemlock Grove, Iron Fist arguably), but so far, Netflix has given us plenty of originals to love and binge on over the years. The latest on the long list is Dead to Me, a tragic comedy show about two best friends dealing with grief and loss. Here are 10 reasons why you should be watching/binging this show on Netflix.
1. The show stars veteran actresses Christina Applegate as Jen Harding and Linda Cardellini as Judy Hale. The two lead actresses are just well balanced on screen. They complement each other well, and their friendship is believable. It might help that they're actually friends in real life, and that chemistry is age-old. According to this article from the LA Times, it's the foundation for the success of the show. We'd have to thank the casting god or goddess that made this team up happen because it works like no other.
2. If you're a fan of Anchorman, that might be reason enough for you to start watching this show. Will Ferrell and Adam McKay are credited as executive producers for the show. Most of us know that Ferrell, McKay, and Applegate all worked together in Anchorman. The comedy may be different, but the minds and souls behind the production are the same. Who knows? Maybe one day we'll even see Ferrell and McKay do a cameo on the show.
3. We'd have to give Christina Applegate her own explanation here because we're just glad to see that she's back on television. It's been seven years since we last saw Applegate on a show, and that's just seven years too long. The talented actress took a bit of a semi-retirement the last few years, but it makes sense that she would come out of it for a series such as Dead to Me. We can't imagine the show without any Applegate in it, so here's to that.
4. It not so subtly deals with middle-age issues that many of us deal with–men and women alike. While the show feature middle-age women (and amazingly at that), most of the issues dealt with on the show are relatable even to men. Middle age is around the time when we all start to deal with death and other serious matters in life. There's also infertility issues to deal with and aging just as this article from Buzzfeed pointed out. The entire story is based on the experiences of writer Liz Feldman.
5. The show provides a real glimpse into what grief must be like for different people. Jen and Judy are separate identities, after all, and they show that with the way they deal with pain on a daily basis. It's an interesting contrast to have, and somehow, the portrayal of the characters is so spot on that you really feel like they're truly dealing with loss in their lives. One of them might seem to have a handle on it all, and that becomes one angle for the comedy on the show.
6. There's a mystery component to the show that most people could appreciate. It isn't a typical murder mystery show; after all, the show is a comedy before it's anything else. But the mystery part allows for the show to incorporate a ton of unexpected plot twists and turns. Watching the first episode alone will get you scratching your head and begging for the next episodes. It's also good to know that watching straight through to the last episode of the season will address many questions you will more than likely form along the way.
7. Friendships–can't live with them, can't live without them. One of the show's overarching themes throughout the series is friendship and the value of it during difficult times. According to this article, "friendship toxicity is a real thing." The show explores a lot of ground when it comes to friendship, and many of it falls on the gray area section. There are a lot of takeaways in the show that might actually help you at some point in life.
8. While Applegate and Caredellini are great, they're certainly not the only ones running this show. The supporting cast is just as equally impressive. For one, the show features the talents of James Marsden. Marsden alone is reason enough to watch this show, but that's just what we think. However, you could also see Max Jenkins, Sam McCarthy, Luke Roessler, Brandon Scott, and many more. The cast, together with the leadership of the two female main characters, somehow seems to naturally work together well also.
9. The tension in the show is just stellar. You could say that the storytelling is definitely one reason why you should watch this show. There aren't many shows out there that build you up the way this one does. Every single episode presents new information that could potentially be the ruin of it all. We can't really say any more without giving so much away, which is also another reason why you need to be watching Dead to Me.
10. Last but not the least; you need to watch Dead to Me because you need to see how it ends. The season finale will leave you with a cliffhanger to rival the biggest ones we've seen on television in the last few years. The buildup is excellent, and Netflix definitely delivers with the closing episode. If you finish a show wanting to see the next season already, then you've just seen a great show. You'll feel exactly that by the time you've reached the end of this series–and definitely more.