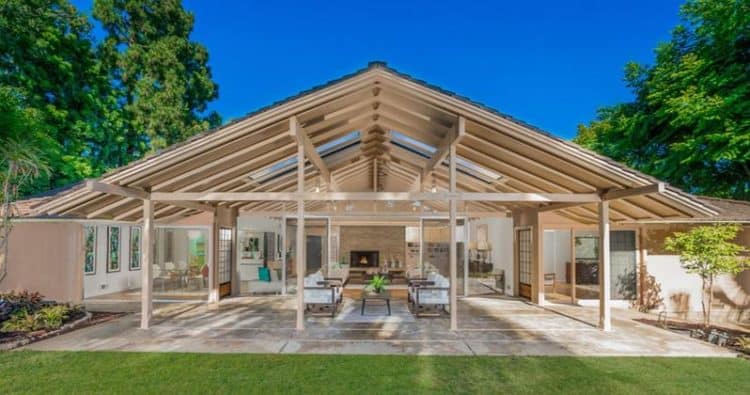 It's only $3 million to own what is essentially thought of as a piece of pop culture history, so why dive in? Obviously a person wouldn't be able to find the same setup as they might remember from The Golden Girls set, but then again the set pieces were made in a studio and weren't a part of the original home. Another fact that might stun some viewers is that the home is located in the Brentwood area of Los Angeles, California, whereas it was always understood that Dorothy and the girls lived in Miami, which can be understood thanks to the greenery that surrounds the home. The owners, who have since passed away, didn't watch the show, but they did consent to have the outside filmed for the program all the same, and it's likely that this might be a part of the asking price since a lot of people are bound to recognize this place pretty easily. All in all the place does sound pretty nice, but it also sounds like a place that might be friendlier to a couple without a big family or roommates that are looking for something upscale and able to accommodate those that like to have company. It does look like a nice home, but for such a huge asking price it's far more likely that it will go to someone that's looking to cash in on the fact that it was attached to a popular TV show.
A lot of us can remember The Golden Girls fondly since it was one of the many shows that were on during the day and might have come on just before or after our favorite cartoons, and yet was still just as entertaining at times despite the fact that it was about four mature women and didn't feature a single thing that was really for kids. But again, it didn't feel like it really mattered since the ladies were funny enough and able to make just about anyone laugh provided that those watching actually understood the jokes and the puns that were thrown out left and right. Sophia was undoubtedly one of the favorites of many since she was a bit hard to get used to thanks to her acerbic seen of humor, but Rose was and still is a favorite since Betty White is still around and was a lot of peoples' favorite on the show back in the day. For one reason or another Rose just felt like the old woman that means well but somehow gets lost when she turns around as another thought intrudes and grabs hold of her attention. Dorothy was obviously the most cynical of the bunch, even more so than her mother Sophia, while Blanche was, well, Blanche was definitely the free spirit of the group, someone that didn't allow age to slow her down in the slightest.
As a show, it obviously worked since the ladies made up for their lack of youth with the humor that took over pretty much the whole show. Even if it dealt with issues and problems that affect older folks a time or two along the way, The Golden Girls rarely excluded anyone since the show had plenty of youthful guest stars and made it a point to integrate them into the idea of the plot as much a possible. It's obvious that they didn't always mesh that well with more youthful thinking and practices in TV, but the whole point of the show was to experience things from their point of view and to tell a story revolving around four older ladies that had come together in one household after Dorothy had invited them to stay with her following the passing of her husband. Having roommates such a Blanche, Rose, and Sophia might be trying for a lot of people, and it was obviously a headache for Dorothy a time or three, but it was also the start of a show that lasted for a good seven seasons and became something that we still remember fondly today.
Something that's kind of interesting is that, while most people know that Betty White is still around and still just as funny as ever, is that Estelle Getty, Bea Arthur, and Rue McClanahan all passed away in succession, as Estelle passed in 2008, Bea passed in 2009, and Rue went in 2010. It's an odd thing to notice to be certain, but one that caught my attention all the same, since the three women were always the most level-headed on the series, while Rose was the one that felt a bit out in the wilderness now and again, so to speak. Betty White is 98 at this point and has a career that's spanned eight decades, but one can imagine that she misses her friends and costars now and again. But as for the home, a person would have plenty of stories to tell if they owned the home and knew the series inside and out.