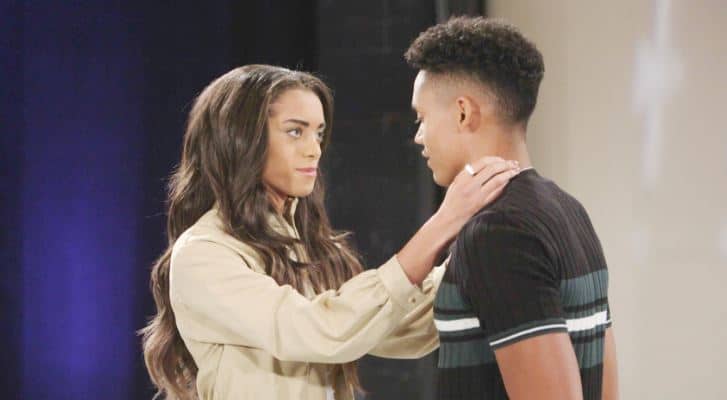 The Bold and the Beautiful fans are all just so excited for all that's happening this week. We watched yesterday as everyone decided they would just handle their lives the way they want to and forget what anyone else things. Thorne is one of those people. It's not really set in stone that most people are happy for him and his new engagement to Katie. He's happy. She's happy. Some people are happy for them, and other people are not at all happy for them. We think that the latter is more the truth in their situation, but what will you do about this when it all happens? There might not be much that can happen when this all goes down, and we just don't know that they can handle this as it becomes their reality. We do know that there is a lot that they can do to change the way it's all going, but they have to get everyone on their side first.
Bill is one of the most upset people in this situation. He is so unhappy about it, in fact, that he cannot handle what is going on in his life. He's losing his mind and not happy about any of it, but there's little that we can do to change the way he's feeling about the situation. He's going to let this change the fact that he will fight her even harder, and he will not back down. If she had a chance at getting him to cool off and calm down, this just ensured it will not happen. Sally and Steffy are both spending some time with Xander at work, and they've both connected with him personally. Hopefully, they can guide this and use it to help guide him in a more appropriate direction in his own life.
What's Happening on the Bold and the Beautiful
Congratulations are in order for this stunning couple! RT to congratulate #Thatie. 💍 #BoldandBeautiful pic.twitter.com/3M7OZuc8cs

— Bold & The Beautiful (@BandB_CBS) September 17, 2018
And now that they officially have a name that is a combination of their own, they can be official. Thatie is getting married, and we want to see if you think this is a good idea, a bad idea, or one of those ideas you just don't care about as a whole? Is it something that you want to see happen, or is this one of those things you want to see fall apart? Where do you stand?
What's Next on the Bold and the Beautiful
TODAY: Brooke addresses Bill's sudden and unexpected kiss. #BoldandBeautiful pic.twitter.com/D6DABNqEO0

— Bold & The Beautiful (@BandB_CBS) September 17, 2018
Xander has decided that he will model for Forrester. This is not really part of his job, and it's not something that he can really do on his own, but he has agreed to do this after Steffy and Sally both thought he might be a good fit. He's happy with his decision, but we predict that this will not end well. If he's modeling alongside Zoe, she gets to spend more time with him. That means he will continue to spend his life being confused about what he wants, even though we all know that he really wants Emma, but he cannot stop his attraction to Zoe. We think Emma will be quite upset about all of this, and that will not make it easy for him to get through this situation. There will be a lot more drama than not, and that makes things a bit more complicated for everyone. There's a situation all around in this area of their lives, and we suspect the worst.
Bill is getting angrier and angrier by the day, and he's got to direct that anger at someone. Now he's working on taking down both Katie and Thorne, and he's also working to make sure that he can get these two to fall apart while he works with his own ex-wife, Brooke. This is one of the worst situations of all, and we don't think it will end well at all for him. He will not make good choices in this situation, but we also think that he will fall apart entirely in a way.
Stay tuned for more The Bold and the Beautiful and be sure to check out TVOvermind daily for the latest The Bold and the Beautiful spoilers, news, and updates.
Tell us what's wrong with this post? How could we improve it? :)
Let us improve this post!