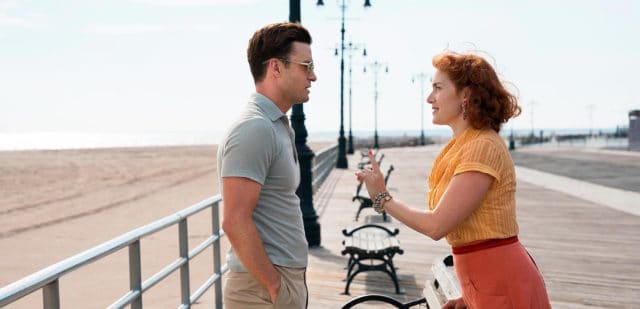 Woody Allen's latest movie, Wonder Wheel, has been thrashed by critics as one of his worst efforts. Allen, now 82, seems hell bent on coming out with a new movie every year, but this is one of those years he should give considerable thought to stop the spinning wheel of movie production and realize it just may be time to be happy with his successes. He has a storied career and has nothing to apologize for — unless he continues making movies.
The current #metoo movement has re-lit the smoldering embers that were dimly seen for more than 20 years. Critics of the movie, some feminist, have described Allen's portrayal of the main character, Ginny, a failed actress as "unsympathetic, pathetic, jealous, insecure and clownish." This is because Allen allegedly has a lifelong problem with aging women and their sexuality.
Moviegoers have been kinder to the film, with some actually saying it is an excellent film if you "ignore the politically trendy critics." There may be something to this because the reviewer who included this caveat to the movie gave it very much the same basic criticisms as the majority of the paid critics. But that leaves the problem of what to do with the feminist criticism that Allen has a problem with older women in general.
A fair comparison is to look at the age differences of other successful Hollywood men and see if Allen's preference for his younger wife of 35 years. Clint Eastwood's latest wife, Dina, was 35 years his junior. Catherine Zeta-Jones is 25 years the junior of current husband Michael Douglas. Hmm. Al Pacino, though not married, has been romantically linked for years with Lucila Sola, 39 years his junior. Luciana Pedraza, wife of Robert Duvall, is 41 years younger than him.
For those who only remember Seinfeld as one of the most popular sitcoms ever, Jerry Seinfeld caught hell for showing a romantic interest in Shoshanna Lonstein when she was a tender 17 years old (he was 39). But Seinfeld, 63, is now married and moving on with his life, having married a woman who is only 17 years younger than him.
Based on the evidence, and the fact that the #metoo movement has ignored the age differences of these other very public Hollywood men, it seems that the only reason Allen has been criticized (targeted?) is because of the allegations of child molestation that have been forced to the surface by Dylan Farrow. Many successful men who have tons of money prefer younger women. The fact that some women cannot understand this reality should not be a reason to do a pop psychoanalysis on him. If Allen cannot stand aging women, maybe the others on this last share the same view.
Anyone who has taken a class on Playwriting or Screenwriting, or just taken more than one course in Creative Writing knows that characters are often created from people they know or have known. Ask Larry David. If Allen is creating the character of an aging woman in a negative light, it just could be that is they type of women he knows — or knew. At 82, the numbers of aging women he has met or observed can reach into the hundreds.
Maybe Woody Allen cannot stand aging women. So what? Jack Nicholson was dating Paz de la Huerta in 2006 when he was 69 and she was 22 and attended the premiere of The Departed with him in 2006. In the movie As Good As It Gets, writer Melvin Udall (played by Nicholson) was asked, "How do you write women so well?" Melvin's answer was, "I think of a man. And I take away reason and accountability."
The last part, accountability, is what needs to be discussed with Allen's feminist critics. The #metoo movement has given women carte blanche to hurl any accusations they choose and hope something will stick. What if those accusations are wrong or simply unfounded? The accusers will find another target to vent at. Critics get paid to criticize — fairly or unfairly.