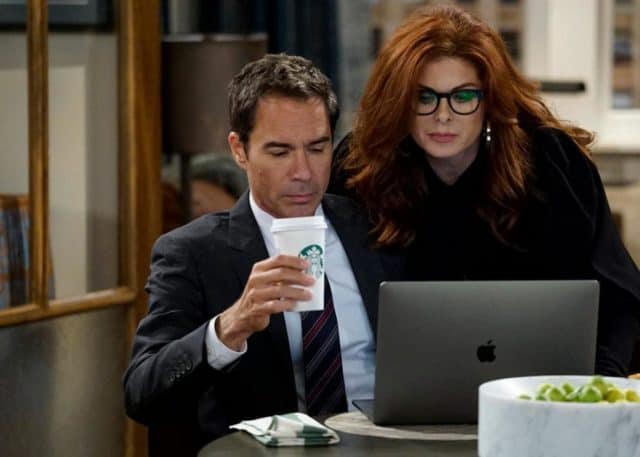 This has been the TV season for returning shows. X-Files came back for another return season on FOX, while Roseanne will air its comeback next week on ABC. There will be even more returning shows when Murphy Brown comes back on CBS next season. NBC also jumped on the bandwagon and brought back the comedy Will & Grace last September.
Before the series even aired its first episode, the peacock network decided to renew Will & Grace for a second season. It was a brilliant idea from the network as the series has done significantly well in the ratings. It has averaged a 3.1 rating in the coveted 18-49 demo and almost 10 million viewers. The series also performs well on DVR playback and by being watched on Hulu.
The cast of Will & Grace attended PaleyFest in Los Angeles yesterday and announced even greater news about the series. The show's second season will include 18 episodes – 2 more than what fans were treated to in Season 1. Additionally, Will & Grace was renewed for a third season,which will be slated to premiere in 2019. NBC did the same thing with ratings hit This Is Us when it renewed that series for 2 seasons towards the end of its first season. That show just aired its season 2 finale and continues to be the highest rated scripted series on NBC.
NBC Entertainment Chairman Robert Greenblatt announced in statement, "We can't get enough of Will & Grace. We're eternally grateful that Debra, Eric, Sean, and Megan feel the same way and wanted to keep this good thing going. I'm overwhelmed by the response the new show has received from the press and audience."
Will & Grace will air its season one finale on April 5th. The series stars Eric McCormack, Debra Messing, Megan Mullally, and Sean Hayes. Each has received numerous accolades (including Emmy wins) for their work on the series that originally aired from 1998-2006.
Are you happy that Will & Grace will be back for a second and third season? Let us know in the comments section below.
Photo by: NBC