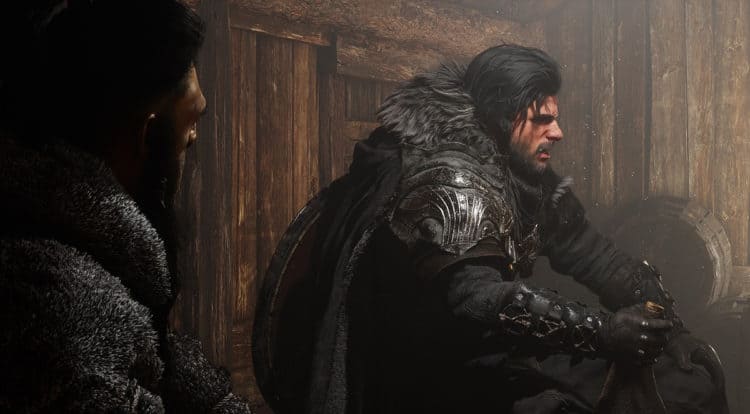 Many would argue that some of the greatest games ever made all came from the genre of open-world fantasy. Some of the most notable would be; Legend of Zelda, Elder Scrolls, and The Witcher just to name a few. Crimson Desert by developer Pearl Abyss is the newest IP that could potentially fit in this mold. After an official gameplay trailer was revealed at Game Awards 2020, gamers worldwide were salivating for the next tasty morsel of information. With little details currently available, the gameplay trailer alone left an impression that maybe this title could potentially set a new benchmark with open-world fantasy games. Crimson Desert takes place in a brutal, medieval landscape called Pywel that's within the same universe of Black Desert.
It was originally going to be a prequel to Black Desert, but the developers decided to take another turn and make something more accessible. According to producer Seongwoo Lee, "We wanted to show what players can do and enjoy in the game as much as possible, but we could only put in a third of everything we actually shot in the trailer." One glance at the gameplay mechanics will remind many seasoned players that this title has rather unique combat and traversal mechanics. The developers of Crimson Desert are clearly taking inspiration from other popular open-world titles. The combat looks akin to Shadow of Mordor, the parkour relates to Uncharted while the conversation mechanics echo The Witcher.
Video
Broken Swords & Clashing Shields
The lead protagonist, Macduff, is a mercenary who partakes on varied quests with his group and encounters all manners of trouble. The core aspect of this game is that players are free to forge their own adventure and all the mercenaries will be playable. Peppered with; puzzles, races, trails, dungeon crawling, upgradeable abilities, and a fully functional eco-system makes Crimson Desert a potential top-tier offering. The story is tightly under wraps and details are still being ironed out. Some clips of the trailer clearly show that this game is early in development, but as things currently stand it looks astounding.
As far as combat is concerned, it appears that there's quite a bit of strategy involved. Macduff will be able to unleash a flurry of combos with his sword and even use enemies as human shields. Players will have to constantly find a way to smite armored, airborne, and ranged enemies by constantly switching methods. Of course, the more abilities Macduff unlocks, the more effective he will be in combat. Some of which involved wrestling moves to where Macduff can body slam and suplex enemy combatants. It appears that Crimson Desert will have a vast selection of grappling options and it's a welcomed change. There will be a myriad of enemies that players will encounter while exploring Pywel. Some beasts can be mounted during mid-combat for a tactical advantage and there's even a dragon that players can pilot. Thus, enemies can drop their weapon during duals and they'll scramble around to pick up the nearest item to fight with. There will be little moments like this that will bring this game to life.
Forging Your Path
During initial development, Crimson Desert was going to be a standard MMORPG that's akin to its cousin Black Desert. As time went on, the developers at Pearl Abyss took notice that this game is actually more focused on story than originally anticipated. Instead, the developers decided that maybe it'll be more suitable to have a co-op feature within the story instead. Even though it'll be entirely possible to finish the entire story solo, playing it with a group of friends is another option. Players will be able to drop in or out at their whim to join Macduff during his quests. It's not known whether playing co-op will enable group loot or individual. However, it will be possible to play the entire campaign with a group of friends at a player's discretion.
The decisions that players will make will affect the outcome of the story and will change the landscape. It is not known whether these decisions will change if playing co-op or not. There might be some sort of voting mechanism where players in the party can collectively make a decision. This remains to be seen. The environment will be very organic and players will have to take many variables into consideration before doing something. Macduff will be leading a colorful cast of mercenaries throughout the playthrough. Players will be able to play as any of them and they all have their own move sets and perks. Maybe players will be able to switch between them at any time like Grand Theft Auto V. Of course, it might also be completely scripted and players will be forced to play these characters. Pearl Abyss hasn't detailed on whether if players can freely play the other mercenaries or it's just simply part of the story.
Crafting Fantasy
The fact that Black Desert is still going strong several years after its debut speaks volumes. This world is rich with potential and there's plenty of room for growth. Since Crimson Desert will be releasing on PC and home consoles, this world will be reaching a much broader audience. It appears that this title has all the best ideas cherry-picked from other open-world games and strategically placed throughout this title. Pearl Abyss clearly has a passion for this genre and they're being meticulous with their work. If the co-op mechanics work smoothly and do not hinder the experience, then this game has the potential to be one of the greats.
There are definitely the right ingredients in place for this title to become something special. Even though the details are scarce, the little gamers know are already getting them excited. The talk of a co-op feature with this title will surely make it stand alone from its counterparts. Not to mention that the level of polish this game has is a treat for the eyes. As players wait for another Elder Scrolls or The Witcher, then Crimson Desert will surely hold them over.