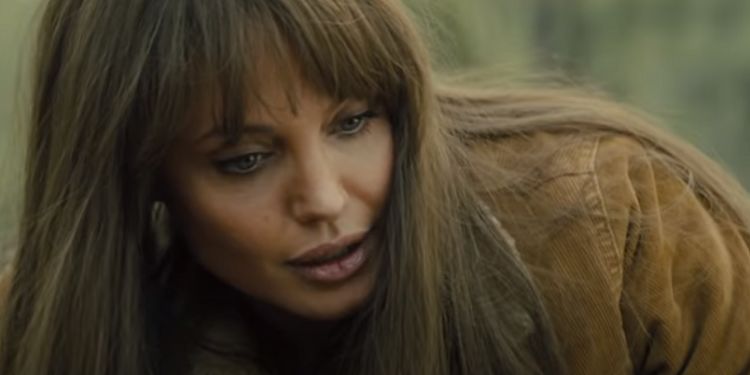 This is kind of a different look for Angelina Jolie since throughout the years she's been a commanding character that's either a highly skilled fighter, assassin, or magical being that can lay waste to scores of enemies at a time. But in Those Who Wish Me Dead she plays the part of a smokejumper and survival expert that comes upon a young boy that's survived an assassination attempt that claimed the life of his father and has to outwit or outrun the assassins that are on his trail. What's really makes this movie feel just a slight bit controversial is the use of the forest fire that the assassins willingly set in order to flush the two of them out or trap them without any way to escape. Jolie's character is already traumatized with guilt over something that happened in her past to one or more of her team and as a result, the blaze that's created for the effect of the movie is bound to mess with her in a very meaningful way, while the young boy is simply trying to survive and has placed his trust in her. For many people that were in or around the forest fires that created so much destruction in the past year or two, this movie might be a good one to avoid simply because such a thing is traumatizing to a very serious degree when it comes to some folks. But overall, it looks like a thriller that could be worth giving a look.
One reason to go see this movie is that it brings Jolie back down to earth as her character isn't some awesome being that can work magic or has weapons and skills that set her so far above her enemies. To better explain, a skilled smokejumper and survival expert has to be at least a little bit tough and know what they're doing, but that doesn't necessarily make them a tough as nails fighter, which means that if she is tough in this movie it will feel a little more earned simply because she's playing a more down to earth character, not a specialist that supposedly has a vast number of skills that feel unlikely for many people acquire in a lifetime. Another reason why this might be a decent movie is that the danger is easy for a lot of people to relate to since the most recent forest fires that claimed so much ground and devastated so many homes is something that will grip people in a very powerful way, so long as the blaze actually looks real and doesn't come off as a cheap CGI effect.
The trouble with forest fires in movies is that without practical effects, which have to be monitored closely no doubt, the whole thing feels just as artificial as it really is. No one is about to state that a movie crew should set fire to an actual forest since not only is that horrible…okay that's just horrible. But like water, fire is a very tough thing to create with CGI, as many of those in charge of such projects have attested to over the years. Practical effects are possible, but not on a large scale since the need to have people on standby for the smaller projects is all and good, but trying a larger scope would be irresponsible and just about impossible to contain with ease. Plus, the expense would be astronomical no doubt. But overall, it would simply be irresponsible. That means that other methods have to be found, and the hope is that those other methods will pan out and we'll be given a movie that is impressive in more than one way. Creating huge effects such as a forest fire is possible, but it's likely that a few people are going to be scrutinizing the scene beyond belief to see what they can find that's 'wrong'. That's pretty normal though.
The cast is looking pretty impressive as well since apart from Angelina the movie will be bringing on Aidan Gillen, Nicholas Hoult, Jon Bernthal, and Tyler Perry among others. From the looks of the trailer it already appears to be a movie that might be worth the effort, but it's bound to happen that there will be a few people that will dig into it for every little fault they can find. Watching the trailer makes it clear that Jolie's character, and the boy, might have one ally out of the bunch in Bernthal's character, but are otherwise going to be on the run from the assassin's and from the blaze that's set, which will likely be a great bit of motivation, trauma, and even redemption rolled into one situation for Jolie's character. That's kind of an interesting thought really since making a person face their fears is a great way to find redemption.