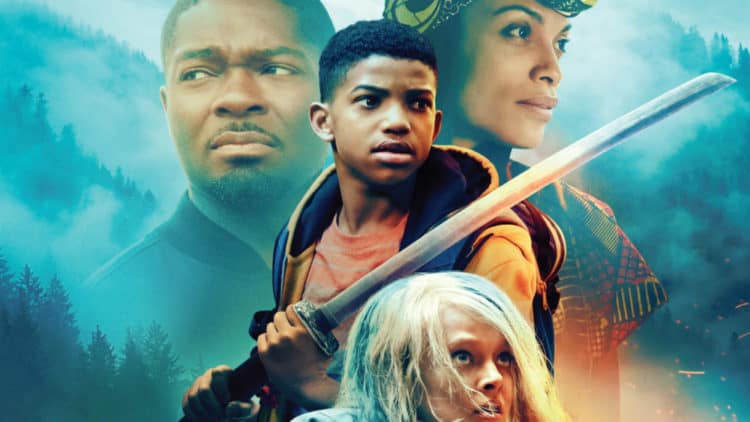 It's a very simple title, but the adventure looks all too real when two kids go off in search of The Water Man. One of them, Gunner, will be seeking out the legend thinking the healing powers of the Water Man can save his ailing mother, while the other, Jo, appears to be along for the ride to see if the legend is in fact real. But the moment they enter the woods, presumably after being told the legend once again by another character, played by Alfred Molina, things start to pick up as they enter the forest and begin to see strange, unearthly sights that bring to mind thoughts of Bridge to Terabithia, but with the hope that the fantasy will stay grounded but still contained within the real world where it might be deemed as real as it pertains to the main characters. The sword that Gunner brings is an interesting touch and one can only hope there's more of an explanation for this along the way since it's not exactly common for a kid in a movie such as this to be taking a weapon into the woods as though they're readying themselves for battle, especially when he's seeking out someone that he hopes can heal his mother. But it's an addition that's beneficial rather than negative since it forces people to think just what Gunner believes he's going to do with this weapon and whether or not it's as symbolic as it is useful.
The story is one that is bound to attract a lot of young viewers no doubt since it does sound like something that many of us might have thought about doing in our younger days when adventure was still something we were interested in and getting dirty and perhaps even lost in the woods was still more appealing than sitting around staring at a screen all day. Gunner is definitely a kid that not only has a lot of heart but isn't squeamish about heading off into the wild woods to seek out someone that he knows little to nothing about but thinks can help heal his mother. At the very least he's idealistic and like many kids doesn't think everything through before rushing off to find what he thinks will work. Unfortunately, this is a very well-read young man, which makes things worse since like it or not, being well-read means that there's a brain in his head that might be telling him that it's not only dangerous and foolhardy to head off into the woods with a young woman he barely knows but has faith in since she says she's seen the Water Man, but it's likely telling him to go back and accept the inevitable. That alone is possibly what could spark many upon many people to go forward, the voice in our heads that tells us to accept it, to just lay down, lay back, relax, and accept fate. A lot of people don't want to listen to this voice since it's tantamount to giving up in their eyes, and that's something that's intolerable to those such as Gunner and many others that aren't about to let fate dictate what they can and can't do.
There's no doubt at all that this movie is more for kids that are still into dreaming and thinking about making the impossible come true since adults will likely poke holes in the story and find any and every reason to say something about it, hopefully away from their kids. The importance of movies such as this isn't whether kids want to believe it or not, it's to inspire them to dream about things and to wonder about the world around them in ways that some might have missed in the past, or present, and to think of things that might excite them and jog their own sense of adventure and daring. It's true that many adults might not be as impressed by this movie as many kids likely will be, but if any of us can remember back to the movies we were impressed by back in the day, it should be easy to also recall that our parents weren't all that enthusiastic at times since they knew better and had seen beyond the smoke and mirrors that directors love to use in order to push their narrative and create a story that will be loved by the target audience. The Water Man is bound to be something that will be a bit creepy and even scary at some points, but it's also a movie that promotes hope, imagination, many other parts of life that people would be wise to pay attention to. If nothing else it looks like a lot of fun and should be a decent movie for family members to watch together.