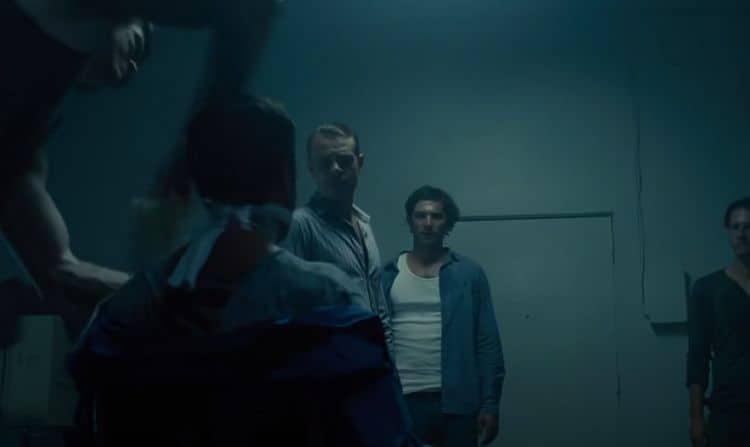 Everyone wants the American dream, right? The chance to make honest money and a lot of it while investing in something that people need is certainly a good feeling that a lot of people can get behind, but the problem comes when trying to get the money isn't as simple and as a result, people go to those that are willing to lend the money but are going to want it back with a great deal of interest. Plus, if anyone's paying attention, those that lend out the kind of money it would take to go into a business usually end up wanting a part of the business as well, either as a bit of goodwill or to expand their own interests. If the money isn't paid, or if they're cut out of the deal, or both, these individuals tend to get a little upset and start taking something other than money when it comes time to pay up. Nick Stahl is featured in a rather impressive way given that he's playing the mobster that the two main characters in this movie will go to in order to get the money they need to accomplish their dream. How terrifying he'll be when it comes to getting his money is something we'll have to see when it comes to the movie since in real life, yes, such things have really happened, a lot of people could probably attest to the idea that owing someone money, especially someone that will kill a person if they don't get what they want, is a terrifying prospect.
There are quite a few movies like this in circulation but the one thing that makes this worth watching, apart from the fact that owing a mobster is never a good idea, is the idea that Nick Stahl can be kind of a scary individual when he really needs to be. It could be that he doesn't look like the type that would keep a lot of people from believing that he can pull off such a role, and it could be the idea that he hasn't been in a lot of great movies to date, but at this point, it does look as though he's trying to make it work and it does feel as though it could very well be a convincing act in this case. Any movie in which a criminal shows that they're willing to go to the kind of lengths that this one has already depicted and not blink is one that warrants a bit of attention since it's a sure bet that it could be a gripping thriller that people won't want to miss out on. Added to that is the wow factor that Stahl looks to be bringing to the movie, which is definitely enough to make it worth a look.
The American dream is something that a lot of people want but not everyone can attain since it takes a lot of work, a lot of sacrifices, and sometimes it takes trusting the wrong people and borrowing money that can't be paid back. But there's a big difference between 'can't' and 'won't' when it comes to paying the money back to anyone, and not wanting to pay it back is all well and fine, but it tends to come with a long list of consequences no matter if one does this legally or illegally. The legal consequences are pretty easy in comparison to those that will come when borrowing money from an illegal source since a bank might foreclose on your home and take your business, but the illegal source will probably end up taking something else, something far more valuable that people can't do without. The idea of entering into a business deal with someone that's not a legitimate business person should terrify a lot of folks, and yet it's believed that people still do this type of thing in this day and age since the American dream doesn't come cheap and it's not something that people want to spend twenty to thirty years of their lives trying to attain when it can be done in far less time, but with much worse consequences.
Giving this movie a chance might be a good idea simply because it doesn't really look like a running commentary on the actual American dream that so many want, but simply a thriller that will get people out of their heads for a moment and allow them to be entertained. That's the big hope for many movies since the idea of entertainment is why people sit down to watch a movie most of the time, rather than being lectured to by one filmmaker after another in the form of a movie. It's worth a look to be certain, especially since Nick Stahl appears to be taking on a much stronger role.