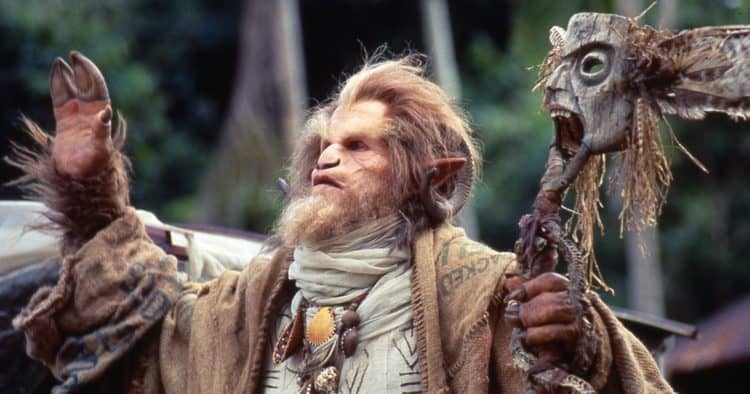 The Island of Dr. Moreau is one of my favorite stories of all time not due to the strange way that the deranged doctor was attempting to create animal/human hybrids, but due to the final line of the movie in which the castaway, Edward Douglas, speaks that concerns his misgivings about his fellow human beings and how much they remind him of the beast-men that Moreau created. This tale is one morality, science fiction, and also of humanity on a deeper level since in the long run, we are animals, but animals that have a much different thought process than many others in this world. Technically, humans have evolved to lead very different lives than other animals, but at our core, we aren't that different from the beasts that still roam the fields, since if all the niceties and manners were lost, it's likely that many, not all, of the human race, would be seen as animalistic in some way. The fact is that animal instincts were once a big part of our genetic makeup, and they still are, but they've been largely ignored for so long that current generations have little to no use for them unless they happen to find themselves in a situation that requires their use. The Island of Dr. Moreau is a story that has been represented in live-action a few times but has never been fully captured in a manner that would allow it to be remembered as anything other than a strange movie that featured Val Kilmer and Marlon Brando.
With all that in mind, it feels that it might be time for another Island of Dr. Moreau remake if only because humanity is on the verge of tearing itself apart even in the good times since the differences that exist between us don't appear to go away as quickly as they need to, or aren't understood as much as people want them to be. Plus, the kind of stock footage that would be available for certain scenes, such as the comparison to the beast-men that humans share, would be easy to find. And the effects would be far better this time around since if anyone was ambitious enough to take on this project it could no doubt do quite well with a healthy budget for special effects. The story would need a bit of work since it's definitely up for interpretation considering that from one version to the next a few of the characters have changed, the beast-men have changed slightly, and the story has been affected by. The 90s version with Val Kilmer wasn't entirely horrible but it did have several moments that could have been helped with a great deal of better effects and even better dialogue. But for their own parts, the actors did a fairly good job with what they had to work with.
The underlying notes of this story are quite powerful, but it almost feels as though they need to remain hidden for a timely reveal within the movie, or could possibly be covered over and laid bare at some point within the movie. It does feel as though a lot of people wouldn't agree at this time but the desire to see another movie made in the modern era with another great actor that could be used as the mad doctor could be well-received if it was done in a way that was perhaps updated and created in a way that would captivate the audience as well as weird them out since this is a rather different kind of story. But it's been a while since we really managed to get a story like The Island of Dr. Moreau, and it could be an entertaining tale if someone was able to greenlight it. Many people would likely discount the idea of likening humans to animals, but it does feel that there's a way to create this story in a manner that would get the attention of the people and remind them that being human is in fact an evolutionary privilege, something that many might feel is divinely inspired, but is still the product of an evolutionary jump that humans were fortunate enough to make. In this manner, it could be possible to bring this story into the modern era and do something interesting with it.
Or it could simply be another impressive science fiction story that would be gross enough and strange enough to capture the attention of the people since there are simply times when a good movie is better than something that carries a moral payload that people might not want to contemplate. Either way, this story deserves to be told again, and were I screenwriter at this point I'd likely have it going already just to see how it might turn out.