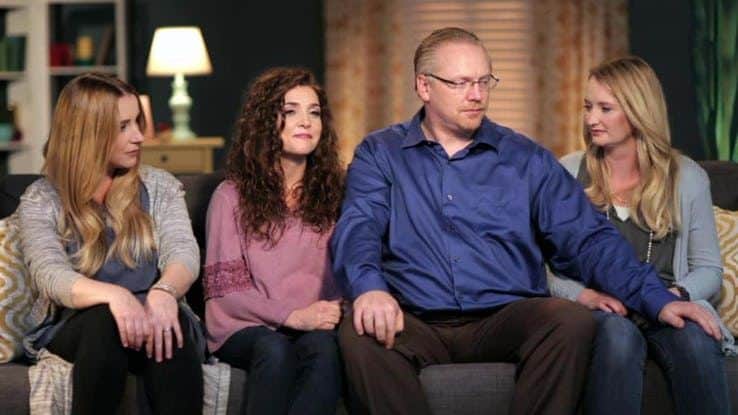 By taking polygamy and putting it on TV, TLC isn't just promoting a lifestyle that people don't understand or approve of in general, it's putting those same families in danger since at this time in the US polygamy is anything but legal. Yet it's allowed to continue and in Seeking Sister Wife the practice is going to be viewed in a way that the participants are going to try and justify as absolutely normal for their families. One thing that can be said right away is that it's never a good idea to try and censor the ideas of those that are happy in what they do and content in their life and how it's run. But with that being said one has to wonder just why any man or woman would want to go through with this and how it could not lead to jealousy and injured feelings now and again.
Even worse it seems would be the effects on any children that came from these unions, as it's been seen in Sister Wives that not only could Kody not possibly spend as much time with his kids as he wanted, but the children were from different mothers and it was natural that jealousy arose. In fact it's been heard that Robyn had to step in to keep her kids from being bullied by the kids of one of her other sister wives a time or two. How in the world can this be a healthy environment for kids when there's no single centralized authority figure, and the one that could possibly be that way is usually too busy dealing with his multiple wives on a regular basis? It does seem that one of the wives would step forward and take the kind of control that would be needed in order to settle things, but there's also the idea that this would be even less appreciated by the other sister wives as no mother wants to be talked down to by someone that's supposed to be her equal.
Adding to this is the fact that the husband is usually severely out-maneuvered the moment he enters into such a relationship. Unless each woman is completely subservient to him, and in this day and age that doesn't seem likely, his word is going to mean less and less the more wives he takes on. Those that agreed to the show almost didn't say yes, which might have been wise on their part, but finally relented in an attempt to make people understand the idea of polygamy and why it works for their families. Unfortunately for them the idea of polygamy is understood well enough and not entirely appreciated in most parts of the country. The overall community of polygamist that exists in the US is quite small, as many people adhere to the one partner per person ideology and tend to think that this is enough. By attempting to cram their ideals down the throats of the people much as the idea of a one on one marriage is used as a blanket idea for the country and even the world they risk turning a lot of people off, or at the very least having the channel switched or the TV turned off the moment they come on.
It's hard to say that they shouldn't be doing this since the idea of being free to do what you want to do in this country is one of the founding principles of being a US citizen. As some of you might know the practice of polygamy was outlawed by the church long ago, and was included in our many laws well over a century ago. It might make you roll your eyes and groan to think that religion has once again decided to step in and dictate what we do and how we live, but there are many people that would agree at this juncture that Seeking Sister Wife is not the best option for TV since it promotes something that has been deeply ingrained in many people as being wrong and completely immoral. That alone would be something that might affect the ratings and possibly cause the show to sink. But the fact that a few of the actors have been attempting to push their views on the show and thereby make it a statement rather than a bit of entertainment could turn even more people off since by this point we've simply seen too many individuals trying to make a big thing out of something that could be handled in a different matter.
The show is bound to get an audience, since no matter how people speak out against one show or another, they'll still watch it just to find a way to condemn it even further. If nothing else the show might give them ideas as to why it's just not a good fit.