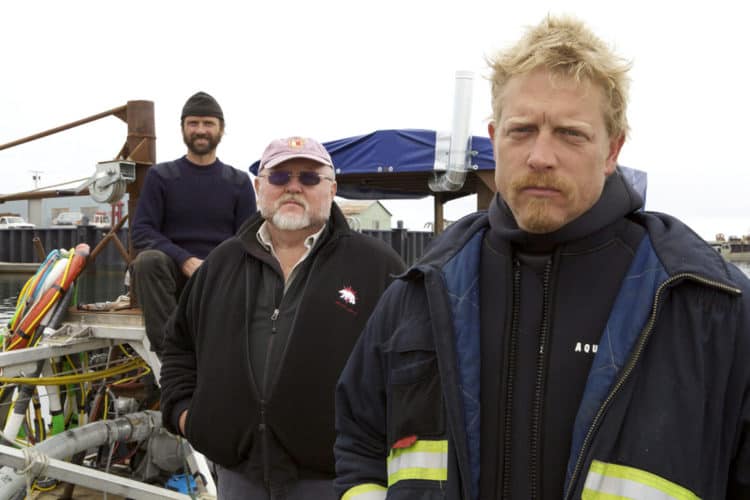 In case you missed the news, Bering Sea Gold is coming back for another season. Like the gold they hunt on the show, fans can't get enough of this show, and that keeps the network seeing dollar signs. We could put that on the list of reasons why this show just might last forever, but it seems a little too cheesy. Still, turning a profit is the biggest part of what makes the show work. Crews on the dredgers we follow each season hunt for all that glittering gold in one of the harshest environments possible, and we can't get enough. Maybe we never will.
Gold Fever
The gold rush that began in 1848 was one of the most significant events in American history, and yet it gets minimized by historians because of the crass nature of the pursuit of wealth. In reality, the revelation that the cities of gold once promised by Columbus and other early explorers might still be possible, caused the largest immigration event of the time. The population of California doubled in five years, and most of the immigrants were there seeking gold. The Gold Fever, a way to get rich by literally finding the gold that many thought would be laying around for the taking, was gripping the nation. People from all over the world, as far away as China came in droves to find gold or sell goods and services to the men who did. People gave up everything to go west and try their hand at finding gold for themselves.
What does that have to do with Bering Sea Gold? Everything. Many early Americans came here seeking freedom to practice their religion, but a considerable number of people came seeking wealth – specifically… gold. In a roundabout way, America's present was primarily shaped by the desire for gold. The pursuit of wealth has always been part of the dream. Even now, audiences have the blood of those gold loving ancestors in their veins. Now, thanks to Bering Sea Gold whether you're an accountant in Missouri, a doctor in Iowa or a construction worker in Arizona you can tune in and share some small part of that incredible rush. The hunt for gold is still going on, but most of the time, we don't get to see it. Audiences can partake in the gold fever from the safety and comfort of their homes. That fact alone could buy fifty seasons of the show.
Intense Competition
Bering Sea Gold may not be a traditional competition-based show, but nevertheless, the competition is intense. Crews vie for positions and resources that have much higher stakes than any gameshow prize. Their lives and livelihoods depend entirely on taking home the gold. Failure is not an option for miners like Shawn Pomrenke, Ken Kerr, Vernon Adkison, and Emily Riedel. Everyone is driven by the need to find their own biggest payday, but more than a mere paycheck, the business depends on it. Without better equipment and new techniques, they can't hope to keep up with the other crews and harvest the bounty of the sea. Every viewer has their favorite character and team, and they're pulling for them to 'win' big in their endeavors. The stakes are set, and the payoff is one that humans have sought for centuries. Many have tried and failed, and doubtless, someone is going home disappointed, if not this week then soon.
Female Empowerment
Women are on the rise, and everywhere there are female entrepreneurs like Emily getting into businesses that have been dominated by men for a very long time. With just over half the world (50.8 percent) made up of women, the ladies make up a massive chunk of the viewing audience for any show. You can bet many of them are pulling for Emily to beat the guys and make a bigger splash. From behemoths like the Disney corporation to small businesses everywhere, women want to succeed. The female population is more employed and closer to equality than ever before in history, and nothing is going to stop that ball from rolling now. Seeing a capable and lovely woman like Riedel raise the (gold) bar is getting a lot of attention. We know we'll be watching to see what she does next.
Secrets
Any good reality TV show has a few skeletons in its cast's dressing room closets. Bering Sea Gold is no different. The Travel did a piece on some of the things you didn't find out during the on-air episodes last year. They dredged up quite a few facts about the various crews and their on and off-camera antics. Emily, for example, saw gold as a means to work her way into the opera. It's nice to know she's even more talented than the show lets on.
Several members of the cast have been arrested or had warrants out for them over the last few seasons. Furthermore, they aren't exactly beloved by all the local politicians and other folks in Nome. In spite of all the show has done to help boost tourism for the small Alaskan town, they aren't local heroes in everyone's eyes. Yet boost tourism they certainly have. There's enough of a miniature gold rush going on that the city had to allow a second gold mining area to accommodate it all. Most people don't choose to live so far away from the hustle and bustle of big cities and warm weather populations because they really want to see TV crews in town and a million visitors ruining their idyllic peaceful existence.
Spin-Off
Everyone knows that when a show is popular enough, there will eventually be a spinoff. Bearing Sea Gold: Under the Ice has had at least four seasons so far. The show follows cold weather gold mining activities that happen when the seasons change. While the original focused heavily on the dredges that worked in summer, it turns out that even in frigid Alaska, when there's gold to be found, some folks will go to incredible lengths to get at it. Braving the cold and dangerous waters of the Bering Sea in winter is all in a day's work for these hardy neo-49ers.
Final Thoughts
We love good reality TV (and sometimes awful reality TV, but that's a different article entirely). We also love the shine of precious metals, and gold is the shiniest. Combining the two makes for some incredible and riveting watching. Could this show last forever? We think it could. All the elements are there: A great cast, compelling drama, stories we care about and plenty of someone else taking all the risks while we share in the emotional rewards. We'll be watching, will you?