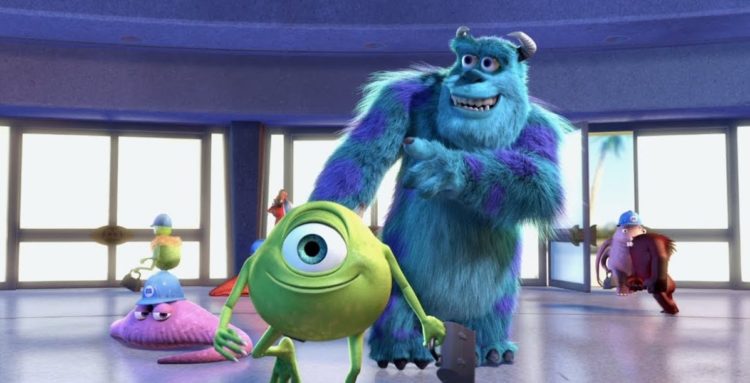 Disney Streaming is already set to hit the ground running and it's still months away from being released apparently. Thus far there have already been several new shows that have been introduced into the lineup and Monsters at Work, based on the popular Monsters Inc., is just one of them. What direction the show is going to go in isn't really certain but you can at least guess that Boo might be a part of it at some point since in the original movie Mike and Sully managed to reconstruct the door that led to her room. Of course there's always the likely possibility that something has happened in the time period between then and now and the story will evolve with or without Boo. Of course as it happens we might even get to know her real name and possibly see her grow up a bit, perhaps remembering the big blue, polka-dot 'kitty' that she came to enjoy so much.
One of the best parts about the show and possibly one of the reasons that it should do fairly well is the fact that the original cast is coming back, well, at least two of them. As Sa'iyda Shabazz from Moms has revealed that Billy Crystal will be taking on the role of Mike Wazowski once again and John Goodman will be taking on the mantel of James "Sully" Sullivan. That's pretty cool to be honest since it doesn't seem that anyone other than these two could possibly make these characters work as well. The dynamic that they had in the movies, both Monster's Inc. and Monster's University, was simply too good to break up it would seem. The whole idea of the little guy that has all the smarts and the big guy that has all the talent is an element of comedy and drama that has worked for a long time in show business and is great when this kind of duo is found and is able to work with one another.
You might have heard already but Alex Sherman of CNBC and many others have already been praising Disney's new streaming service for being more family-oriented and capable of delivering the kind of quality programming that people want to see. In other words Disney is really attempting to take over yet another aspect of entertainment that for a while now has been dominated by Netflix. When the time comes however Disney will be pulling every last movie and show from Netflix that bears its trademark, thereby asserting its dominance once again. Monsters at Work is just one of the many new shows that will be coming out to further a story line that people have enjoyed for so long, and it's a bit difficult to say right now just what direction they're going to take this in.
After all, when we left them in the original movie Sully and Boo had reunited, Mike was no longer just an assistant, and the monster world had been converted to run on laughter instead of screams. That leaves a lot of openings for the story and a great deal of ideas that could be worked into the ongoing series that this will become. Ilana Gelfand of Oh My Disney has clued us in to a lot of what's going to be expected when the show debuts on the streaming network and so far it sounds like it's going to be a blast since there will be new characters, new stars lending their voices to the show, and even a few other returning stars that will be beneficial as they'll no doubt help to draw in the fans of the original movie.
It's fair to say that a lot of people didn't know what to expect when Monster's Inc. first showed up on the scene since like a lot of Disney movies it raised the bar in a way that wasn't exactly expected and created a level of interest that took a while to really get rolling. But once it did Mike and Sully became two of the favorite characters within the Disney franchise and, as it was seen, were a bit more popular in some countries than others. When Monsters U came around though it was another fresh look into the monster world that wasn't quite as popular as the first movie but was still entertaining since it showed how Mike and Sully came to be friends and that the monster world is far more akin to the human world than we were led to believe. In fact if you look at it the differences between the two worlds are actually kind of minimal since despite the many different monsters and the way they live, their entire goal is to just get by from day to day like any regular human.