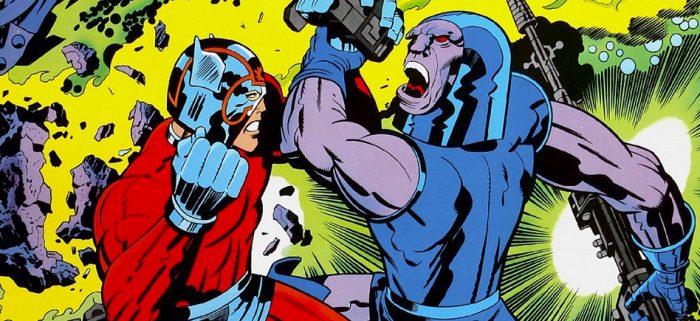 The movies of the DC Cinematic Universe have been on a roll recently and they show no signs of stopping. A movie based on the New Gods is one of their projects on the development list and it's got us fans wondering. Warner Bros. has recovered from their missteps from the past and now they're focusing on lesser-known DC characters. The New Gods have a big influence in the DC universe, but they won't win any popularity contests when it comes to characters. Bring up DC, and the Justice League comes up, and even the Teen Titans have their own show. What do the New Gods have outside of the comics? In fact, who are the New Gods exactly? They have a history with the Justice League in the comics and it involves one of their greatest enemies. If that's the case, then why aren't they seen more?
The most interesting thing about the New Gods is that it's about a conflict that stretches far beyond Earth. What they are exactly is an alien race that represents two sides of the same coin. They once inhabited the same world, but it was eventually split apart into two separate worlds. One world is New Genesis, an idyllic utopia that is ruled by the compassionate Highfather. The other world is a Apokolips, a hellish dystopia that is ruled with an iron fist by the totalitarian Darkseid. Yes, that Darkseid, the Thanos of the DC universe and prominent enemy to the Justice League. One world represents peace and stability, while the other represents chaos and oppression. Two sides of a very large coin.
That sums up who they are and what their series is mostly about. It sounds like an interesting premise for a movie, which is why DC has given director Ava DuVernay the chance to bring them to the big-screen. DuVernay has directed the films Selma and A Wrinkle in Time, and yes, the latter wasn't exactly a big win for her, but Selma proved her competence as a director. A year ago, it was announced that DuVernay will be co-writing the script with comic book writer, Tom King. That's great news for the film, because King is known for writing comics for the hero known as Mister Miracle. This superhero is an escape artist and the son of The Highfather, but in an attempt to bring peace, he was traded for Darkseid's son, Orion.
Mister Miracle grew up in the devastating world of Apokolips, but despite the horrors he endured, he grew up to be a hero. He's an interesting character, and one of the chief heroes of the New Gods series, so having King on board is a serious advantage. But Mister Miracle isn't the only hero the series has to offer. Mister Miracle found love in a native of Apokolips known as Big Barda. She is known for being the leader of the Female Furries, a group of elite, but savage women warriors fiercely loyal to Darkseid. She eventually found Mister Miracle and two became husband and wife. Barda even escaped the clutches of Darkseid and made way to Earth, where she became acquainted with several of Earth's heroes. Miracle and Barda lived a normal life on Earth for a brief amount of time, but they couldn't completely escape their past.
A husband and wife from another world that escaped to Earth are rare kind of characters. They come from separate worlds that are totally different, but they managed to fall in love. Above all else, they are warriors who fight against oppression. These two must be the main protagonists of the New Gods film for these exact reasons. They are outlandish types of characters and not your typical heroes, and DuVernay even stated that Big Barda is her favorite hero. Who can blame her? Barda is a strong female character, much like Wonder Woman, but she's not afraid to get her hands dirty. DC has done well on giving us some great female characters and Big Barda can be added to the list. If the New Gods can accomplish anything, it's introducing her.
What other characters do the New Gods have to offer? The answer is a lot. Let's go back to Darkseid, the villain of all villains in DC. He was briefly referenced in Justice League by Steppenwolf, the uncle of Darkseid. His presence in the DCEU has been confirmed and his world and minions need to introduced next. He was some sinister lackeys serving under him, including Desaad, his master torturer, and Kalibak, his bloodthirsty son. One of his most nefarious servants is Granny Goodness. A goofy name, right? Well, this femme fatale is anything but goofy, as she serves Darkseid in a horrific fashion. Goodness runs her own orphanages, but her version of "caring" for children involves brainwashing and torturing them into becoming heartless warriors. She's responsible for forming the Female Furries and caused a lot of pain for Big Barda and Mister Miracle.
If the New Gods movie needs a good villain, Granny Goodness should fill that role. Darkseid is too powerful of a villain for Big Barda and Mister Miracle to face alone, making Goodness more suitable for them to handle. She's powerful, but her true strength lies in her ability to command the Furries and psychologically torture her victims. Barda has a personal enmity with her and a confrontation with her will lead to a fight with the Female Furries. We got a taste of that in the animated film, Superman/Batman: Apocalypse, and it was fun to watch. A live-action version of that would be fun, except she'll have Mister Miracle by her side. On top of that, Granny Goodness is a female villain, which would provide a good balance of diversity among the DCEU villains.
The most significant thing about the New Gods movie is that it'll expand the DCEU. It's a universe that stretches to literal galaxies and this can really push boundaries. The worlds of Apokolips and New Genesis are far from Earth, and it'll feel separate, but it won't divert from the DCEU. These worlds have many new characters that are colorful and significant to DC and they need to be explored. The one character that really needs it is Darkseid, the villain that the main heroes will face in the future. He doesn't have to be the main villain, but it's the best opportunity to give us a glimpse of him. He's an intimidating and menacing villain that needs time to build up and this movie can set the stage.
Details on the New Gods movie have been scarce, but it can change a lot for the DCEU. If DuVernay is moving forward with the film, we'll have a superhero film like no other.