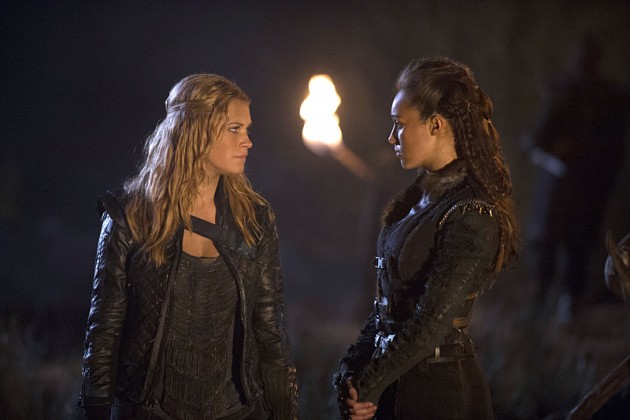 The 100 has introduced many new and interesting relationships in its second season, from the bond forged between Jaha and Murphy, to Octavia and Indra's teacher-student dynamic, to the growing friendship between Kane and Abby. However, what has easily been the most compelling relationship throughout Season 2 has been the one between Clarke and Lexa, two leaders from opposite groups, the Sky People and the Grounders, who were able to come together and create peace between the two clans and focus on one common enemy: the Mountain Men. What started out as mutual respect between Clarke and Lexa has developed into something deeper in recent episodes of The 100, and last night in "Bodyguard of Lies," things between the two women reached a turning point.
Later in the episode, after Clarke confronts Lexa about her attempt to kill Octavia, an action that, in Lexa's mind, would ensure both the peace between the Grounders and Sky People and Clarke's safety, the two of them speak about the Grounders' way of doing things, which Clarke may see as harsh, but Lexa sees as a matter of survival. "Maybe life should be about more than just surviving," Clarke says to her. "Don't we deserve better than that?" "Maybe we do," Lexa responds, before kissing Clarke, who kisses her back before they break apart.
The pair's kiss, along with Clarke saying that she's not ready to be "with anyone" at this time, is a huge moment for The 100 and two of its best characters. The build-up to a possible Clarke and Lexa romance has been well-developed over several weeks, as we've seen the two of them grow from simple allies to friends to something more entirely. The bond between them is unlike anything else on the show; it's born out of respect, trust, and an understanding about the difficulties that come with being a leader.
For Lexa, Clarke represents a new beginning, a second chance at a life not devoid of love but full of it. With Clarke by her side, Lexa realizes that her emotions make her stronger; she does not have to be the hard, tough commander of the Grounders and instead can become someone who realizes that she has something and someone worth fighting for. Clarke helps Lexa open her eyes to the true purpose of war; it's not just about surviving but of having the opportunity to live with the people we love, and Lexa's decision to kiss Clarke is a declaration that she believes in that idea, or at least in the possibility of it.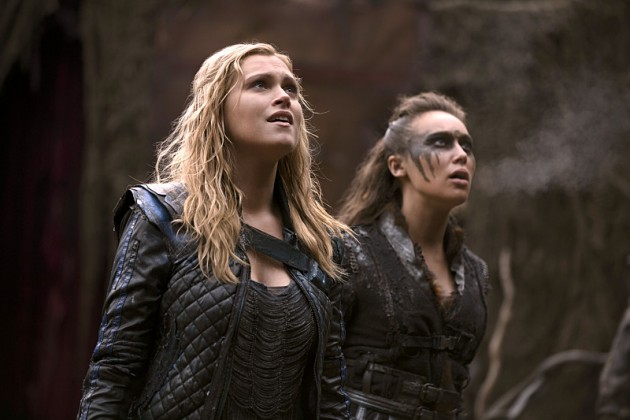 Meanwhile, for Clarke, Lexa has not only been a provider of advice and wisdom but one of the few nonjudgmental figures in her life. As the leader of the Sky People, Clarke faces criticism at every turn for her actions, from her mercy killing of Finn to her choice to sacrifice the lives of many in order to keep Bellamy's presence at Mount Weather, their one advantage against their enemies, a secret. While Abby, Raven, and even Octavia have shown their anger and disappointment in Clarke, Lexa never acts as a preacher of ethics but as a realist who knows that the harshness of war comes with incredibly difficult decisions. While she may not always agree with Clarke, she acknowledges her strength as a leader and encourages Clarke to believe in herself and her actions instead of trying to make her fear that she's become some type of immoral monster.
Furthermore, Clarke's kissing Lexa back before they break apart is a huge moment for her character, as we discover (and as was confirmed by many of The 100's writers on Twitter) that Clarke is indeed bisexual. And yet, even though this is a new reveal about the character, The 100 doesn't treat the moment as anything other than what it is: two people expressing their feelings for each other. The 100 doesn't feel the need to make Clarke's sexuality a statement or debate; she is who she is, and she can love who she loves, and that's all that really needs to be said.
However, even though Clarke's sexuality is not treated as anything major within The 100 itself, there's no denying that it's a big deal for The CW, and for network TV in general. While supporting characters on network series have been bisexual in the past (you need only look to Sara Lance in Arrow last season, who had relationships with both Nyssa and Oliver), this is one of the first times (at least that I know of ) where a network TV series' protagonist has been openly bisexual, and that's a great development when it comes the ever-present need for more LGBTQ representation on mainstream television.
When it comes to the characters of both Clarke and Lexa, their sexual orientations are very low on the list of what's most interesting about them. They are treated as real individuals, first and foremost, not as message-delivering mouthpieces or as stereotypes of a certain type of people Both women are intelligent, talented, and powerful leaders, and the fact that they may be attracted to each other doesn't outshine or take away from that fact. Instead, Clarke and Lexa's connection is yet another a well-written, well-acted relationship on The 100, one that I'm incredibly interested in seeing more of in the final two episodes of the show's second season.
[Photos via The CW]