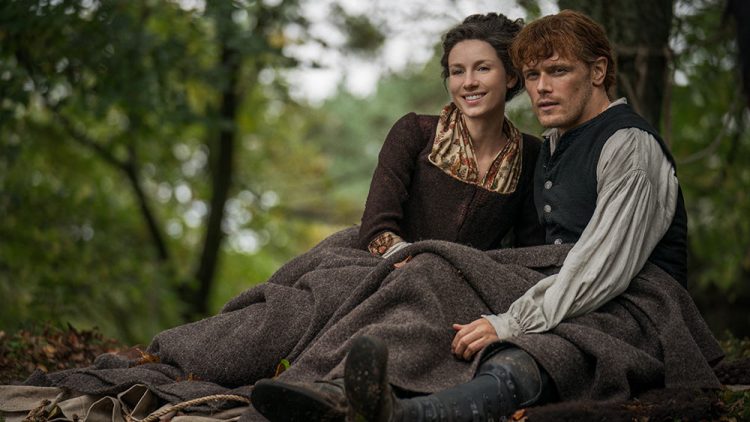 Entertainment that is genuinely head and shoulders above the other offerings on TV is rare. Since the days of Quantum Leap, the time travel trope has been used and reused, though rarely very well. Just as the book series is original and excellent, the Outlander TV show manages to bring something that is not cliched to the screen. It is a feat by itself. They didn't stop there, everything about Outlander is flawless. Any show that wins twenty-seven awards in four years, it is worthy of a look even for those who aren't fans of historical dramas, time travel, war or love stories. When you add the visually stunning and fully realized character portrayals on top of an already great premise, it's no surprise how completely Outlander is beloved. The show deserves every nomination a show can get for unprecedented excellence across the board. If you cannot find something to love about this show you may need your hearing and vision checked.
1. Staying True
Whenever a show is adapted from a book series, fans hold their breath. It's very rare that the show (or movie in some cases) is anywhere near as good as the books it came from. Authors have famously refused to make film adaptations of great novels because of the discrepancy. Enders Game, for example, took decades to hit the screen because Orson Scott Card did not want Hollywood to change his lead character into an angsty young teen with a love interest when he was supposed to be a little boy. In some cases, however, everything seems to go right. The author Diana Gabaldon is a consultant on the production of the televised version of her books. She even wrote the screenplay for one episode called Vengeance is Mine. She has stated that she feels that the shows' writers very effectively capture the important pieces of her work and relay it to the audience. When the original author is "Deeply impressed," that's about as high as praise can get.
2. Surprising Gender Equality
Everyone knows gender equality is a hot-button issue. When it comes to history, even fictional and alternate history, it's just not there. Representations of objectified, one-dimensional women who are less than their male counterparts, only existing to support their men on camera, are rife in Hollywood. A woman who owns her sexuality, in particular, is typically reviled, slut-shamed or handled as a domineering and obnoxious character. Outlander is having none of it. The show manages to capture the essence of female empowerment even in its love scenes without playing to the stereotypes that detract from the very issue they represent.
3. Realistic Love
Working on a set can be awkward even for the most experienced actors. Sex scenes are particularly difficult because, whatever the audience sees after editing, it is almost always two people who are not sexually intimate getting naked together and pretending that they are two other people who are in love (or at least in lust). Actors have numerous ways of handling the issue, but none more absolutely darling and endearing than this; Caitriona Balfe and Tobias Menzies wrote old fashioned love letters. They used their characters as inspiration and composed the letters to help alleviate the weirdness of film-love. Clearly, it worked.
4. Costume Correctness
The sheer size of the costume department on Outlander is titanic. In fact, the department is so large that Terry Dresbach was forced to create a digital inventory system unique to the show. The system is called Mother, and she helps keep the incredible and historically accurate costume department from imploding. The entire costume department is just beyond dedicated to perfecting their craft. Every costume is handmade, hand dyed and hand aged. They use cheese graters, blow torches and anything they need to make every piece look loved and lived in. For anyone who was wondering, no, they don't wear anything under those kilts. Furthermore, each actor wears their kilt in a different and personal way. Every woman, down to the last extra, wears a corset for historical accuracy.
5. Inspired by Dr. Who
It's not at all hard to see the connection here; author Diana Gabaldon has said more than once that her inspiration comes from Dr. Who. If you aren't familiar, then you're in a decreasing minority. Dr. Who is a brilliant British sci-fi that is all about time travel and war. Though Diana Gabaldon manages to create a story that is wholly her own and in no way mimics Dr. Who, the connection seems clear. We love her for this geeky and amazing trivia tidbit. Everyone should be inspired by Dr. Who, and by Outlander as well.
6. Real Food
Like everything on Outlander, the menu is exquisite. Most shows and even advertisements for food use plastics and all sorts of somewhat disgusting tricks to make things look better than they usually come out in real life. Unlike the rest of Hollywood, when you see laden tables on Outlander, the food is authentic. Every dish is prepared and displayed as it would be in real life. It may seem like a small thing, but it helps elevate the authenticity in one more way.
7. Hard Work
Most people don't start work at 4 am. Those who do still don't spend the first four hours of their day standing. Sam Heughan does. Every time they film a shirtless scene he has to spend 4-5 hours in makeup mostly standing before they can film those scars on his character's back. Because of how delicate the makeup is they have to take special precautions with the filming. Shirtless scenes are always filmed first, lest they lose the shot as he moves and the makeup shifts throughout the day.
8. Real Correct Set
As with every aspect of the show, the sets are intricate and meticulous. Unlike film in previous eras, today's viewers don't just 'let it fly,' if they see a 747 in the background of a scene from the 1600s. The level of research and minuscule detail tweaking is everything right in film now. The crew spends thousands of hours a year perfecting every aspect of each setting. Even the lighting is unique and period correct wherever possible. They don't film using LED lights because of the tone changes. This crew and especially Jon Gary Steele, the production designer, are determined to get it right. Unlike some shows, they can't say no animals were harmed, those alligators in the apothecary are real.
9. Music by Bear
Fans of Bear McCreary aren't surprised that the award-winning musician was chosen for Outlander. From his brilliant adaptation of a Robert Lewis Stevenson poem that he put to music by using an existing Scottish folk song to the Caribbean take in season three, he's the right man for the job. Even those who don't know who Bear McCreary is will still probably recognize his music. He has worked on such well-known titles as Battlestar Galactica, The Walking Dead and the video game God of War.
10. Hugely Influential
There is TV, influential TV and then there are shows so influential that a Prime Minister weighs in on when they will air. At the time Outlander was being produced the political situation in real-life Scotland was tumultuous at best. For a show that portrays rebels to be so close to the hearts of viewers is rare, but (former) U.K. Prime Minister David Cameron stepped in and spoke to Sony personally. He feared that with Scotland readying to vote on detachment the show might unduly influence the audience. Sony, it appears, agreed and delayed the release in the U.K. at the time.
11. Love Triangle Done So Differently
We've all seen a classic love triangle. Like time travel they are a hugely popular TV trope. Most triangles, however, don't involve two people who are married in different centuries. (SPOILER ALERT) Claire will go through more drama than any woman in history for her loves. In the course of the series, she loses both of her husbands at least twice and has to fight first to find and then return to where her heart truly lies. The double love triangle aspect of not only Claire having two husbands, but Jamie having two wives at one point is not the typical take on a love triangle. Like everything about Outlander, it goes beyond what you might ever expect or predict and does it so well it's like a book you can't put down.
12. Time Travel Spoilers
The trouble with time travel is that going back to the past gives you certain advantages. While more than a few series have handled the problem of advanced technology looking like witchcraft, Outlander deals with a different bit of foreknowledge. (SPOILER ALERT) Claire is privy to the fact that the Jacobite uprisings are doomed to fail. She tries to help people avert the disaster, but cannot indeed change the outcome in the past.
13. Location Location Location
The scenery looks real in Outlander because it is. Though there were other locations initially scouted for filming, they landed on Scotland as the natural choice. Fans can visit several of the sites portrayed in the show if they wish to do so on vacation. We're glad they ultimately decided not to film in Eastern Europe or New Zealand, though both are beautiful, it would have detracted from the realism of this believable yet unreal story.
14. If You Love Her Set Her Free (Season 2 SPOILERS)
One of the most genuine and most profound expressions of human love is the will to do what's right for your partner when it means you will lose them. Just before the Battle of Culloden Jamie and Claire have a conversation that changes everything. He convinces her that, after losing a child already, she needs to go back to the 20th century with her second pregnancy to save herself and the child.
15. Career Woman
Portraying career women in the past has never been a hugely popular decision. Claire Randall, however, is a professional (at the series beginning). As a Combat Nurse in 1945, she shows her strengths early. A sharp mind and strong will help the heroine serve on the front lines of WWII. As with most places, there have never been as many women as men in the British Army, but those who opened up the options for future generations were the nurses.
16. Busting Down the Stereotypes
One of the things that shows just how next-level Outlander is in its execution is the audience. The people watching this show are shockingly almost exactly split down the middle. Half are women and the other half men. This is so unusual for any show, but more so when you consider the love story element.
17. Her First Time
Though she had some limited acting experience in the past Caitriona Balfe was clearly an underutilized performer. That will never be the case again after her gorgeous and poignant portrayal of Claire. It was a risk to take an actress who has never done TV before on such a difficult journey, but one that paid off.
18. Best Cameo Ever
While no cameo is likely to measure up to the sheer audacity and beloved cameo appearances of Stan Lee, we think it's wonderful that Diana Gabaldon was in her own show. She played a speaking role as Iona MacTavish in the episode called The Gathering.
19. The Rules of Time Travel Are Unique
It is difficult at best to bring the truly unique into something that has been done before. It can go badly very easy. (Sparkly vampires…really?) Diana Gabaldon spent serious time considering what the rules of time travel were for her universe and they are completely unique. Using a sacrificial gemstone is a genius twist on the element of a requisite offering.
20. World Outlander Day
That is correct, in case you weren't aware the Books/Show have their very own holiday.
Final Thoughts
Incomparable and outstanding aren't terms that should be tossed out for every half baked and 'alright,' bit of visual distraction that makes the small screen. However, they are terms that apply here. Outlander is a show we didn't know we were waiting for, but it's about time it showed up. Every aspect, from the books, that prequel the show to the last cut before the episodes air is meticulous.