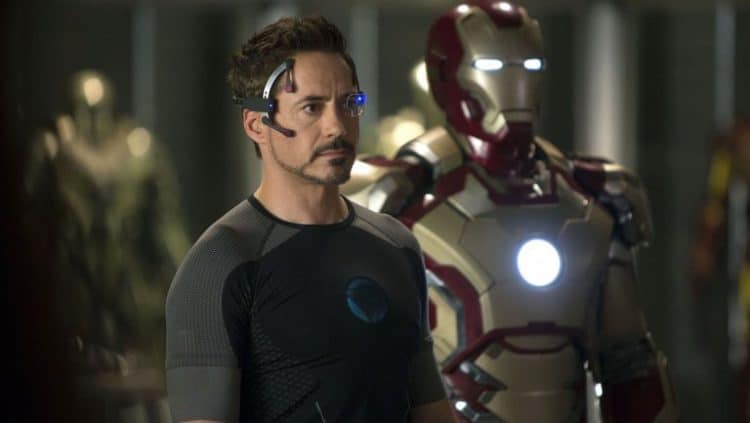 Matt Joseph of We Got This Covered says in so many words that Iron Man 3 is a Christmas Movie largely because it does conform to the idea of a Christmas movie. It takes place during the holiday, it's got the elements needed to show the transition that Tony takes from being an arrogant jerk to righting the wrongs in his life, and it even has a ghost from Tony's past that makes an appearance. So yeah, it's a Christmas movie in essence. But just in case that's not enough the MCU is ready with a statement for any naysayers:
But even more so than the others, we believe Iron Man 3 is a Christmas movie because the essence of the story revolves around Tony going through hardships and coming out the other side to see the wrong in his ways. That's the spirit of Christmas. Iron Man 3 follows Tony as he tries to take down Killian – who he first met some 20 years before – who has come back with a vengeance and his Extremis virus: Back in the late 90's, Tony shrugged off Killian's early ideas for A.I.M. and now he's going to pay the price for it. Meanwhile, Tony is struggling with his own inner demons because he is still trying to get over the events of Marvel Studios' The Avengers. Tony isn't sleeping, he's suffering from frequent anxiety attacks, and everyone just wants to talk about how he escaped the wormhole in the sky. You'd be pretty on edge, too – and that's not including the added stress of the season like picking out perfect presents and decorating trees.
The Christmas setting adds another layer to the story because it sure feels like Killian is literally a ghost from Tony's holiday past that's come back to haunt him. Honestly, if there's one movie in the Marvel Cinematic Universe that could be compared to Charles Dickens' A Christmas Carol, it's Iron Man 3.
In a big way it's easy to take just about any movie that's made around the holidays and twist them to such a degree as to be comparable to the old fables and legends, but this is pretty obvious in this case since it parallels the old Dickens tale fairly well despite deviating as it needs to as a Marvel story. Plus the whole idea of miracles abounding is a nice touch since it does have a very Christmas vibe, though the fiery villains are a bit much when trying to compare them to anything or anyone. Apart from that though Iron Man 3 does meet a lot of the same criteria that movies like Die Hard do, in fact in an even bigger way since Die Hard is nearly impossible to pair up with Dickens in any way, but it's gained a big spot in the hearts and minds of many people over the years since it's just not Christmas until we see Hans Gruber fall from the Nakitomi building. Some people say yea, others nay, but the overall feeling is that it IS a Christmas movie, and the consensus at this time tends to say the same thing about Iron Man 3.
Thankfully this doesn't look like it's about to be a trend and if there is a Marvel holiday special (shudder) it's a big hope that ol' Saint Nick won't show up on the big or small screen as he's shown up in the comics. Hardcore comic fans know what I'm talking about and if it gets you excited then keep it to yourself since the legend of Santa gets a bit complicated in the Marvel universe. In some cases he's a madman, in others he's an Omega-level mutant, and in yet others he has a run-in with Deadpool. Oh yes, it happened. But anyway, back to Iron Man.
The movie has earned the distinction of being called a Christmas movie, thankfully not a Christmas special, but definitely something that will stand out among the others as the years go by. Despite coming out in 2013, Iron Man 3 has still been seeking to earn the designation as a Christmas movie much in the same way that Die Hard did for so long. Eventually more and more people will likely accept this, but until then it's probable that the argument will rage on since it's difficult to see anything from the Marvel universe as a holiday movie no matter if it's set within the holiday, around it, or has anything directly to do with it. People love to argue over the finer points such as this again and again no matter that it's kind of inconsequential at this point and doesn't make a lot of difference whether they think it is or not. Perception is important after all, and as people have come to see it, Iron Man 3 deserves to be listed as a Christmas movie as well as a Marvel movie.