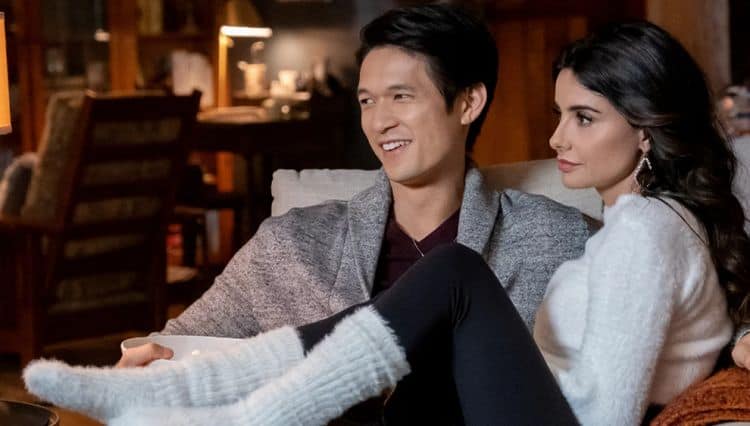 There are just some things that go really well together. Long walks and the beach, hot dogs and ball games, Pumpkin Spice Latte and the fall, and romantic comedies and a holiday setting. The latter definitely makes for a feel-good moment that we all crave for from time to time. We've learned to fathom the extra cheesiness that usually comes with it. A holiday-themed romantic comedy that is about to set our hearts aflutter is Netflix's upcoming movie, Love Hard. Here are five reasons why the film will make it to our holiday movie list:
5. Its modern-day premise is real and relatable.
Living in the digital age can be a double-edged sword. On one hand, we are given access to so many information by just a few clicks on our phone. This can be seen in the world of online dating, wherein meeting your potential future partner may be possible by just a few swipes on your phone's screen. On the other hand, this kind of freedom has given rise to numerous frauds and scams. The film is able to dive deeper into the online dating world, as it discusses it perks and perils at the same time. When your profile is out there for the world to see, you are instantly at risk for catfishing and ghosting. This is the reason why it is most important to be mindful of the people you meet online, and to use your presence of mind and common sense at all times. The film brings up these issues in a realistic yet endearing way. It would not be surprising for viewers to give those dating apps another try after the credits roll.
4. The storyline is simple yet heartwarming.
The film follows, Natalie Bauer, a woman based in Los Angeles, who falls for a guy she met on a dating app. She plans a spontaneous trip to his East Coast hometown to surprise him for Christmas, little does she know that she was the one who was about to be surprised. Upon arriving, Natalie finds out that she has been catfished. While she tries to mentally digest what just happened, she finds out at the guy she supposedly was getting to know really exists, and also lives in the same hometown. The guy who tricked Natalie offers to set them up instead as a peace offering, but in one condition. Natalie has to pretend to be his girlfriend for the holidays. The film's plot screams "good old romantic comedy" from all angles. Fans of this film genre have another reason to feel all sorts of warm and fuzzy again.
3. The cast members are composed of familiar faces and fan favorites.
Fans must be thrilled to see a bunch of familiar faces that used to regularly grace their television screens, as they were once part of hit shows. The famed The Vampire Diaries alum whom fans have missed seeing onscreen, Nina Dobrev (The Vampire Diaries) plays the role of Natalie, while Jimmy O. Yang (Silicon Valley) portrays Josh Lin, the man who catfishes Natalie. Darren Barnet (Never Have I Ever) portrays Tag, the guy Natalie thought she would be finally meeting in person. The film's other cast members include Harry Shum Jr. (Glee), James Saito (Always Be My Maybe), Mikaela Hoover (Holidate), Heather McMahan (The Trap), Lochlyn Munro (Riverdale), Rebecca Staab (Chronicle Mysteries), and Takayo Fischer (The Baby-Sitters Club).
2. Unique chemistry coupled with a sense of humor.
The film's trailer teases of a classic romantic comedy love triangle. By the looks of it, viewers can expect to experience some belly laughs as the events unfold. Just the thought of Natalie traveling a thousand miles away to finally meet her prince charming, but to have someone far beyond her expectations show up is a pretty hilarious concept on its own. The formula for a good romantic comedy is usually composed of lead characters with chemistry oozing out of their pores and a special storyline, all tied together with a montage paired with a cheesy soundtrack. We expect to see all this and more in the film. A guilty pleasure for the young and young and heart.
1. There are valuable life lessons that come with it.
Finding your person should not be categorized as a task. As cliché as it may sound, the best love stories start out organically, and should just feel easy. It must not be forced upon nor pressured on someone. If there's one lesson to take home from the film, it's that relationships must also be built on trust. This foundation can surpass trials and weather storms. Partners who are truthful to one another, and who choose to face the hard truths rather than the easy lies, are the ones whose relationships can last a lifetime.
Tell us what's wrong with this post? How could we improve it? :)
Let us improve this post!