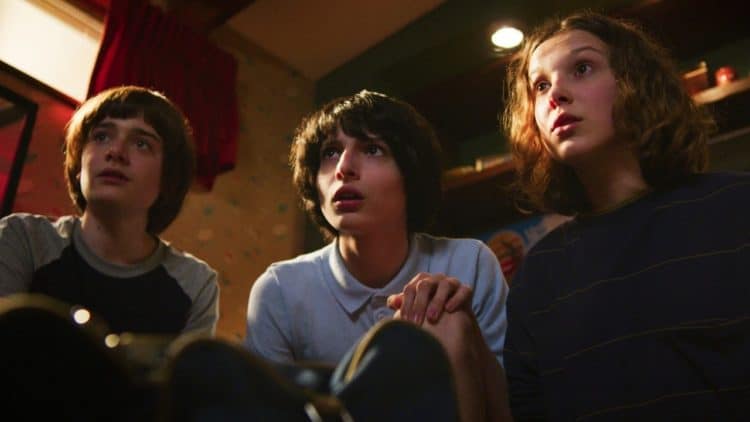 What sacrilege is this that we would actually talk about NOT wanting another season of Stranger Things? You can close your jaw and narrow your eyes as of now since a lot of people would be appalled by the very thought of not continuing the series, especially after the way the last season ended and the post credit scene was unveiled. Too many people want to know who "the American" is and why in the world, and how, the Russians have a Demogorgon just chilling in a cage waiting to be fed. Plus, it can't possibly just end with Joy moving her family and Eleven away, can it? That simply wouldn't be what the fans want to see since obviously everyone wants the happy ending, the knowledge that things can finally go on the way they need to and will wrap themselves up in a messy bow that won't be perfect but will be manageable. Worse yet, the town of Hawkins still has no clue just what the small group of their unsung defenders have been going through, though thanks to the Mind Flayer busting through the mall they might at least have a feeling that something just isn't right, unless the wool is pulled over their eyes yet again and in a continual manner. But that's what Murray is there for, right?
So let's examine this. It'd be great if the show ended on this note since, well, it's a lot more real when it comes to how it would track in real life. Think about it, real life is messy, it doesn't deal in anything being tied up neatly for long since the boredom of a peaceful and quiet life doesn't seem to appeal to some folks. Plus, as Abby Robinson of Digital Spy reminds us, the third season introduced and epic battle that saw Eleven essentially powerless since the Mind Flayer kind of ripped her powers away, eliminating the one ace that the group had from the beginning. This meant that they had to hold out as well as they could and possibly try to survive in the hopes that Hopper and Joy could do something to finally close the gate that NO ONE knew about somehow. Added to this is the fact that there are so many plot holes and unexplained occurrences in the third season that many people were foaming at the mouth as to how such things could happen without anyone noticing. The Russians had a secret facility beneath the mall in Hawkins? They had to somehow ship, one truck at a time, all the materials they needed in order to make it work, and yet somehow the construction of this place never raised a single eyebrow.
Let me be clear, I am a very big fan of the show, but even I had to raise an eyebrow at half of the things that many likely tried to simply brush off as they went along. After binge-watching the third season though it's pretty evident that some of it clung tenaciously to my mind as well as others when thinking about how a fourth season might be concocted. Yes, there's plenty of material to make it happen and enough fan theories to make it work in a few ways, but is it really necessary? Too many shows have reached a crescendo only to hit a sudden flat note and thus really start to decline when it comes to the quality of the story. That's not stopping Stranger Things since a season 4 is still in the works, even with whatever problems might exist when it comes to the massive plot holes and the indication that there's no way to tell just what time period we might see them end up in next. Remember, we've been dealing with the 80s thus far, and it would seem that some folks are already getting ready to move on and enter the 90s, and possibly go further. As Amy Mackelden of Bazaar makes clear, everyone has their own level of input they want to share when it comes to what should happen with season four, but at this point it almost seems as though the saturation level is reaching a dangerous level that's no longer sustainable when it comes to the story and how it's going to play out.
Eleven has no power at this point, though Mike seems optimistic that they'll come back. Maybe they will, but it seems as though a massive traumatic experience might be needed to make that happen. Eleven went off with the Byers, so what does this mean? Will she and Mike still be close, or will something develop between Will and Eleven? You see? There are enough ideas within two sentences that could shake things up in a massive way to make another story, but it would seem that it might move so far away from the premise of the original story that it might end up becoming its own tale at some point, which could end up destroying Stranger Things. Why not savor what we have instead?