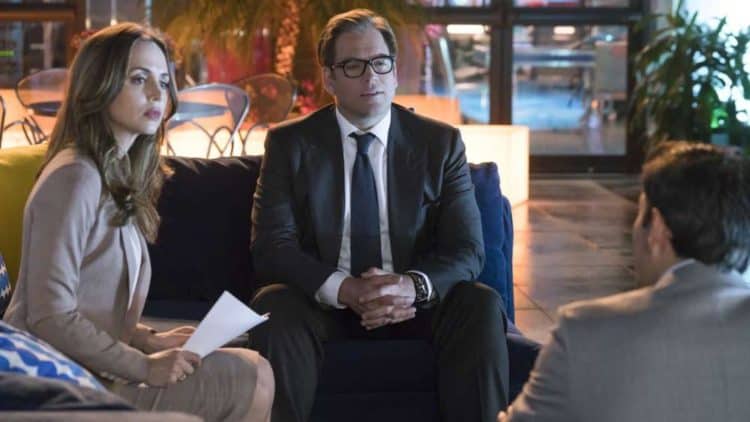 'Bull' is an American legal drama Television series that airs weekly on CBS channel. It is loosely based on the early career of a well-known trial consultant Phil McGraw, commonly referred to as Dr Phil. The television drama centers around Michael Weatherly, who takes the role of Dr. Jason Bull, a psychologist that works alongside lawyers to profile jurors and tweak trials to the benefit of his client. The show, which officially premiered on CBS, in September 2016, and was created by Phil McGraw and Paul Attanasio. Its main cast includes; Michael Weatherly playing the role of a psychologist and trial expert. Freddy Rodriguez, as Benjamin Colon – a former prosecutor, Geneva Carr as Marissa Morga-a neurolinguistics expert, and Jaime Lee Kirchner as Danielle James-the lead investigator and former FBI agent.
According to the show, Bull has an uncanny ability to envision what participants are thinking of. This ability is due to his intuition and the knowledge he gathered from the three psychology PhDs under his name. Additionally, his firm has heavily invested in data-gathering systems that help with the analysis during trials. Therefore, what Dr. Bull can't analyze, technology will provide. The series was very much warmly received after release. However, of-late there have been a lot of noises requesting for its cancellation. Here are 5 reasons as to why;
1. The Concept Seems Ridiculous
Bull's ability to understand humanity seems far-fetched, if you analyse the notion that psychology can win court cases. Also, the show also seems to be a cynic representation of the law and how psychology works. An in-depth look at Jason's character reveals how the show tries to dignify the weaponizing of a skill, used to treat people with mental or psychological problems, to the benefit of the rich in society.
2. Sexual Harassment
Early this month, CBS announced that season four of Bull will be aired this year with Michael Weatherly still playing the lead role, despite being involved in a messy scandal with one of the cast members of Bull, Eliza Dushku. According to Eliza, Michael Weatherly had frequently made unwanted sexual advances to her. He also invited her to his 'rape van' and said lewd comments about her body. In an interview with a magazine, she speaks of how uncomfortable it was dealing with Michael Weatherly's continuous sexual advances.
CBS channel threw their full support behind Michael when the allegation surfaced. The executives of CBS channel even went on to publicly speak about Michaels's good behavior and how professional he had been in the years they worked together. Eliza, on the other hand, was pulled off air and fired from the television channel immediately she reported sexual harassment claims. According to the New York Times she later received an apology from Michael and was awarded a $9.5 million settlement by CBS channel.
This settlement might seem okay, but it is quite astonishing as it seems Eliza was punished for being a victim of sexual harassment. Moreover, the amount of money she received as a settlement was only a portion of what she was supposed to get upon completion of the series. Michael, on the other hand, still plays the lead role and will continue to be Dr. Jason Bull. So, in the end, what message is Bull and CBS channel portraying to the world? Are we punishing victims of sexual harassment instead of supporting them?
3. It is a Mockery of Justice
Despite the common knowledge that Americans are generally skeptical about the court's ability to give fair trials, Bull takes it to a whole new level. In the television drama, Dr. Jason Bull is portrayed as a god-like super-villain who has the cheat codes to offset the scales of the justice system. To be precise, it doesn't matter the crime you commit as one phone call to him guarantees your freedom. While this may not hold in real life, you can only imagine the impact the show has on the already bad reputation that America's legal system has.
4. It Lacks Originality
Recent years has seen a resurgence of old-television series that have been remade to suit modern-day television audience. From 'MacGyver' in the 80s to 'Kevin Can Wait' in the 90s, these television programs were exciting to watch and very popular in America. While these programs might have a nostalgic effect today, there is a general feeling that they end up being tiresome and boring. Bull, for this sake, is a remake of a popular television program in the mid-2000s; House. The derivative legal drama was also created by the same man who was responsible for creating House, Paul Attanasio. Let's face it, one look at Bull, and you will realize the resemblance this show has to other programs that air in other television networks. From the seemingly tough female private investigator portrayed by Jaime Kirchner, the ex-government serviceman, the weird hacker played by Annabelle Attanasio, to the clear choice of the partly damaged, cocky, and charming selection of Jason Bull as the lead role.
5. It is Predictable
Watching this television show, you can quickly tell what is going to happen at the end of every episode. There is no suspense. Every episode starts with an emerging legal problem that will be solved by Jason Bull's intuition or his superior technology. Additionally, every time Jason stares at anyone intensely in this show, you can bet that he is going to reveal what the person is hiding. This might be interesting at first, but watching ten episodes of this show becomes tiring and extremely boring.
Recently, CBS announced the start of the fourth season of Bull. Despite the sexual allegations, Michael will still serve as the lead character in this weekly television program. Even though Bull is in its fourth season, you can still expect the same old storylines in every episode. A problem will occur, and Jason will solve it. Above are good enough reasons why it is time to cancel the show.
Tell us what's wrong with this post? How could we improve it? :)
Let us improve this post!