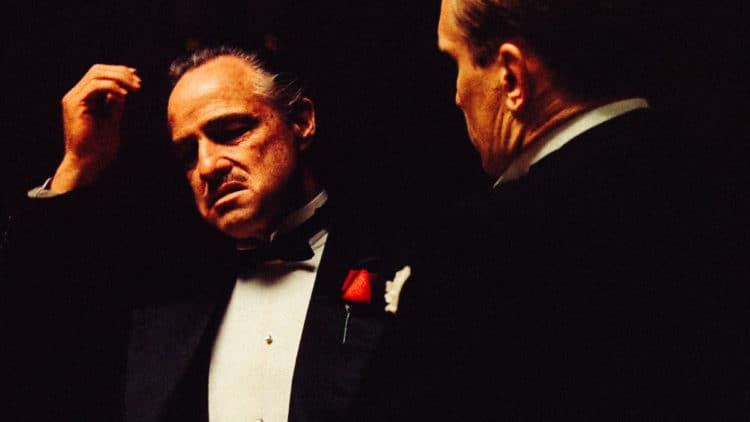 Well, one can't say that Francis Ford Coppola turned his nose up at The Godfather the first time around based on the book cover, but he is right about one thing. The book did go into the anatomical anomaly of Sonny's mistress a little too much at times, as though Mario Puzo thought this was something that could affect the Italian mafia. But after meeting Puzo, Coppola's mind changed in a big way. Ironically he almost didn't get the job anyway, but considering that he was young and not as well-established as many other directors, Francis was given the shot because of his age and a couple of other reasons. It still sounds as though he was nearly fired a few times simply because he wasn't going to play ball the way the studio wanted, but eventually he did get the movie done and it turned out to be one of the greatest movies ever made. Not only did the story turn out to be great, but the actors he had to work with were nothing short of impressive since he had some of the best and biggest names that have become legendary in part because of this movie. If not for The Godfather at least a couple of actors might not have been known nearly as much as they were in their lifetimes, but several of them would have still been stars.
It's a bit of a surprise to learn that Coppola might have passed up this opportunity, but then fate does have a strange way of making sure things work out the way they should sometimes. It's very easy to look back and wonder 'what if', but without any concrete idea of how things might have gone, it's difficult to think of just how The Godfather would have come to the big screen if not for the director that helped to make it such a legendary movie. It's true that the cast did a lot of the legwork, but the director, being responsible for so much of the movie's success, is to be commended for a vision that brought to life one of the greatest stories in cinema. There might be people that think this managed to shine a lot on the inner workings of the Mafia, but to be plain and to the point, it was a story and something that the actual Mafia thought was kind of amusing since there were quite a few things in the plot that probably wouldn't have happened in real life. To hear that the Mafia liked the movie for the most part since they thought it was a nice fantasy of what they did back in the day is kind of interesting since it's likely if too much of the truth was depicted that some people might have been a bit upset.
There might be people wondering just what would qualify as unreal, and there are at least a couple of things that are pretty easy to point out. One is that during a conflict between the families, none of the family would have been going anywhere without an escort close on their heels, and even more, Carlo beating Connie would have likely looked like a clear setup since Sonny had already told Carlo, with his fists no less, what would happen to Carlo if he touched Connie again. It's true that Sonny was made to be a hothead, but at the same time one can imagine that he would have had bodyguards wherever he was going, and the assassination attempt would have been thwarted or been far more difficult. And on that note, the assassination attempt was simply too much work, and not that well-planned since two groups of shooters firing across from one another had just as much of a chance to hit each other as they did their target, who would have only had to duck down and keep driving to get away if he'd been thinking clearly. Some folks might want to think that Sonny never saw it coming, and that might be how things were drawn up, but the setup was still fairly obvious.
The movie had a few other errors in it that people would no doubt quibble about for this or that reason, but the main point is that Coppola finally found a reason to find his way into the project, and even if the studio felt that he was young and could be pushed the way they wanted, the result became one of the best movies to ever make its way into the public eye. It's easy to wonder then just how many other stories might not have been told if the director hadn't changed their mind. Of course, it's also easy to wonder how many horrible movies might have been averted if the director had thought twice.