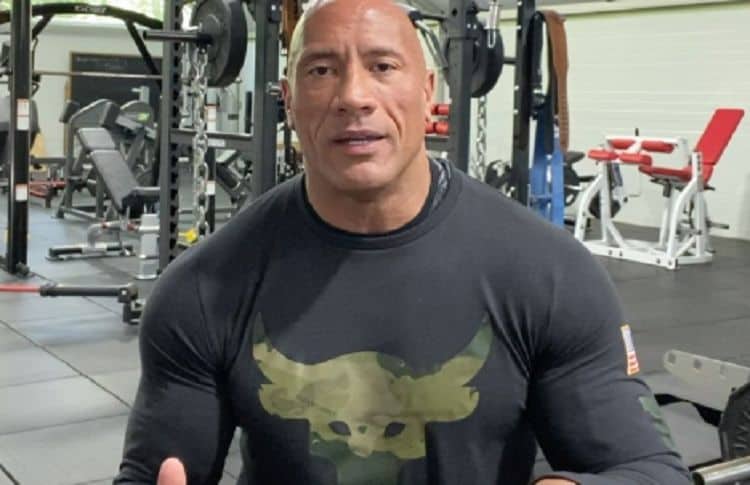 People have joked about coming out of the lockdown with a few extra pounds since they are not going to the gym. However, that is the predicament that only the average Americans are facing since celebrities have gyms in their houses. Some do not even need a gym; female stars like Sofia Richie and Jennifer Garner have mastered the art of maintaining their fitness through aerobic dance workouts, push-ups, or yoga. While it is encouraging to see them keep an active lifestyle, some like The Rock, are not comfortable with sharing their working out sessions. So if you are wondering why Dwayne Johnson isn't posting his workouts on Instagram during lockdown, let's fill you in on his reservations.
It's about being sensitive to our feelings
With over 179 million followers on Instagram, Dwayne knows that his workouts have become popular, and some are wondering why he is no longer sharing the videos. In answer to this question, the actor posted on Instagram that he was being sensitive to those who cannot go to a gym to train. Unlike him, who has a gym in his home, most Americans do not, and Dwayne thought posting workout videos would be rubbing it in their faces, yet he is not a show-off. Although he is not taping his training sessions, Dwayne Johnson is working extra hard to stay in shape and maybe even bulk up for an upcoming role. While to most of us, working out was a New Year's resolution that has been interfered with, the actor has been working out since January 2020 in preparation for the filming of "Black Adam" in July 2020. He announced it through a few vein-popping pictures that amassed over 4 million likes. All the same, whatever gym questions you might have, Dwayne is more than willing to answer you.
Movie roles have helped in keeping him in the gym
If you have watched "Hercules," then you must agree the muscles are something you would expect from a person who managed to go down in history as a hero and Greek god. Dwayne worked hard towards looking like Hercules, and as he told Muscle & Fitness, he wanted to portray a never-seen-before look. Since he was 40, the actor wanted to create deep muscles that can only be achieved after decades of training. "Scorpion King," "Fast and Furious," and "Baywatch" have also seen Dwayne stay in shape since he is always landing roles that require some strength and muscle. You might also not know that before filming "Hercules," Dwayne had an injury that forced him to slow down on his workout, but he still managed to pull off that magnificent Hercules body.
Why he started working out
Dwayne revealed that his family could barely afford necessities; hence when he was 14, they were evicted from their apartment. His mother broke down, and by the time he was 15, she had become so depressed that she attempted suicide. Dwayne, on the other hand, dealt with his depression by building his body. By then, his idols included Brice Willis, Arnold Schwarzenegger, and Sylvester Stallone, who were all men of action as Dwayne puts it. As if he had not had his share of challenges, life was still yet to teach him some valuable lessons. The actor wanted to be a professional footballer, but he was passed over by the National Football League. To make matters worse, when he thought he would find solace in his team, he did not make the cut to join the Canadian Football League. Although six weeks later, the coach called to take him back, Dwayne turned down the offer. He started professional wrestling and later on tried his hand in acting. To this day, when the actor is feeling sad, he goes to the gym or listens to music as he told Self.
You can also look like Dwayne Johnson
Dwayne never thought anyone cared about what he did; hence he admitted he was not interested in social media. However, once he joined the platforms, he developed deep connections with his fans. As they kept asking how he trains, the actor decided to share his routine and diet, which you can find on Gaspari Nutrition. When Mark Webster started recording his fitness journey in February 2016, he was only interested in showing everyone that Dwayne's workout routine is achievable. He therefore prepped and ate seven meals every day for 30 days, which he admits is not cheap; it cost him $42 daily. He also worked out for two hours, six days a week, and rested on the seventh. However, despite Dwayne thinking it was a joke, the actor noticed the efforts and encouraged Mark, who proved it that working out like Dwayne is attainable. If you believe that it is only men that can do the workout, you are mistaken as Lauren Mazzo found out. Although she only did the training for three weeks hence did not experience any bulking up, she still felt energized to get out of bed in the morning and stronger. It also helps when you have a clear goal of what you are working on instead of hitting the gym for a few cardio sessions.
Working out without equipment
Dwayne's workout demands some gym equipment, and since it is impossible at the moment, you can still train to keep fit, not necessarily to be super-ribbed like the actor. So if you like yoga and Pilates, try them out in the comfort of your living room. You can also do lateral lunges, squats, push-ups; they are not only total-body workouts but also help to train the midsection muscles. If you have no idea how to do any of these exercises, CNET has listed options. Some even have a 30-day free trial, which could be useful, especially now when our budgets are a bit tight.