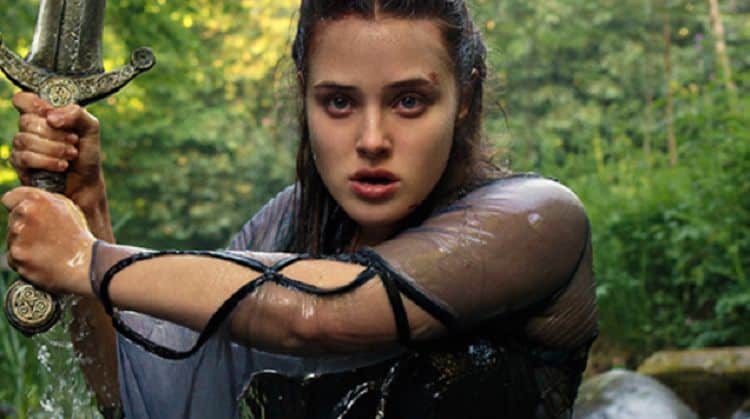 Since there are very few actual explanations as to why Cursed was canceled at Netflix it's too easy to simply say that the one-and-done method that the streaming giant has been employing for a while is to blame. Stating that there are too many medieval fantasy series on the site is too easy and kind of ridiculous since so many of them are so different that they should be able to coexist in a very meaningful way. But what Netflix has been doing for a while is to see how a show does for one season and if it's a hit then there's a chance it could go on, unless the costs are going to go up, which is kind of a given if something is popular. But however they analyze and decide upon their shows on the site is a bit irritating since to be certain, there have been a few worthwhile shows that have been ditched for reasons that people never really get to hear. The story was actually quite interesting had was put together in a manner that didn't really keep up with the Arthurian legends that people might have been used to, but was still interesting to be certain.
This show was bound to go off in a different direction than most legends that have to do with King Arthur though since Arthur was a mercenary in this show, and Nimue, played by Katherine Langford, was the main character. The fabled Lady of the Lake is a legend that many people have heard about, though her role is usually relegated to the gifting of Excalibur and not much else when it comes to the tales of Merlin and Arthur. But the fact that she is able to tell her own story in this show should have been one big reason to keep the program running. For one reason or another though Netflix ends up pruning shows from its list that should have been kept, though it has plenty of material to make up for the loss.
It's not certain at this time if another network will attempt to pick up this show, but it would likely be a good idea for many networks if they decided to get into a bidding war for this show. That might not happen, or it might, but it does feel that Cursed should get the chance to expand and become a show that people will remember for more than just one season. The story of Nimue is one that should get the chance to be told since her importance is definitely more than it's been displayed over the years. In terms of bringing the character further into the light though, it's definitely a bonus to see what really happened to create the Lady of the Lake. But beyond that, the idea that's been happening lately to empower women in movies and shows, while positive and definitely beneficial, will hopefully not come at the expense of the male characters. What's meant by this is that if movies and TV shows want to show strong female characters then a lot of us are all for it and think it's a great step forward. But don't make all men irredeemably evil, manipulative, foolish, and otherwise feeble creatures that absolutely need women to survive.
This show doesn't exactly thrive on such a thing, but many shows and movies as of late have been taking such an idea and running with it when showcasing women as the strong and capable individuals within the main thrust of the story. A story is best when it has a diversity of characters obviously, which means there will be the irredeemable evil, foolish, manipulative, and otherwise feeble characters to blend with the heroic and tragic individuals, but pinpointing one gender when using the most negative traits while building the other gender up is a mistake that can cause a lot of viewers to stop watching. If a story is to thrive then every character will have to play their part, but any attempt to diminish one character's potential to build up another's is irresponsible writing, not to mention dishonest.
The legend of Nimue is a great legend indeed, and Cursed should have definitely been given another season. The portrayal of certain characters isn't really an issue in this show, but one can bet that plenty of people were watching for certain markers and hints that it would be another show that featured a 'woke' perspective. From what anyone should be able to see, the show is actually enticing and would have likely gone on for another season or two at least. Maybe someone else will pick it up and we'll get to see more in the coming months or years. Until then we'll just have to wait and see what happens.
Tell us what's wrong with this post? How could we improve it? :)
Let us improve this post!