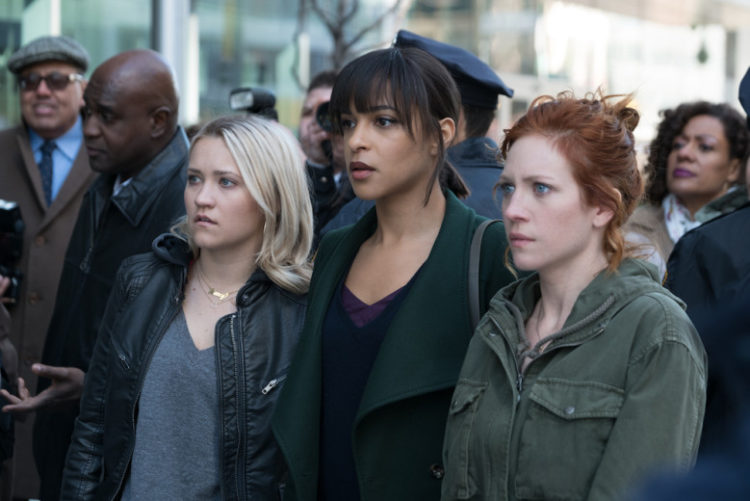 Julia is an only child. At least she thinks she's an only child. Then Julia discovers her father, a fertility doctor, has been using his sperm to impregnate women for years when he's arrested for serial medical rape. It turns out she may have as many as a hundred half-siblings. This ingenious and alarming show based on the Australian show Sisters and developed by Annie Weisman is the story of Julia's life as she uncovers and tracks down her sisters. These siblings will no doubt have more to face together than this shared revelation throughout Almost Family, which premiers today. While we can't predict the future for these surprised siblings, we can certainly introduce you to the cast of this controversial show.
Brittany Anne Snow as Julia Bechley
Brittany Anne Snow started her acting career on Guiding Light where she played Susan "Daisy" Lemay. The talented young actress was nominated for three young artist awards and a Soap Opera Digest Award. She won the Young Artist Award for Best Young Actress, and that was just the beginning. Music fans will, of course, recognize her as the bombastic redheaded Chloe from the Pitch Perfect series or the perfectly horrible Amber Von Tussle from the 2007 remake of Hairspray. This lovely and talented woman may be hilarious, but don't pigeonhole her. Brittany has range, and we're not just talking about her vocals in musical movies. In addition to her acting, directing and producing, Brittany uses her fame to speak out about many causes she believes in. You can see for yourself, her Twitter feed is full of positive and hopeful messages, and support for various causes and people in need. As the daughter of a Doctor who is both human and monstrous at once, Julia is a conflicted and complex character. If you've only seen her as a singing redhead or an angry, entitled blonde dancer, then you have no idea how much depth of character Brittany can display. We're looking forward to the rest of this season, and we admit, it's due in large part to seeing Brittany in the starring role.
Ebubennem Megalyn Ann Echikunwoke as Edie Palmer
Megalyn's last name means "Leader of Men." That's an important role to assume, but we think the lovely and talented Megalyn is up to the task. You may recognize her from her time on 24 as Nicole Palmer or from her role on That 70's Show where she played Angie Barnett the half-sister of Stephen Hyde. Her filmography is extensive. However, she's also known for taking a political stance. In 2007 Megalyn joined Justin Long, Kal Penn, and Olivia Wilde to help campaign for the not-yet-elected President Barak Obama. We love her as Edie, the often angry former best friend of Julia in Almost Family. Though these sisters argue like… well sisters, they find common ground and renew their relationship. One of the most significant points of contention between the ladies is how jealous Edie was of Julia's father. Dr. Bechley came home every night and was there for Julia while Edie had no father. Finding out her ex-bestie's dad was actually her father all along must have been a considerable shock, but we're sure they'll work things out.
Emily Osment as Roxy Doyle
Roxy, the sister who was once an Olympian, is perhaps the most vulnerable and damaged of the three, and Emily plays her so well. However, we already knew she had skills to spare where acting prowess is concerned. We first noticed her as Gertie Giggles in Spy Kids 2 and Spy Kids 3D, but that wasn't her first role. Emily played Miranda Aiken in The Secret Life of Girls back in 1999. We've followed her career as she played in Disney movies Like the Hanna Montana Movie and voice roles in Lilo and Stitch. In fact, this talented actress has done as much off-screen voice work as on-camera time, or close to it. She was a part of American Dad and Rainbow Brite where she played alongside none other than Molly Ringwald, among many other roles. We love her as the delicate and harsh juxtaposition that is the struggling Roxy. Unlike Edie or even Julia, she's not mad about finding she has sisters. Roxy always dreamed of having a sister of her own to share secrets and life with. She gets her wish, but it's nothing like she thought it should be. Still, we predict that in spite of her problems, Roxy will end up being the heart of the sisterly group at times.
Timothy Hutton as Dr. Leon Bechley
Can we just say 'WOW!" It takes a unique and talented person to play Dr. Bechley, and Almost Family found the perfect candidate for the job with Timothy Hutton. Being a villain, especially a rapist (even if it's medical and non-violent, it's still inexcusable) is a tough job. People send hate mail to actors who play evil characters. While Dr. Bechley isn't entirely without redeeming qualities, he's not a good guy. His excuses and explanations come across as well thought out, and sincere, but his manipulative side shows through as well. He even tells his daughter she'll be ruined if he is. Hutton certainly deserves some respect for a villain well played, and we look forward to having a love-hate relationship with his character for a long time. As the youngest recipient in the Best Supporting Actor category of the Academy Awards, we have always known he was excessively talented. Timothy Tarquin Hutton has had a long and storied career already. He's won an Oscar among his many awards and accolades, and he famously turned down the starring role in Risky Business. However, Hutton has no regrets, according to IMDB. Instead, he worked on E.L. Doctorow where he had a chance to learn something he valued more. Hopefully, Timothy learns a great deal as Doctor Bechley.
Final Thoughts
We can only imagine how hard it would be for someone to learn a parent is being arrested suddenly. That goes double if they did something you never suspected over and over again. Worse than that would be discovering, as an adult, that you're the product of rape. Julia and her sisters will have more than most families ever deal with to face before their lives find some semblance of normality. Though no one ever mentions it, taking on a role in a show like this takes guts. We admire the cast of this unique show immensely. Fans all look forward to seeing their further adventures as the sisters discover more about who they are and how their shared and shocking past impacts them as people.