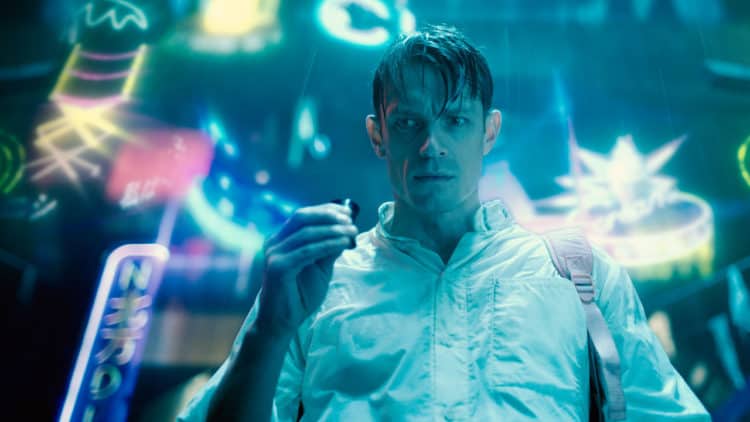 One of the best things that has come from having such a saturated market where television and movies are concerned is the need to create better content. Every year we see channels and streaming services striving to provide the very best content they can come up with. This has led to some absolutely fantastic shows and movies. Altered Carbon is hands down one of our favorite offerings from Netflix. This brilliant original show comes in hour-long episodes, and we just can't get enough of them! If you haven't yet had the pleasure, then stop denying yourself and check out one of the most spectacular and utterly superior science fiction shows on the market today.
1. Writing
Richard K. Morgan is a brilliant British writer who puts out some stellar work. If you aren't familiar with his books, then the only logical solution is to either go to his website or the book store and get them. Altered Carbon is far from the only thing he's written. In fact, this author has quite a few book titles under his belt as well as some comics and even a couple of video games. If you enjoy a fast-paced, forward-thinking, page-turner from an utterly brilliant mind, then you need to look no further than Mr. Morgan's collected works. We were so thrilled to see Altered Carbon become a show that we'd have paid for Netflix just to get it. Fortunately, we didn't have to do that since we've been subscribed since way back when Netflix only mailed out DVDs.
2. Sets
There is nothing simple about creating a believable future world set hundreds of years from now. If you stray too far, it ruins the suspension of disbelief necessary to any good program. Though a great deal of this show is doubtless generated on a green screen, the gritty reality of many of the sets is all too real and relatable. From the gurneys to the opaque windows of a brothel there's no point where the scenes Takeshi walks through seem unreal. Everything about this show is immersive, and the scenery is utterly breathtakingly well created.
3. Visual Dynamics
Special effects that are both special and effective are something we have become accustomed to in the last decade. This wasn't always the case. Now it is no longer good enough to create a good effect. You have to go above and beyond visually to create an excellent product. This is what they've done for Altered Carbon. The juxtaposition of the fabricated parts of the world, sleek cars, beautiful advertisements, cloned people, and the real streets and dirt are all perfectly balanced to draw you deeper into the world.
4. Sociopolitical Overtones and Deep Backstory (**SPOILERS)
The story of Takeshi Kovacs, last of the Envoys, and lover of Quellcrist Falconer who created them is no simple tale. The depth of the philosophy behind it may be lost on a casual observer who is only on this ride for the action, nudity, and guns. It's clear from the first episode that the group our 'hero' comes from, the Envoys, were led by a singular individual with a deeper than usual grasp of where the world was headed. Quill was like a militarized George Orwell, trying to prevent her version of 1984 from ever happening.
5. Cortical Stacks
Serious contemplation of the value of life isn't necessarily what you expect from a new action-drama. Still, this unique take on preserving people beyond their natural span so they can inhabit as many "sleeves" as they can afford is unique. The value of a body is not equal to the value of a life in this series. The separation of the 'self,' as memories and the 'self' of a body is mirrored in religious sentiment where the soul only inhabits a body given by a higher power. Altered Carbon never forgets the basic idea that 'who' we are and what we are made from aren't necessarily the same thing.
6. Spirit Savers and Afterlifers
Altered Carbon may recognize the difference between spirit and skin, but as people evolve, it handles the evolution of religion. You might suppose that any religion that teaches it's what's within that truly matters would be all for the idea of bodies being outside the loop of 'who' we are. Not so. In this world, there are entire religions that are against the idea of moving from skin to skin for any reason. They don't want murder victims to help catch the killers, and they believe moving to another 'sleeve' is a sin in and of itself. Like the Westboro Baptist Church of today, they protest and harass people who don't do as they do and believe as they believe.
7. DHF Travel
The ability to travel from place to place as DHF or Digital Human Freight is stunning in its implications. The leap of logic it must have taken the creator to come up with the idea of a human mind as nothing but a packet of information is awe inspiring. When you boil down a human brain to what amounts to a hard drive, moving to new cities or new worlds is simple. This method gives people the ability to travel as fast as data can be transmitted, and at far less cost.
8. The "Meths" (Methuselahs)
The Meths are an aptly named group. The term is short for Methuselah from the Bible who was known for his particularly long lifespan. However, this clever monicker may also elude to the addictive drug of the same name since these wealthy movers and shakers are so addicted to their aggressively opulent lifestyles that they will do anything to keep them. They live in raised towers above the clouds and smog of the 'short-lived' people below and have private satellites that upload their consciousness every day or two so that even destruction of their personal cortical stacks won't stop them from living. The Meths can choose to clone their original bodies, upgrade the clones or trade up for a model they like better at will. These creepy world rulers are excellent villains.
9. Envoys
"Absorb local language culture customs," those were among the skills of the Envoys. These super soldiers were infiltration experts. They have a sense of subliminal pattern recognition that allows them to process information so quickly it's eerie, and a little bit like being psychic or a super genius. Envoys process everything through submersion and then use the new information within moments, sometimes within seconds.
10. Costumes
Cyberpunk done right is the look achieved by Anne Foley. It's easy to go too far over the top where clothing design is concerned. If everything on the show looked like it walked down a Paris runway in an alternate future universe, there would be a lot lost in translation. Clearly, Ms. Foley understands that a well-placed item or two has more power than overengineering every little detail. The costumes from Poe, to the Meths to bounty hunters, police and prostitutes all combine the right level of futuristic features with a believable level of wearable normality.
11. Songspire Trees
Etherial relics of an elder civilization, the Songspire Trees have a special place in Takeshi's heart. The unique singing, glowing tendrils are quite literally unearthly. These trees grow on his homeworld, or they did at one time anyhow. In his original incarnation, he wore the end of one of these singing tendrils around his neck.
12. Corneal Streaming
Reading anything you want from the lens of your eye is one of the more brilliant technologies in the Altered Carbon universe. In the very first episode, you see Kristen look up Takeshi Kovacs history and read the information out of her eye. Later Laurens talks about the simple pleasure of actually holding a book as though it's passe. Most people in the time of the show don't bother with physical copies of things that are available free or cheaply in a digital form. Books are considered artifacts for the most part, and the written word is rarely if ever, used anymore.
13. Interchangeable Languages
Thanks to advances in translation technology the future has no apparent language barrier. Thus far in the series, every language spoken by any character can easily be understood by any other character. This certainly aides in communication, if not clarity. The characters also evidence the ability to return conversation in the language of choice. For future tech in a sci-fi series, this and many other aspects of Altered Carbon are just the best in the business.
14. Better Ads
The future of humanity has a whole new way of showing people advertisements. The Corneal Streaming can also be used to broadcast images to passers-by. Without a dampener, anyone walking down the street can see the digital ads for every place they walk past directly downloaded into their visual field. Apparently, in the future 3D holograms are the only way to catch people's attention.
15. Clones Vs. Resleeving Into a New Body
There are two different ways of "Resleeving," or putting your mind into a new body. The first method is random, or at least semi-random. You can purchase, or in some cases be issued a body from existing stocks. These can include the brain dead, unused clone bodies and presumably repaired bodies that died. Alternatively, if you have the money and desire, you can clone your own body for the mind to return to. Clones can be upgraded in numerous ways including the ability to excrete drugs. Uploading your mind into a clone is relatively uncomplicated while resleeving in a stranger's skin can cause serious problems psychologically.
16. AI's Union
We love the AIs. The notion that digital consciousness would not only have meetings but form a union to protect their interests is ingenious. Their attitudes and individual personalities are great, but even better is the regular poker game they appear to play. As a whole, this intriguing group of individuals seem to have plenty of stories on their own to tell, maybe even enough for an AI spinoff if the series ever wishes to do so.
17. Kristin and Alzane Ortega
Perhaps the least predictable part of this show is the relationship between Kristin and her traditional mother. As a police officer, Kristin feels that solving cases and taking criminals off the streets is paramount. Her family is on the other side of the line, they are devout in their belief that one life is enough for a person, and not even bringing them back to solve their own murder justifies 'spinning them up.' This dichotomy of beliefs is a central point of the plot. Despite their differences and Alzane's concern for her daughter's immortal soul and the family's social standing, they remain… normal.
18. Poe
The proprietor of The Raven is patterned after Edgar Allen Poe. His down and out but still quite lovely macabre "AI Hotel," is temporarily home to Takeshi and Poe himself is one of our favorite non-human characters in any series. He's obviously an inferior poker player, as evidenced by his interactions with the other AIs when he goes to play. His deep and abiding love of humanity is one of his most unusual aspects. It not only marks him out from his kind but also gives him a depth and soulfulness that is lacking in many of the humans of his world. We aren't yet sure whether he has ulterior motives, but we look forward to seeing more of him.
19. It Began as a Series of Books
Netflix has a history of picking great series, and Altered Carbon is no exception. The Takeshi Kovacs novels this particular world is based on also includes Broken Angels and Woken Furies. The second season will be based on the Broke Angels Novel. Despite the differences from the original novels, Altered Carbon manages to stay true to the concepts that came from Richard K. Morgan's argument with a Buddhist monk. He found the idea of being perpetually punished through reincarnation, yet given no memory of the transgression that caused the punishment in the first place, a concept so abhorrent he called it, "The height of injustice."
20. Even the Intro
Just watching the opening credits and introduction to Altered Carbon is enough to tell you that you are watching something above and beyond the norm. The graphics are beautiful, but it's not the only thing that contributes to a genuinely stellar opening. The imagery with the snakes and woman shedding their skins and the combination of sleekly dark beauty and the gritty overpopulated city beneath is evocative, to say the least.
Final Thoughts
There are so many minute details and overarching aspects to Altered Carbon that making a 20 item list was barely enough to express how just plain cool this show is. As a cyberpunk world, this show gets five stars, as both action and drama, five stars. We could make a list as long as our arms for reasons why this show it just the best sci-fi on the market today. What's the catch, you ask? Well, the downside of the show is that there's not enough of it. We want 20 seasons instead of just two.