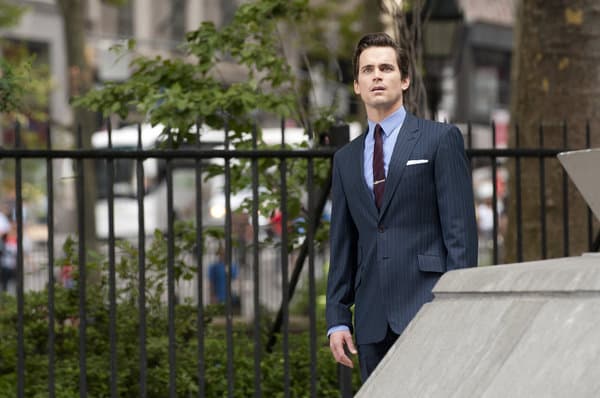 Like the episode title implies, it's Judgment Day for Neal Caffrey in this final episode of White Collar's third season, as Elizabeth, Sara, June, Jones, and Peter go on the record to say whether or not Neal's sentence should be commuted. Everyone has nice things to say about Neal and that he should go free. However, Jones wants Neal to serve out the remainder of his sentence working as a C.I. for the FBI, and so does Agent Kramer, when he tells Peter that he wants Neal to work for him in D.C. and to use whatever he finds about the ex-con to extend Neal's sentence indefinitely.
Meanwhile, Neal goes to see Sara at her office at Sterling-Bosch Insurance to talk with her about the missing Raphael painting and tells her that he knows where the painting is located. To say that she's on Cloud Nine is an understatement. She then buys Neal some time to recover the painting. The race against time is on as Neal travels to Roosevelt Island to see a woman named Helen, who used to be his father's partner on the police force and also told him the truth about his father, a dirty cop who was presumed dead but wasn't. Neal manages to retrieve the Raphael painting from Helen and runs into Peter when he comes out of Helen's apartment building.
The scene where Neal jumps from one gondola to another in order to escape capture by Agent Kramer (with Peter's help) was nail-biting. If he hadn't made it, he would've dropped to a watery grave. I breathed a sigh of relief when Neal made the jump and made his way back to Roosevelt Island, where Mozzie was waiting for him in a stolen ambulance. I was very surprised, to say the very least, to hear that Mozzie had moved Neal's share of the U-boat treasure out of the States. Must have been saving it for a rainy day.
Back to the drama, my heart was going a mile a minute as I watched Neal make his way toward Sterling-Bosch. When one of Agent Kramer's agents saw Neal, my mind was thinking that he might not get his sentence commuted after all, because Agent Kramer is going to arrest him for possession of stolen property. My nerves were calmed when Sara came into the lobby of the building with her boss, saying that the painting belongs to the insurance company. Mr. Winston Bosch then went on to say that Neal works for him as an art authenticator. Thank you, Sara! Also points to Diana for getting Neal to the Sterling-Bosch building on time.
When I watched the ending scenes of this episode, I was really hoping that Neal would finally be able to become a free man and to still offer his services to the FBI, given that Peter and him make such a great team. However, it was not to be, as Neal left the country just as Peter was finishing up his testimony in Neal's commutation hearing. I was appalled that Neal would just up and leave like that with his impending freedom hanging in the balance, but after all that happened is this third season finale, I understand why he felt that he needed to run.
If he hadn't, then he would've been arrested by Agent Kramer, his sentence would have been extended to 25 years instead of being commuted, and Peter and Diana's careers would have been over. I felt kind of sorry for Elizabeth and June because they defended Neal and said that he was a changed man. I'm sure June would understand given that she was married to a con-artist, but I'm not sure if Elizabeth would be just as understanding.
Overall, it was a blast to write reviews for this awesome drama series. I hope that you enjoyed reading them as much as I've enjoyed writing them. Will I write more reviews on White Collar? You tell me.
[Photo via USA Network]