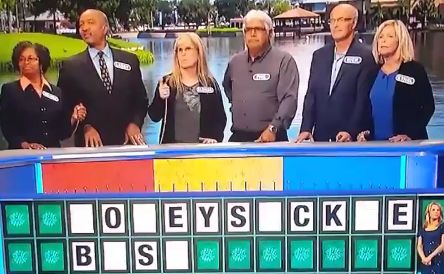 It's easy to make fun of people who come up with what seem like the dumbest answers in the entire world on game shows. But at the same time you have to understand how much pressure they feel. The nerves are going. The sweaty palms are sweaty. And when that buzzer rings sometimes it's hard to control what's going to come out of your mouth. That's party of the reason we like game shows. It's because of the spontaneity. Think about Family Feud. It doesn't get any more "live" than that show and gems pop up on Family Feud on a daily basis.
Another show where you'd think the "out of this world" answers would be less prevalent is Wheel of Fortune. The reason is because you're staring at a board for virtually the entire time which gives you ample choices to sort in your head. You can think and process before you verbally give out your answer.
But still, last night this woman just had to join the "Worst answers ever" club. Her answer of "Popsicle Bike" wasn't just bad, she actually said it twice. And to make matters worse the category was "Living Thing.'
Excuse me while I go take a ride on my popsicle bike for a while. Wow.
@Kmarkobarstool @KFCBarstool Juuuusst a bit outside @WheelofFortune pic.twitter.com/K9dNWlYmqz

— Tha Basement Boys (@ThaBasementBoys) April 4, 2017
Tell us what's wrong with this post? How could we improve it? :)
Let us improve this post!