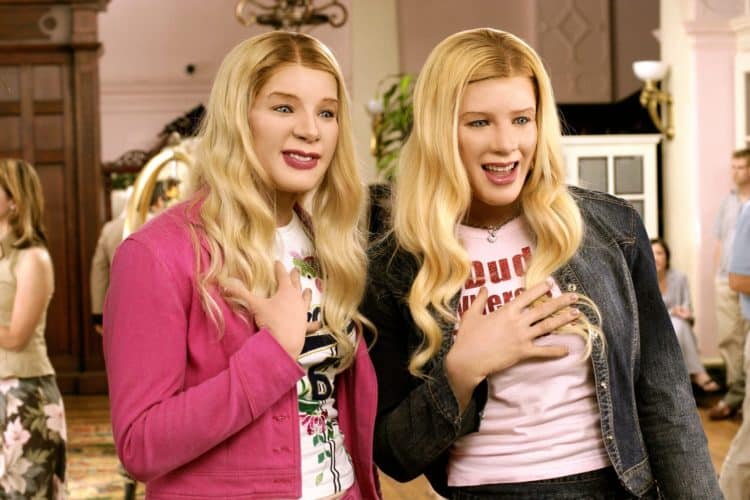 The Wayans Brothers aren't exactly known for their high-value comedy. While Marlon and Shawn Wayans are very talented individuals, every movie that they've written has rotten tomatoes score on the prestigious website. Enter White Chicks, a 2004 film that centers around the two brothers going undercover in the Hamptons as two…well, white chicks. And when I say white chicks, I mean the ugliest white chicks you'll ever see on screen. The comedy was thrashed by critics, citing offensive humor, hideous undercover disguises as white girls, and horrible social commentary as the reason the film fails to be funny. Currently, the comedy stands at 15% on rotten tomatoes.
Look, I'm not going to sit here to tell that White Chicks is means a fantastic high-class movie. Reading the brief plot summary, you should know what you're getting into. It's offense, low-brow humor that aims for the lowest common demographic. However, I'm also not going to sit here and tell you that I didn't laugh my butt off while watching this film. Perhaps that speaks volumes about me as a person, but I'm okay with low-brow humor. Don't get me wrong, White Chicks is a BAD film when you truly focus on the narrative. First, their undercover costumes as white women are horrendous. No one with proper brain cells would buy that these two are chicks. However, the film isn't trying to be smart or clever about its concept. Marlon and Shawn Wayans know how bad their disguises are, and the two somewhat playoff that notion throughout the film. However, that assumption is barely played up when they're forced to blend in with the upper-class socialites. It makes it hard to believe that Brittany and Tiffany's friends are so stupid that they clearly can't tell that it's two dudes in drag. Still, I laughed at the absurdity of the situation.
Of course, I can't ignore the best character in the entire film, Terry Crew's Latrell Spencer. The former football star has been in better comedy vehicles, notably the recently ended Brooklyn Nine-Nine or Idiocracy; however, the funniest thing he's ever done is sing Vanessa Carlton's A Thousand Miles. Even if you absolutely hate everything else about this movie, it's nearly impossible not to at least crack at a smile at this scene. It's also fun seeing Dexter's Jennifer Carpenter play against type the roles she usually does and the actress does a good job with what's she given. Predictably, the film does play off of supposed racial stereotypes. Maybe I'm wrong, but I don't think that A Thousand Miles was the "it" song amongst upper-class white people. Some of the jokes land. The Wayans trying to sing A Thousand Miles is hilarious for good and bad reasons. The good: Shawn and Marlon stumbling over the lyrics and failing miserably. The bad: The facial expressions of the heinous drag make-up actually help make the scene funnier. Some jokes simply make you roll your eyes. There's nothing nuanced about the comedy. Dick jokes, fart jokes, and basically the signature style of the comedic brothers. Again, sometimes it works, and other times it doesn't. The undercover story is there, but it's clearly not the focus of the movie. While the "McHammer broke" line is actually pretty funny, we barely get much insight about the kidnapper nor is there even much focus on the story until the third act arrives. The purpose is for audiences to see and laugh at two dudes in terrible drag outfits while trying to maintain a lifestyle in an upscale white culture. And that's not a bad thing.
Usually, I talk about the importance of a compelling plot and a cohesive narrative, but who seriously came into this Wayans picture expecting those to be a strong aspect of the film. We all have guilty pleasures when it comes to movies. That's pretty much what White Chicks is, a guilty pleasure film. I know this sounds insane, but you can't go into this film with your brain on. It'll explode once the first act is done! Yes, White Chicks is a bad movie. But, it doesn't mean it's not enjoyable. Even though your brain is required to be left at the door, there are some stupid funny moments in the film, and Terry Crew singing A Thousand Miles is a must-see. I recommend this film if you're into the "so bad it's good" type of film.
Tell us what's wrong with this post? How could we improve it? :)
Let us improve this post!