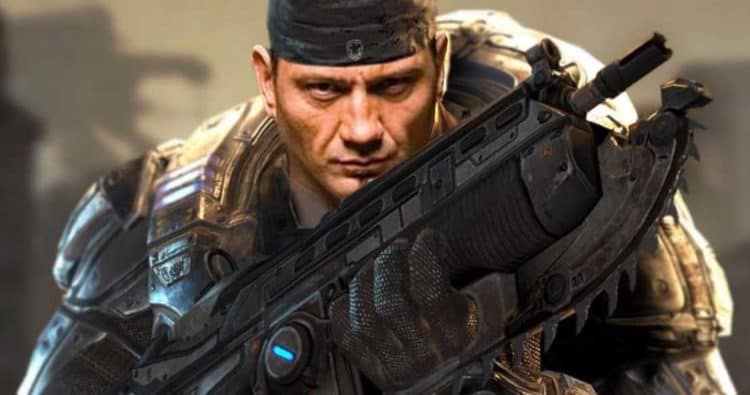 Dave Bautista is going off with his career lately, isn't he? From his time in the WWE to the Hollywood scene this powerhouse of a man has been seeking to follow in the footsteps of those that went before him, such as Hulk Hogan and Dwayne Johnson, and even John Cena. Even if he's not necessarily doing this because his fellow wrestlers did, he's still attempting to move past the squared circle and really establish himself, and obviously he's done that in spectacular fashion with the several movies he's starred in. Lately his attempt at getting a Gears of War movie developed have been stymied more than once as Jeremy Dick from MovieWeb has reported, but it's not for lack of trying. The popular game franchise has been around since the mid to late 2007s and even if you've only seen a cinematic without playing it's easy to admit that it could be made into an epic movie that would be perfect for a man like Bautista. The character of Marcus Fenix would fit him perfectly since he has the build and the right kind of look to fill out the role, but it would seem that those in charge aren't entirely interested in pushing it forward just yet.
Fans have rallied around Bautista and are eager to see something develop, but again, it's a matter of who's willing to pump the funds into the project. Plus, if there's any doubt about whether Bautista could play out the more emotional aspects of the character, Connor Sheridan of Games Radar kind of puts that to rest when it comes to the work he did on the latest Blade Runner movie. It's true that he didn't really have much of a role in the final version of the movie, but looking at the deleted scenes would show a lot of people that Bautista isn't just a musclebound hulk that has the emotional qualities of a brick. His time as Drax the Destroyer in the MCU might be enough to convince some folks that he really doesn't have much range as an actor, but perhaps watching the movie Stuber would be a good recommendation, or perhaps something else along his movie history would suffice to remind people that he does in fact have the capabilities of taking on more than one type of character. Bautista does have an emotional range to him that, like several other stars before him, has had to develop throughout the years. The stereotype that big, strong men don't have more than a few settings has been prevalent for quite a while, but it's been disproved more than once throughout the years.
From Dwayne Johnson to John Cena and more it's been seen that wrestlers are quite adept at being actors since obviously their time in the squared circle tends to given them a greater range than people seem to think. Plus, acting has been Bautista's thing now since he started moving away from the WWE and he's become good enough at it to have picked up quite a few pointers along the way. He's starred in a few less than noteworthy movies, such as Kickboxer: Vengeance, but he's also been kind of fun to watch when he's locked up with the likes of Vin Diesel in the most recent Riddick movie. Granted his character won't be coming back since he was one of the antagonists that Riddick cut down, but it was still fun to watch since Bautista is a very physical actor that is also incredibly imposing, hence the reason why Gears of War would be perfect. Maybe those that are in control of the decision to make the movie or not will realize that fans are clambering for this and won't stop until the final YES or NO is given, but one can only hope that they make their decision soon since Bautista isn't getting any younger and definitely wants in on this project. He's got a good number of years left to him when it comes to starring in action films since he's still in great shape and hasn't started to age that much, but again, it's something that needs to happen sooner rather than later.
It's kind of amusing to think that at one point no one really gave wrestlers much consideration when it came to acting. To be honest Hulk Hogan didn't exactly carry the torch all that well when he made the attempt, and even Dwayne Johnson's movie, The Scorpion King, kind of flopped in a way, as did John Cena in The Marine. But given that these were early attempts at breaking into Hollywood every wrestler that's tried has learned a great deal and has come to embrace the lifestyle in a way that's only made them better as the years have gone on, and Bautista is no different since he's become quite the skilled actor in his time. Hopefully something will come of this, but don't hold your breath.