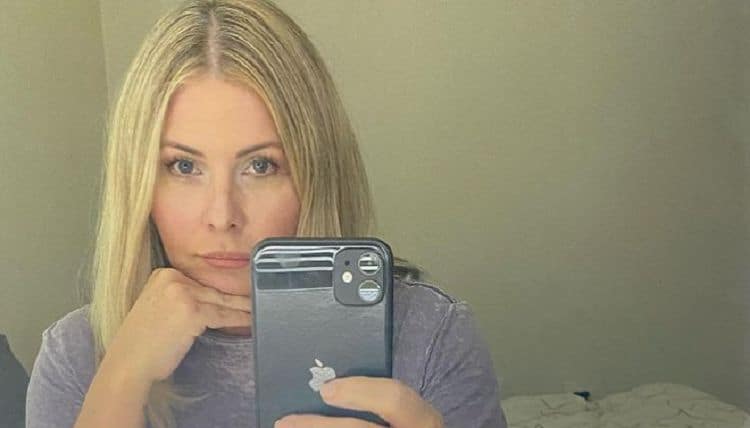 Back in the mid-80s when many of us were just toddlers, shows like "Who's the Boss," were the most popular shows on television. It brought in record numbers of viewers – which is even more impressive-sounding when you realize people had to physically sit in their homes watching live television to see the show (this means they had to sit there at a specific time on a specific night and watch commercials). Nicole Eggert was part of "Who's the Boss," and she had roles in shows like "Charles in Charge," "Baywatch," and so much more that made her famous, but she's not showing up nearly as often in television shows or movies as she did in the 80s and 90s. Where is Nicole Eggert, and what has she been up to?
Nicole Eggert's Early Life
First and foremost, it should be said that this is a woman who will turn 50 in January of 2022. It's impossible to believe that she's going to turn 50, but she is. She was born on January 13, 1972, and she was just a child when she became a star. She was born and raised in Glendale, California, with her mom and dad. Her mom was a talent agent, and her father was an executive at a canning company. She had a great childhood, and she was able to focus on allowing her mom to help her with her career – being an agent and all. She was a beauty pageant star by the time she was only five. That landed her a role in a commercial, and that is how her career began. By the time she was only 8, she landed a role in a movie called "Rich and Famous," with superstars such as Jacqueline Bisset and Candice Bergen. She was Bergen's daughter in the movie. She also landed roles in huge movies such as "Dennis the Menace," which was the first animated version – she lent her voice.
Nicole Eggert's Personal Life
During the height of her career in the early 90s, she was engaged. She was engaged to actor Corey Haim, though that did not work out. That engagement was doomed from the start considering the fact that he was a notorious drug user at the time, and she would spend more nights than she wants to think about in the hospital with him after he would use drugs and needed to detox. Some have credited her with saving his life, but she doesn't believe this is the truth. She simply believes that she was there for him at a time when few others were. She also made some big headlines when she accused her former co-star, Scott Baio, of sexually abusing her as a teenager. She said he began sexually harassing her when she was 14, and that he initiated sex with her when she was only 17 and he was older. He's denied the claims adamantly saying that while they did engage in sex, it was when she was 18 and it was when she initiated the encounter.
Nicole Eggert's Life After the 80s
Since the peak of her career in the 80s and early 90s, she's been relatively active. Despite the fact that she didn't have any major roles after those, really, she made many appearances in television shows, made for television movies, and even reality shows. She took part in VH1's "Celebrity Fit Club," and she was part of the Comedy Central Roast of David Hasselhoff. She was on the TBS "The Real Gilligan's Island," reality show, and so much more. She's done it all, and she continues to work. Though she's not starring in the bigger roles she once did, she's still a working actress. That is not an easy job, and she's glad she's able to make it happen. At the moment, she's taking on small roles when she's asked, and she's focused on her daughters. She has two of them, and they are the light of her life. She tries to keep them out of the press and give them a normal life, and so far she's done a fairly good job of it. We don't know if we will see her in any additional works in the near future, but she may have a few things up her sleeve to work on that we simply don't know about at this time. Her career may have slowed down a bit since she was a young star, but she is still working, loving her life, and living to the fullest.
Tell us what's wrong with this post? How could we improve it? :)
Let us improve this post!