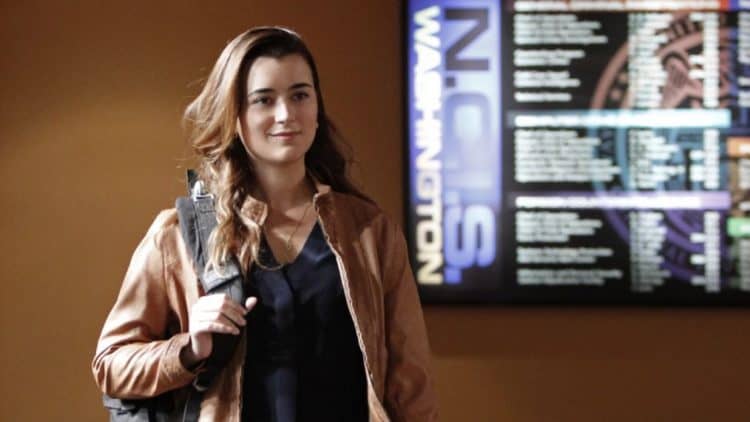 NCIS shocked fans in the Season 16 finale by revealing that Ziva David is indeed alive and well. Actress Cote De Pablo made a cameo appearance in the finale so that Ziva could warn Gibbs that he is in danger. What this danger is and how she knows about it remains to be seen, but the good news for fans is that the show has been renewed for a seventeenth season so all of this can be explored. Fox News has reported that Ziva will also appear in the premiere of season seventeen, which is expected in the autumn. Frank Cardea and Steven D. Binder, the executive producers of the show have released a statement which explains that her appearance is the start of a huge storyline. This statement also confirmed that De Pablo would be a guest star in the next season. No mention was made of how many episodes she would star in or whether she would be involved in the whole season. There is also no indication whether she could return as a season regular in the future.
Cote De Pablo left the show in season eleven after reportedly being unhappy with the scripts and the way her character was being written. In the show, the character of Ziva was apparently killed in a mortar strike, although a body was never recovered. This led many fans believe that she had faked her own death and was still alive but in hiding. These fans always expected to see her again someday and it has now been proven that they were right to do so. One of the main things that fans hope season seventeen addresses is where Ziva has been for all these years. It was confirmed earlier on in season seventeen that she was alive when she contacted Bishop to let her know that she was still alive, but no one could find out because her family was in danger. It was revealed at the end of season thirteen that she had given birth to a baby girl called Tali and that the father was Anthony DiNozzo. However, this revelation came after she had supposedly been killed and DiNozzo left to care for Tali and try and find some answers about Ziva's death.
One of the biggest questions that fans will have is whether DiNozzo and Tali have been aware that Ziva was alive and if they have been in contact with her. She told Bishop that she needed to protect her family which would suggest that they still believe she is dead, but as of yet we have absolutely no information about where she has been for all these years and who she is working for now. She remains one of the most popular characters in the show even though it has been several years since she left. Fans would love to see her have a happy ending and perhaps reunite with DiNozzo, and so this is something a lot of people will be hoping to see in the next season. They feel as if she needs some sort of closure regarding the time that she has been gone.
TV Line has details of the lengths that the show went to in order to keep Ziva's return a secret. The scene was never included in any scripts and the only copy was held by the producers. Filming of the scene was carried out by a skeleton crew when the rest of the cast and crew had gone home for the evening. De Pablo even entered the set through a back door in order to avoid being spotted. All this secrecy certainly worked because her appearance came as a huge shock to fans in the last episode. It has also got them wondering about whether some of the effort was also to build anticipation for the events that will unfold in season seventeen.
There have been rumors for several years that Mark Harmon will leave the show. David's warning to Gibbs that he is in mortal danger did leave fans wondering whether this time the rumors were true and that the character of Gibbs would be killed off. However it has been confirmed that Mark Harmon will appear in every episode of season seventeen, as reported by The Express. This assumes that whatever danger Gibbs is in, he and the team find a way to get him out of it.
Another cast member that has had to deny rumors he is leaving is Sean Murray. These rumors were fueled when the character he plays, McGee, went for a job interview at a tech company in Silicon Valley. If he accepts the offer, McGee and the rest of his family would be leaving Washington to go and start a new life in California. However, according to Cheatsheet he is still under contract with CBS so his character won't be going anywhere soon either. In season seventeen we should find out whether McGee has decided to accept the job offer or not. It is possible that he could move in the show but still be seen on screen, although it is more likely that he will remain in Washington with the rest of the team.
NCIS is one of the longest running drama shows that is still airing, but the ratings for the show prove that it is still as popular as ever. This means that there is no reason to assume that the show would not be renewed again for an eighteenth season if there was still interest from the cast and crew to continue with it. It could be that the writers choose not to wrap up the story of why Gibbs is in danger and the repercussions of this in season seventeen. There could be more of the storyline to explore in season eighteen. It is expected that the new season will air in September 2019 and so fans have some time yet to wait to see what Ziva has been up to for all the years she has been missing, and how she is involved in this new threat towards Gibbs.