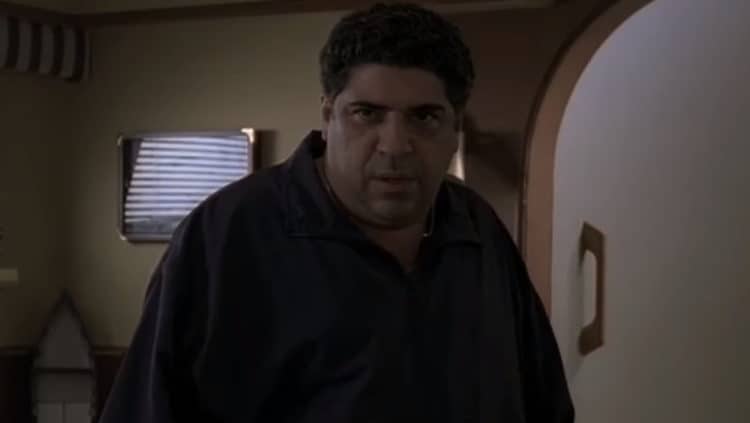 From the late 90s to the mid 2000s, Vincent Pastore was known to the world as Salvatore "Big Pussy" Bonpensiero on the hit series The Sopranos. Well-respected for being a mob enforcer, Bonpensiero became one of The Sopranos' most popular characters. This popularity was largely thanks to Pastore whose knack for lighting up the screen was unmatched. Despite being popular for being part of the show, Vincent's character was only around for the first few seasons before behind killed off. Since the show, lots of people have wondered what ever became of Vincent. What many people don't realize though, is that he has been hiding in plain sight this entire time. Keep reading to find out what happened to Vincent Pastore.
Vincent's Career Before The Sopranos
Vincent's path to acting was a little different than many other stars. After years of working in the nightclub industry, Vincent didn't start his acting career until he was in his 40s. At a time when many other actors are slowing down, Vincent came in ready to take the industry by storm. He did exactly that.
Vincent made his on screen debut in 1988 in the film Black Roses. Throughout the 80s and 90s, he found himself appearing in both movies and TV shows, often playing someone affiliated with the mafia. Despite often playing the same kind of character, Vincent found a way to bring something unique to each role. His ability to keep audiences engaged never went unnoticed. Over the course of his career, Vincent has racked up more than 180 acting roles.
There's no doubt, however, that his work on The Sopranos is what Vincent is best-known for. While the show has been one of the biggest highlights of his career, it has also been one of his saddest moments. During an interview with the Talking Sopranos podcast, Vincent discussed what it was like to have his character die so early into the show's run. He said, "When the third season started to air, I wasn't even watching it for a while. I tell you the truth: I was devastated that this show became a huge hit. And financially, career-wise, I wasn't a part of it." The bright side though, was the fact that Vincent was available to work on other projects while The Sopranos was still on the air.
What Has Vincent Been Up To?
If you thought Vincent's career slowed down when he left The Sopranos, you might want to think again. He has been acting regularly since departing from the show although he hasn't had any roles as significant as Salvatore Bonpensiero. Some of his most well-known roles in recent years have been Fat Larry in the Hulu series Wu-Tang: An American Saga and Sal Rindini in the TV show, Chase Street. He has also done some voice acting as well. Some of his voice acting credits include Aqua Teen Hunger Force and Pair of Kings. In 2018, he began teaching acting workshops at H.B.. Studio in New York City. The school has produced several successful actors including Candice Bergin, Jerry Stiller, Liza Minnelli, and Whoopi Goldberg.
Additionally, Vincent has done some theater work over the years. He also has several projects in the works – some of which are scheduled to be released in 2021.
Outside of his work as an actor, Vincent has also started working on other ventures. He has officially become an entrepreneur. In 2019, he launched his own line of pasta sauces called Vincent Pastore's Italian Sauce. This venture allows Vincent to connect to two things that are important to him: food and his heritage. According to the website, "Vinny Pastore's Italian Sauce has no sugar added* and the bold, rich taste of tomatoes comes straight from Italy which pairs perfectly with pasta, pizza, chicken, seafood, steak or with any meal."
Most importantly, however, Vincent has been using his time to hang out with his loved ones. When he isn't busy with work, Vincent loves to spend time with his family. He is a proud father and grandfather. Vincent may be well into his 70s now, but he isn't going to let his age slow him down. He plans to keep working for years to come and his fans are excited to continue to see him do his thing. Those who want to stay in the loop will be happy to know that he's fairly active on Instagram. Although he rarely posts about his personal life, he likes to keep his followers in the loop with what he has going on.