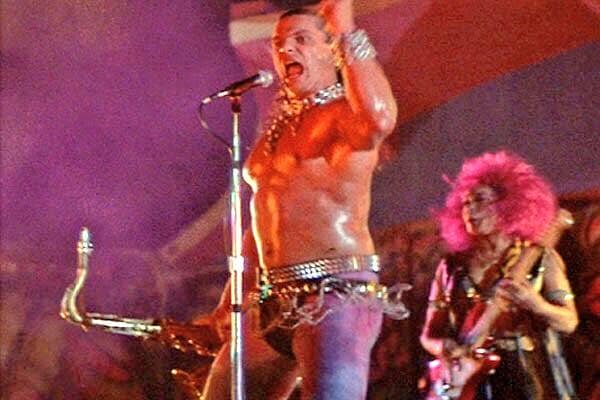 Tim Cappello confessed that it is difficult for him to make a living as a saxophone player, yet he still gets his tux on and goes out to perform at weddings and other events. Such a passion has led to him staying in the music industry for over four decades, and he is not slowing down with age. Since he has only recently released his debut album, Tim is at the peak of his career, and the only thing keeping him at home is the lockdown. He almost lost direction in his life when he was addicted to heroin but found his saving grace in bodybuilding, which gave him a new lease of life; it even led to him becoming an actor. Let's check out how he became a musician and if he still wants to continue with music now that he is in his sixties.
Training to be a musician
Tim Cappello was born to a father who owned a musical school in White Plains, New York, which led to him being exposed to music from an early age. Despite having all sorts of musical instruments within his home, Tim fell in love with piano and drums only, but his father wanted him to learn classical music, thus pushed him to play the cello. By the time he was four, he was already learning how to play the three instruments at his father's school. However, his father knew Tim was capable of much more with the right training; therefore, he got him teachers from whom he could learn. Since he loved jazz, Tim found himself being passionate about playing the saxophone when he was introduced to it at the age of 13. He also stopped playing the cello when his father died and concentrated on his first love, the piano, while also seeking to learn how to play jazz piano.
Consequently, he joined the New England Conservatory of Music, Boston, where he met Joe Allard, a renowned professor of clarinet and saxophone. According to AXS, Tim had always idolized Joe Henderson and Lennie Tristano; therefore, after his studies in Boston, he went to New York where Lennie Tristano taught him improvisation for several years. However, being on the road for so long interfered with his studies, so he eventually gave up and decided to become a self-taught artist. Still, he felt the need to acquire more knowledge; thus, in his late thirties, Tim began studying at the California Institution of The Arts whenever he could spare time from his tours.
Becoming a professional musician
When Tim talked to Icon Vs. Icon in 2015, he disclosed that his first professional gig was with Jim Dawson. At the time, he was at the New England Conservatory of Music, where he had met Jerry and Rick Moratta, two brothers who were training to be drummers. He was bored staying at the school; therefore, Lennie invited him over to his place where the brothers also lived. He stayed with them before landing that professional job with the musician.
Later on, with Tim having cemented his place as an accomplished piano player, he used to go to clubs to perform. Consequently, one day, his luck changed when Billy Crystal asked him to play some music in the background. Tim did so well that he accompanied Billy for five years, despite being only a teenager at the time. Still, although doors were opening for him, right and center, Tim considers his first real gig to be playing with Eric Carmen in his band. Eric's manager spotted Tim in a club and asked him if he would be interested in joining a band that Eric was putting together. Tim wound up in the band making at least $200 every week and thinking life could not be better.
However, it was, and he has been lucky to have music legends take him under their wing because, for a long time, all he did was wait for the phone to ring and support such musicians. His friendship with Jerry Moratta also paid off because he introduced him to Garland Jeffreys and Peter Gabriel. Tim also has the experience of going on tour with Carly Simons, but it was cut short due to her inability to overcome stage fright despite trying to get rid of the fears using pain. For Tim, the one person he has worked the longest with is Tina Turner; he was with her for 15 years, and he has never come across anyone with such impeccable musical instincts as Tina.
What does Tim do now?
The strange thing is that after pursuing a career he loved from childhood and playing with world-famous musicians, Tim is not remembered for being the pianist or saxophonist he is. Instead, all people think of him when they see him is his single scene in "The Lost Boys," which he did in his early 30s and never bothered about it. For him, shooting the scene was more of a two-day vacation from his hectic touring schedule, than the beginning of his rise to fame in the film industry. However, even when he goes to clubs to performs, his fans only want him to sign autographs from stills obtained from the film.
He still has not given up on his music career; in 2015, Tim revealed that he planned to release his first solo record the next year, and it that would comprise mostly renditions of the songs he loves to perform coupled with some originals. At the time, he was picking players and tunes as well as trying to decide the best way forward. Tim released the first solo album "Blood on The Reed" in 2018 and planned to promote it by going on tour in 2019.
In August 2019, in his interview with Good Times, Tim said that he was driving in his Corolla stopping at each Motel 6 from New York to Los Angeles. He added that it was the most fun he has had since he began playing music because he does not like glamor. Consequently, the small crowds of 150-200 people are enough motivation for him to keep doing what he loves. He has, however, had to take a break from touring due to the coronavirus pandemic but is still catering to his fans; he is doing personalized video messages for them.