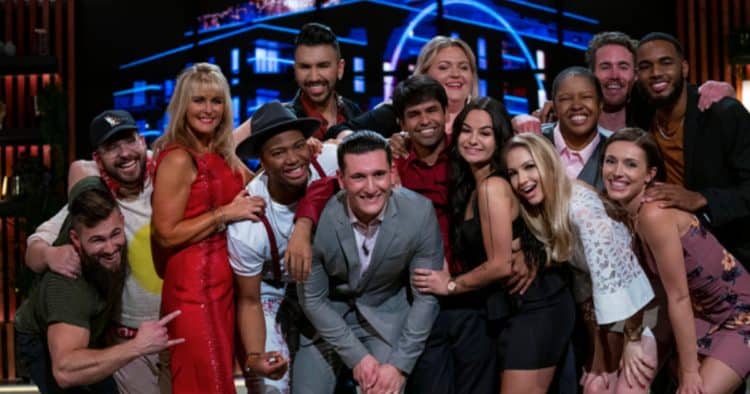 The newest wave of original reality series on Netflix is not only eye-catching but represents entertainment at its best. Whether we are watching singles mingle without touching on Too Hot to Handle, or doing the same at the Love is Blind pods, one can't deny that all shows are equally captivating, with interesting concepts that keep us glued to the screen. The Circle is no exception. The show is created to mimic social media and involves players being eliminated based on their popularity. The plot twist is that players can enter as themselves, or as a catfish, which makes things complicated. Players could easily bond with each other, only to find it was a lie all along. It's been more than a year since the first season of The Circle aired. Here's what the cast has been up to lately:
1. Sammie Cimarelli
When we met Sammie, she was barely unlikable. Almost instantly, she exercised her game plan: to flirt with the boys then get them on the friend zone. While she was posing as a single girl on The Circle and uploading a thirst-trap to capture everyone's attention, in real life, Sammie was and still is dating. She's since created a YouTube channel through which she updates her followers. Through the channel and her Instagram, Sammie continues to share her plant and fur mom life, and do fun stuff with her boyfriend.
2. Shubham Goel
The good boy of the circle, Shubham was insistent on having everybody be themselves. He went in confident that being himself would help him win the game, and it almost did. He grew a connection with Joey, who eventually won, and would have made a second friend in his little sister Rebecca, who he later learned was the last catfish standing. Though he hated social media at first, Shoobs now has an Instagram account that has gotten half a million people interested. When he's not posting his bro Joey, he is trying out Love is Blind with another familiar face, Chloe Veitch.
3. Joey Sasso
When he stepped into The Circle, Joey was nonchalant about everything. He managed to warm his way into everyone's heart, especially Shubham, who he was excited to find out was real all along. His indifference landed him the ultimate title as the very first winner of The Circle. When he's not hyping up his brother Shoobs on Instagram, Joey is linking up The Circle contestants from other seasons and giving his followers a well-deserved holiday dance.
4. Chris Sapphire
To say that Chris was a whole vibe is an understatement. He brought life to the party and was always there to brighten the mood. Most notable were Chris' quotable phrases, like the time he was 'sweating like a ho in church'. His funniest moment, however, was when he had the fakest conversation of his life, and didn't do a single crunch or lift any weights despite agreeing to do so. Away from the show, Chris continues to be his bubbly self online. Just like Joey, he hangs out with other members of The Circle, particularly his LGBTQ clan, and is gracing the cover of magazines.
5. Seaburn Williams (Rebecca)
The last catfish standing Seaburn played his game so well, no one saw it coming. He may have disappointed his circle brother Shubham, but that's all part of the game. While posing as a girl, Seaburn had some slip-ups and was nearly caught when the girls had a menstruation conversation, but he played it up to the finals and emerged fifth. Outside The Circle, Seaburn is back to being himself and not his girlfriend Rebecca, who is yet to make an appearance on his Instagram. Besides reviewing videos on TikTok, he has hinted that a YouTube channel is on the way.
6. Ed & Tammy Eason
When they landed on The Circle, Ed and Tammy Eason came in as half a catfish. The mother-son duo was confident that they would walk away with the $100,000 prize. Ed has gone on to participate in the 37th season of MTV's The Challenge and continues to get ripped in the gym. Once in a while, his mother and brother Mitchell, who competed on the second season of The Circle, make an appearance on his Instagram. Tammy is in many ways a proud mom who posts her boys all the time.
7. Sean Taylor
Though she is a plus-sized body positivity advocate in real life, Sean decided to get in The Circle as a slimmer version of herself. Midway through the game, she took a different turn and decided to reveal her real self to the girls. Later, Sean would update her profile and play the game as her real self, until she got blocked. Just like Sammie, Sean has a YouTube channel, through which her followers can keep up with her, though she hasn't posted in a while. Through her Instagram, Taylor revealed that she got engaged.
8. Alex Lake (Adam)
When he got on the circle, Alex posed as a hottie, Adam, who was immediately a threat to Joey. In real life, he is married and happy, but in The Circle, his gameplay was to get the girls talking. Even though he thought Rebecca was good, she was a little vanilla, and he needed someone with a little oomph, like Sammie. When things got a little frisky with Rebecca, the pair went on a catfish date and met face to face when Alex was blocked from The Circle. Since the first season came to a halt, Adam is back in the arms of his wife and continues to wear his patterned pants. He, too, hangs out with cast members of The Circle.
9. Karyn Blanco (Mercedeze)
Right from the get-go, Karyn, who posed as Mercedeze on The Circle was a straight-talking hawk-eyed menace. Though some of the players thought of her as a catfish, it wasn't until Antonia got blocked that a lot of suspicions were raised. Soon after, Karyn got the boot, sending The Circle into a frenzy following the reveal. Karyn has since returned to being her real self and is having a good time with family and friends if her Instagram is anything to go by. In addition to having cigars by the beach, she enjoys sharing videos on TikTok.
Tell us what's wrong with this post? How could we improve it? :)
Let us improve this post!