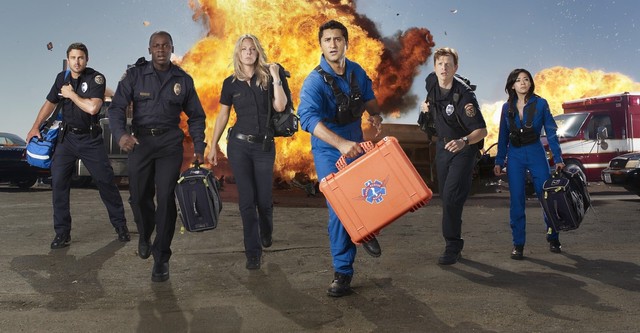 The 2009 drama series Trauma depicted the life of a group of paramedics who worked together in San Francisco. The show focused on the personal and professional lives of the paramedics, as they responded to emergencies and tried to save lives. The show was praised for its realistic portrayal of the paramedic profession, and for its complex and interesting characters. However, the show was canceled after one season, due to low ratings. The show struggled to find an audience, and it was ultimately pulled from the schedule after airing just 17 episodes. While the exact reasons for the show's cancellation are not known, it is likely that NBC simply felt that it was not a good investment to continue airing a low-rated show. Whatever the reason, Trauma is now just a brief footnote in television history. Its cast, however, has done great things since the show's early cancellation in 2010. If you've been wondering what the cast of Trauma has been up to since the show's demise, read ahead. Here's an update on the cast members of the canceled-too-soon medical drama Trauma.
Cliff Curtis
Cliff Curtis portrayed paramedic Reuben "Rabbit" Palchuck in the NBC drama Trauma. Curtis has been keeping busy since his days on Trauma. In 2012, he took on the role of Agent Dax Miller in the short-lived series Missing. The following year, he starred in the also-canceled series Gang Related. In 2015, he joined the cast of Fear The Walking Dead as Travis Manawa. He has also appeared in a number of films, including The Dark Horse, Last Knights, and 10,000 BC. Most recently, he starred in the independent film Murina. Curtis is a versatile actor who is always looking for new challenges. He has demonstrated his ability to play a wide variety of roles, and he is sure to continue to impress audiences in the years to come.
Derek Luke
Derek Luke played paramedic Cameron Boone in the cancelled NBC series Trauma. Luke has also been active since his days appearing on the medical drama. In 2011, he took on the role of Gabe Jones in Captain America: The First Avenger. He followed that up with a recurring role on the Netflix original series 13 Reasons Why as Kevin Porter. Most recently, he has been starring in the USA Network series The Purge. He will next be seen in the upcoming show The Crossover. His success in his career is all the more impressive considering the fact that Luke grew up with a tumultuous childhood, a situation he shared in an interview with Traveling Boy when he was asked how he overcame a "rocky start": "Let's go. I'll see where my heart is. The honest answer is that I believe I'm standing literally on the shoulders of a lot of women. My great grandmother was a mid-wife, but not by being taught in school because they wouldn't allow her to be taught in school and so her science was healing people by any means necessary. I always felt like my mom and her mom, were all in the healing business and that kind of denotes to some of the movies I've been a part of like "Antoine Fisher," so growing up I always heard miracle stories. I think everybody needs a so-called mid-wife and my great grandmother really left a moral and spiritual foundation. I think there are a lot of people that have been raised in a difficult environment but her key was don't let the environment raise you. I think we all have challenges but I had great, strong women and have been a momma's boy for a long time until I got married. So, I really pay tribute to all the women who went to work under crazy conditions and fed us by any means necessary. They're really like the heroes and I'm just telling the stories of how I kind of came out victorious."
Anastasia Griffith
In Trauma, Anastasia Griffith played the character of Nancy Carnahan, a paramedic who finished medical school. Trauma was one of Griffith's first lead roles. Since then, she has gone on to have recurring roles in Royal Pains and Once Upon A Time. She has also starred in Copper and Deep State. Griffith is a versatile actress who has demonstrated her ability to play a wide range of roles. She is a talented performer who is sure to continue to find success in the entertainment industry.
Aimee Garcia
Aimee Garcia played Marisa Benez, a military veteran who's worked as a paramedic, partnering with Palchuck. After Trauma, Garcia has taken on several recurring roles, including Jamie Batista in Dexter, Yvonne Sanchez in Vegas, and Ella Lopez in Lucifer. Most recently, she has taken on the lead role of Alex in DreamWorks Dragons: The Nine Realms. Throughout her career, Garcia has demonstrated a versatility that has allowed her to take on a wide range of roles. As a result, she has built up a large and loyal fanbase who enjoy seeing her onscreen. Whether she is playing a doctor, a casino employee, or a dragon rider, Garcia always brings energy and enthusiasm to her performance. With several projects currently in development, it looks like fans of Aimee Garcia will have plenty to look forward to in the near future even after the demise of her TV show Trauma.
Kevin Rankin
Kevin Rankin played Tyler Briggs in the short-lived series Trauma. Since his days on the set of the medical drama, Rankin has appeared in a number of popular TV shows, including Roe Saunders in Unforgettable, Kenny in Breaking Bad, and Bryce Husser in Claws. In addition to his work on television, Rankin has also appeared in a number of films, such as 2013's Dallas Buyers Club and 2016's Hell Or High Water. Most recently, he starred in the 2018 film Skyscraper.
Taylor Kinney
Taylor Kinney played Glenn Morrison, the newest EMT of the group, in Trauma. After the show, he found success playing a lead role as Lieutenant Kelly Severide in Chicago Fire, Chicago P.D., and Chicago Med. Additionally, he has appeared in Lady Gaga's music video You And I.
Jamey Sheridan
Jamey Sheridan portrayed Dr. Joe Savino, the chief of emergency medicine, in Trauma. A veteran actor, Sheridan has since appeared in Homeland, Agent X, and Grace and Frankie. On film, he's performed in Spotlight, Sully, Battle of the Sexes, Lizzie, and Driven.Lucifer