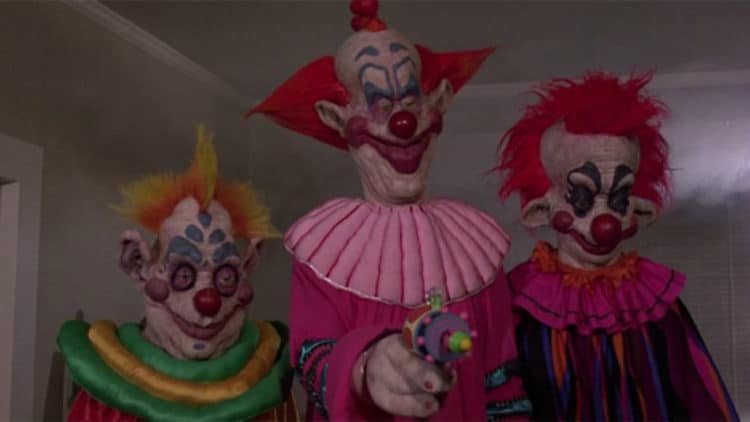 Mark Mancini from Mental Floss has a good point when he says that Killer Klowns from Outer Space was kind of like a tight-rope act since in truth it didn't go that far but it didn't go entirely over the top either. The fact that people still remember it is a testament to the film's likability since quite honestly it was pretty ridiculous. That was part of the beauty of the whole thing though since it wasn't meant to be a blockbuster, as Michelle Lanz from The Frame found out the creators were actually just trying to discover their own style and did this by finding an image that was ultimately quite horrifying to many people. Out of the entire cast it was seen that only a few names would ever really go anywhere or had come from somewhere, but then it almost feels as though this kind of movie would have dragged a few people down with it if they didn't have a well-established reputation already, or if they were desperately trying to make one. It had a certain goofy and endearing charm, but to this day the cast members have still kind of struggled find any real footing in show business if they didn't have one to begin with.
Here are a few of the cast members and what happened to them after the movie.
Christopher Titus
You could say that Christopher Titus hasn't been seen much except on the comedy circuit since this movie though he did have his own show on Fox for a while. The comedian actually made a pretty big faux pas at one point in a video that was posted by Stark Insider on Vimeo. He's never been one to hold back on his opinion, but in 2011 he made some comments that he had to apologize for since people were responding with death threats due to the things he said.
Michael Segal
Michael is actually best known for his role in Killer Klowns and didn't do much after since he took a 13-year hiatus and then moved to the UK. After that period he started getting big when it came to acting within the UK and has since found his place there. In truth he's had a stage career for part of his life but it would almost seem as though he's been destined to be slightly more small-time than anything.
Royal Dano
Royal was one of those I spoke about as having a career before he was recruited for Killer Klowns and has a long, long list of accomplishments and movie roles that preceded his act in the movie. Plus, Killer Klowns was one of his last movies since only six years after it was released he passed away after completing his role in Stephen King's movie The Dark Half. He was celebrated actor that many people likely didn't know about unless they grew up during the era. Even then it seems likely that he was thought of as more of a supporting character.
John Allan Nelson
John has stayed pretty busy in TV but his movie career kind of died down a bit throughout the years. He's been seen to play guest spots on a lot of shows and has even been responsible for a few things behind the scenes as well. It's fair to say that most of the actors from this movie are those that were never all that well-known but made do being B-list actors or supporting actors that found a niche that they could fill and made it work for them in one way or another.
Suzanne Snyder
At this point Suzanne Snyder looks to be retired though she did seem to have an aspiring career in movies up until about 2010. In 1988 Killer Klowns was one of three different movies that she starred in, and she did have the pleasure of starring in a few other films earlier than this. She was in The Last Starfighter and Weird Science just to name a couple of popular titles that people might recall.
John Vernon
John was actually more famous than many of the actors in this movie put together since if you'll remember he was Dean Wormer of Faber College in Animal House and he was one of the worst, most vicious bad guys you could ever come across. He also a played a noted role in The Outlaw Josey Wales opposite Clint Eastwood, so it's fair to say that he had a very storied career by the time he came upon this movie. Like Suzanne he was quite busy during 1988 since he too was in a few different movies. But it seems fair to say that before his passing in 2005 his best acting days were kind of behind him.
Grant Cramer
Looking at his bio it actually seems like there might be a Return of the Killer Klowns from Outer Space coming eventually unless that's a typo or outdated information. But it does look as though he made his way towards being a producer after a while. Despite being the male protagonist of the movie he wasn't remembered all that well.
But given the fact that the movie is and was ridiculous it's hard to imagine why. It's a nostalgic piece at best, which is why we remember it.