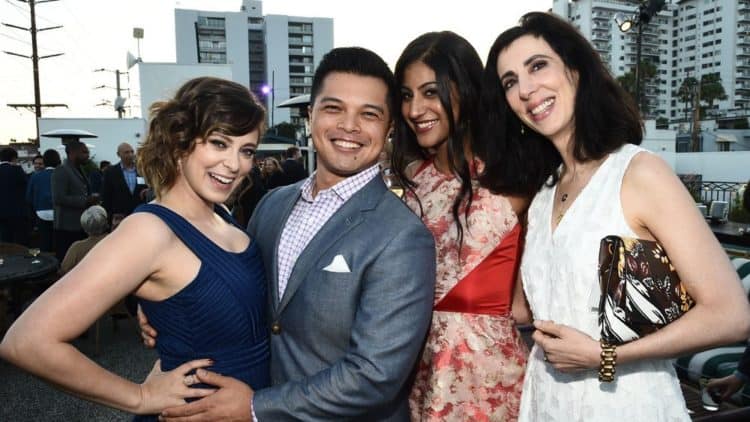 One of the most underappreciated TV sitcoms of the last decade, Crazy Ex-Girlfriend ran from 2015 to 2019. It told the story of Rebecca Bunch, a burnt-out attorney who decides to leave her high-paced New York job to follow her ex-boyfriend to West Covina, California. Created, written, and directed by Rachel Bloom and Aline Brosh McKenna, Crazy Ex-Girlfriend garnered critical acclaim but was a consistent ratings laggard throughout its four-year run. Nevertheless, it has since established a cult fan base, and the songs featured on the show continued to be played on Spotify and YouTube. After Crazy Ex-Girlfriend concluded with a live theater production, its cast members have gone on to other projects. If you want to know more about what the cast of Crazy Ex-Girlfriend has been up to since the show ended, read ahead. Here's an update on every main cast member of The CW comedy-musical series Crazy Ex-Girlfriend.
Rachel Bloom
Actress Rachel Bloom created and starred in Crazy Ex-Girlfriend as Rebecca Bunch, a corporate lawyer who leaves her life in New York to follow a teenage fling in a small town in California. For her role in the show, she received numerous accolades, including a Golden Globe Award, a TCA Award, a Critics' Choice Television Award, and a Primetime Emmy Award. Most fans are not aware that Bloom actually first found fame being a YouTuber. She starred in her own YouTube comedy music videos that first showcased her singing and songwriting prowess. After Crazy Ex-Girlfriend, Bloom has been busy with voice work, having lent her voice to shows like The Simpsons, Muppet Babies, Trolls: The Beat Goes On!, Vampirina, and Close Enough. She also narrated an episode of the critically acclaimed Netflix documentary series Explained. Bloom is set to star in an upcoming comedy series on Hulu titled Reboot.
Vincent Rodriguez
Vincent Rodriguez played Josh Chan in the series, Rebecca's ex-boyfriend whom she follows from New York to his hometown, West Covina, California. After Crazy Ex-Girlfriend, Rodriguez snagged a recurring role in the 2019 Netflix show Insatiable, portraying the character of Detective Rudy Cruz. Just last year, he landed a lead role in the romantic comedy series With Love, which airs on Amazon Prime Video. In an interview with CAA Media, Rodriguez talked about his thoughts on Crazy Ex-Girlfriend's strong cult following, saying: "The fact that this show exists is a true testament to people really pursuing what they really want to do and being honest about the story we're trying to tell. I saw the seed of that in the pilot. I felt like this is going to be great. This is going to be something that we haven't seen before and I get to be a part of it, but I did not anticipate how far we would get into these characters. If you look at how diverse it is and the kind of stories we're telling. We're normalizing what America looks like."
Santino Fontana
Santino Fontana played the character of Greg Serrano in the first two seasons of Crazy Ex-Girlfriend. A Tony Award-winning actor and singer, Fontana left the series when his one-year contract with The CW was over. After the show, Fontana performed in the series Shades of Blue, a crime drama series that aired on NBC. In 2022, he started appearing in the hit comedy series The Marvelous Mrs. Maisel.
Skylar Astin
Skylar Astin took over the character of Serrano in Season 4 of Crazy Ex-Girlfriend. Most people would recognize Astin from his role in the hit movie Pitch Perfect and its sequel Pitch Perfect 2. After starring in the show's last season, Astin started lending his voice to the animated TV series Trolls: TrollsTopia. He also starred in another comedy-musical TV series titled Zoey's Extraordinary Playlist, which sadly was canceled after two seasons.
Donna Lynne Champlin
Donna Lynne Champlin played Rebecca Bunch's best friend, Paula Proctor, in the TV show Crazy Ex-Girlfriend. A Broadway veteran, she performed on stage for theater productions such as By Jeeves, Hollywood Arms, Sweeney Todd: The Demon Barber of Fleet Street, and Billy Elliot the Musical. After her four-season stint in Crazy Ex-Girlfriend, Champlin snagged a lead role in the since-canceled Another Period. Most recently, she appeared in the critically acclaimed anthology drama series The First Lady, appearing as political aide Melissa Winter. On film, she appeared in Downsizing, Yes, God, Yes, and Feel the Beat.
Pete Gardner
Peter Gardner portrayed Darryl Whitefeather, Rebecca's new boss in California, in Crazy Ex-Girlfriend. A comedy veteran who once mentored Tina Fey and Amy Poehler, Gardner currently appears in HBO's Our Flag Means Death.
Vella Lovell
Vella Lovell played Heather Davis, Rebecca's roommate and one of her gal pals, in Crazy Ex-Girlfriend. After a few guest spots on a few TV shows, she snagged a lead role in 2021's Mr. Mayor, where she plays Mikaela Shaw. She also performed in the 2022 series As We See It. Lovell is set to appear in the upcoming TV show Speed of Life, which is currently in post-production.
Gabrielle Ruiz
Gabrielle Ruiz played Valencia Perez, Josh Chan's ex-girlfriend and Rebecca Bunch's unlikely gal pal, in Crazy Ex-Girlfriend. When the show was over, Ruiz appeared in a few episodes of shows like Alone Together, Modern Family, Better Things, and Mr. Mayor, which stars her former costar Vella Lovell. She currently works in Spidey and His Amazing Friends, providing the voice for Rio Morales.
Scott Michael Foster
Scott Michael Foster played Nathaniel Plimpton III in Crazy Ex-Girlfriend, a successful lawyer who initially butts heads with Rebecca but then becomes her love interest. Foster currently has a recurring role in the Netflix series You, playing the character of Ryan Goodwin.
David Hull
David Hull played Josh Wilson, more popularly known as White Josh, in Crazy Ex-Girlfriend. He has frequently appeared in Broadway productions, most notably the 2013 stage production of The Book of Mormon. After Crazy Ex-Girlfriend, Hull appeared as Travis Moore in four episodes of Insecure. He also performed in Wisdom of the Crowd, Into the Dark, and most recently, Dear White People.