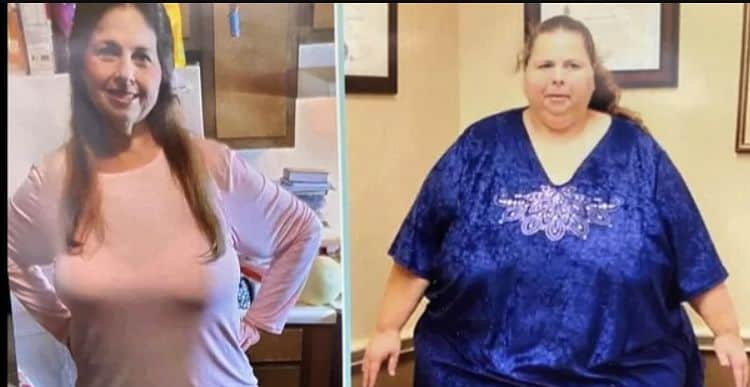 Since its debut in 2012, My 600-Lb Life has documented dozens of stories of people who were struggling to lose weight. However, among those stories some have stuck out more than others; Pauline Potter's is one of them. When she appeared on the show in 2015, she was well over 600 pounds. In fact, in 2011, she weighed 643 pounds and was dubbed the Heaviest Woman in the World by the Guinness Book of World Records. While holding a world record is usually something to be proud of, it was potentially deadly for Pauline. By the time she was on My 600-Lb Life, she had gotten so heavy that she could no longer enjoy daily life. Eating was the only thing she could muster enough energy to do, so it became the only thing she had to look forward to.
She knew that if she didn't change her habits, she wouldn't be around much longer. She decided to seek the help of Dr. Younan Nowzaradan and he quickly put her on a very strict meal plan so that she could lose enough weight to qualify for weight loss surgery. At first, Pauline struggled to stick to her daily calorie limit, but she was eventually approved for weight loss surgery. Now that it's been a few years since her surgery, lots of viewers are curious to see how things turned out. Keep reading to get an update on what happened to Pauline Potter after My 600-Lb Life.
Pauline's Struggles
Like many of the other people who have been featured on My 600-Lb Life, Pauline's unhealthy relationship with food began at an early age. Food became her coping mechanism to deal with the stresses of the outside world, but unfortunately, it also became the thing that ultimately kept her from the outside world. Some may look at Pauline and judge her for getting so heavy, but the reality is that Pauline's addiction to food was as much a mental struggle as it was a physical one.
When Pauline was at her heaviest, she had a difficult time getting around the house and got to a point where she was wheelchair-bound. She had to rely heavily on her son to take care of her and help her with simple tasks.
Pauline's Recovery Didn't Go As Planned
Lots of viewers were extremely happy for Pauline when she was approved for weight loss surgery. Unfortunately, however, her story didn't end up having the happy ending everyone was hoping for – at least not at first. Although the surgery did initially help Pauline lose weight, she struggled to follow through with making lifestyle changes. During her episode of Where Are They Now? Pauline stated, "That fat girl in me is still there. The doctor fixed our stomachs, but he didn't fix our minds. I have to keep fighting." Her comments touch on an issue that other My 600-Lb Life stars have touched on. Apparently, there have been other cast members who have felt like the therapy they underwent while on the show was just a facade. However, Pauline didn't have any negative feelings against Dr. Nowzaradan.
Sadly for Pauline, her issues didn't end there. She also developed an addiction to pain killers after she began taking pills to help with her knee pain. This lead to doctors discovering that she had a burst ulcer which led to her having sepsis. Although this was a devastating series of events for Pauline, they proved to be the wake-up call that she needed. She decided to re-enroll in Dr. Nowzaradan's weight loss program and she was ready to take it much more seriously.
A Light At The End OF The Tunnel
When Pauline went back into Dr. Nowzaradan's program, she began seeing more results. Since her surgery, she has lost around 300 pounds and she has also undergone skin removal surgery. Losing weight has allowed Pauline to start enjoying all of the things she missed out on for years. She no longer has to depend on her son and she's able to be much more active.
Although Pauline initially began documenting her journey on social media, she doesn't post as often as she used to. However, she does have a Facebook profile and a YouTube channel for those that would like to see some of her older posts.
Pauline's journey hasn't always been easy, but despite all the challenges she's faced she has refused to give up. Hopefully, her story can provide a positive example for other people who may be dealing with the same challenges Pauline has experienced.